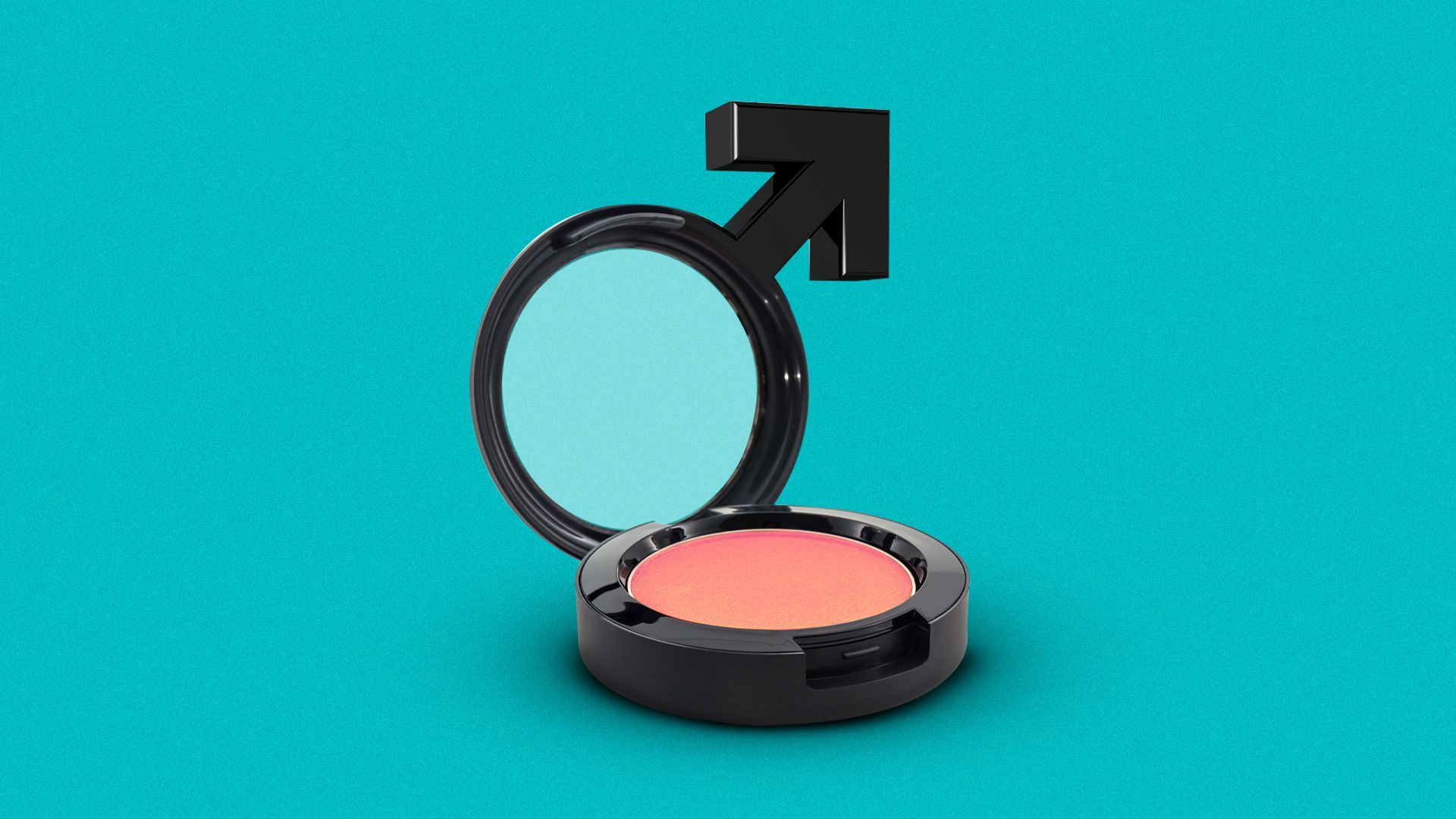 Beauty brands are going after a huge new group of consumers: men.
Why it matters: Redefining makeup as something anyone can wear chips away at the gender norms and beauty standards that women have dealt with for generations. And cosmetics companies see big dollar signs.
What's happening: The U.S. men's personal care market is expected to swell from $47 billion in 2019 to nearly $78 billion by 2027, according to Grand View Research. That includes hair and skin care and — increasingly — makeup.
Male makeup influencers, bloggers and makeup artists are gaining popularity.
Legacy beauty companies that have historically targeted women are launching new lines for men.

For example, Chanel has introduced "Boy de Chanel" and Givenchy has "Givenchy Mister."

And there's a slew of men's makeup startups on the scene, with products exclusively for male consumers. Even retired baseball star Alex Rodriguez has launched a men's makeup line.
Makeup "is the final frontier of men's grooming," says Devir Kahan, CEO and founder of the men's makeup startup Stryx. "This is where it has been heading."
Many men have been using makeup for a while, but have only recently found products designed for them.
Stryx has a "discreet" concealer that looks like a pen — so men can just slip it into a jacket pocket if they'd like to be casual about wearing makeup, Kahan says.
Stryx's products are formulated differently from traditional women's products, because men's skin is typically tougher and oilier, he says.
Worth noting: While makeup for men is a relatively new trend in Western countries, it is already common and popular in Asia.
Asia currently has about 65% of the men's cosmetics market, compared with North America's 5%, according to insights from the market research firm Mintel provided to Axios.
The bottom line: "When I was in high school, I was the kid that was doing my hair every morning and doing my skin care," Stryx's Kahan says. "And that was weird then — I was the only guy doing it."
"Now, if you're not putting effort into that stuff, that's the weird thing."
Go deeper