The state of Democrats' tentative climate deal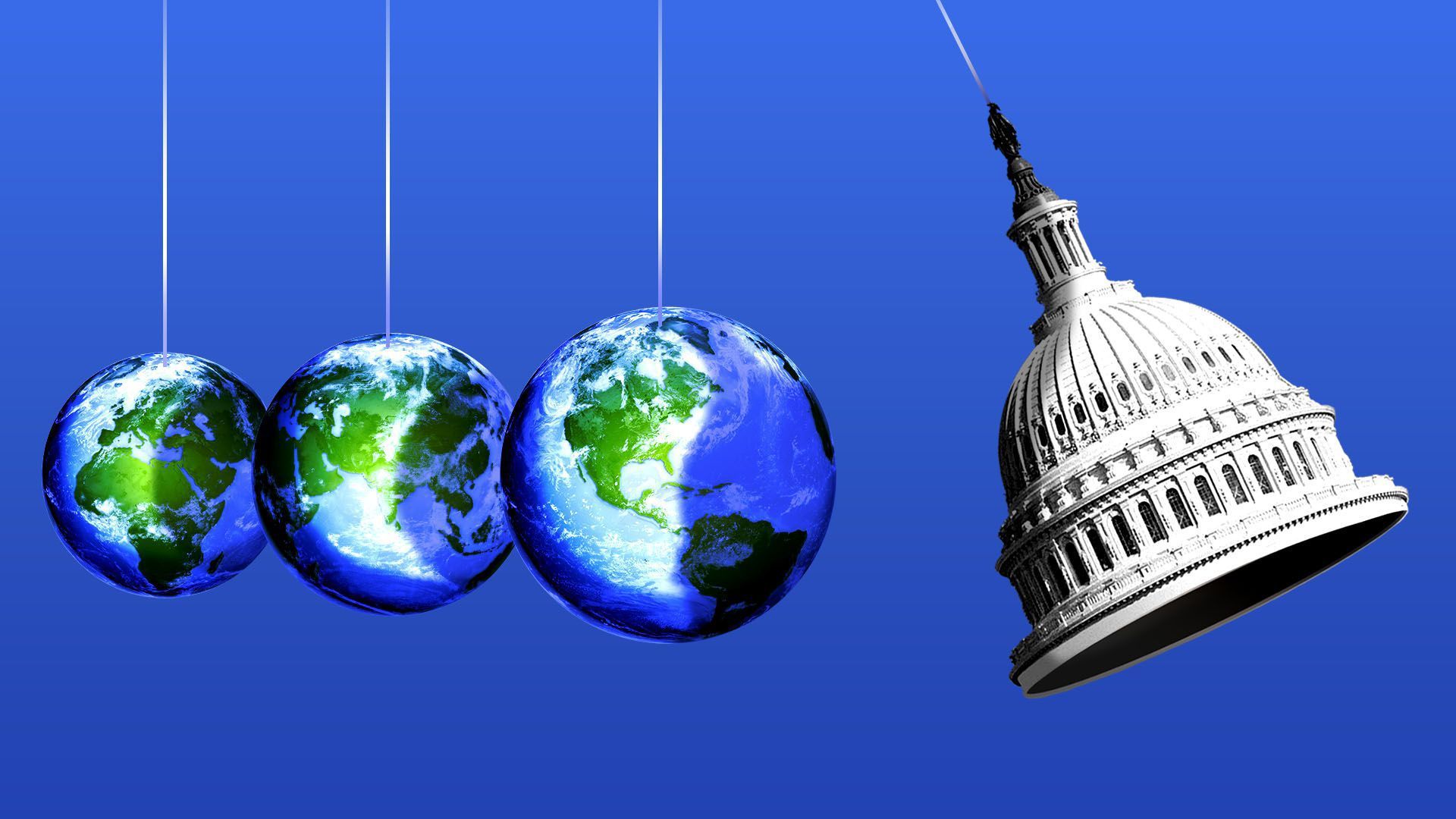 Democrats have unveiled specifics about their draft climate and social spending plan, but its path forward is pretty vague.
Catch up fast: The White House announced a "framework" Thursday morning with $555 billion in clean energy and climate investments. A nearly 1,700-page House draft emerged hours later.
Why it matters: The package of spending and tax incentives — if approved in something resembling its current form — would be by far the most sweeping climate bill in U.S. history.
The provisions would do a lot to put the U.S. on a path toward meeting President Biden's goal of a 50% cut in domestic emissions by 2030.
What we don't know: It's unclear how Democrats will navigate trying to pass their plan on a party-line vote and the bipartisan infrastructure deal.
House progressives held up the vote on the bipartisan infrastructure deal, given how many of their social program priorities were whittled down or eliminated from the framework entirely. But they have endorsed the overall framework agreement.
The timing has international repercussions. The lack of votes Thursday night raises the odds that President Biden will participate in the COP26 summit in Glasgow early next week without having enacted his legislative climate agenda, which would weaken U.S. credibility at a critical moment. 
However, it may be approved during the two-week negotiations, which might restore some U.S. leverage.
The big picture: The plan has all kinds of provisions aimed at speeding up the deployment of zero-carbon power, electric vehicles, hydrogen and carbon capture and removal tech, efficient buildings and more.
Per the White House summary, there are $320 billion in various clean energy tax incentives. S&P Global Market Intelligence has a rundown.
Bloomberg has details over the tentative compromise on oil-and-gas industry methane emissions, which blends new financial support to cut methane and penalties.
Between the lines: The House draft provides a major expansion of EV purchase incentives, including a measure that allow credits that are $4,500 larger — totaling $12,500 — for union-made EVs.
Via The Detroit News, "that would be a boon to the Detroit Three automakers over Tesla Inc. and foreign auto producers whose U.S.-based workforces are not members of the United Auto Workers or other unions."
Go deeper