What to watch from Biden and Macron's meeting in Rome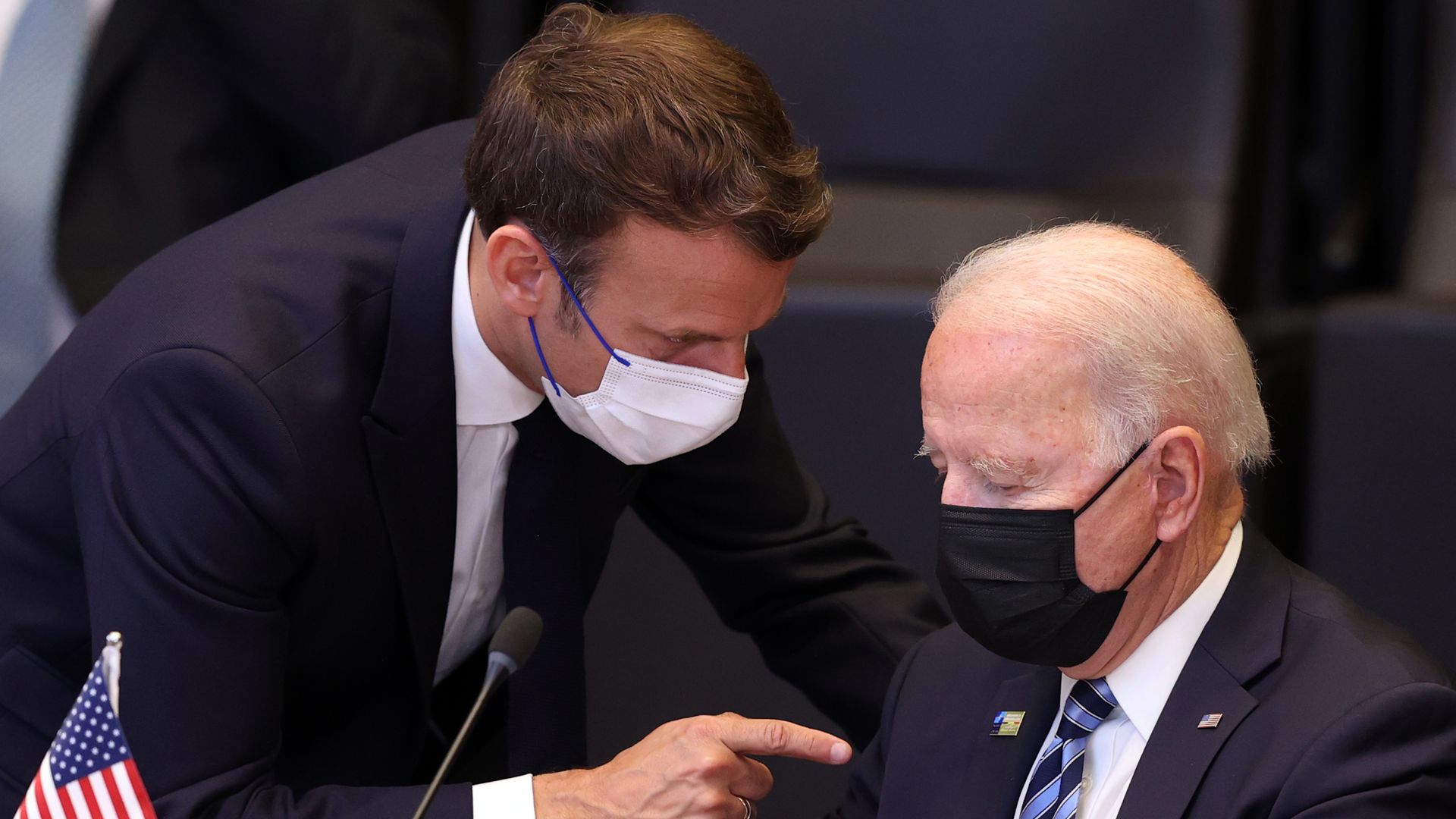 Biden's meeting in Rome with French President Macron is expected to produce fresh U.S. commitments to European security initiatives, including more investment for counterterrorism forces in Africa, French officials tell Axios.
Why it matters: This will be the first time the two leaders have met in-person since the French declared a "crisis of trust" over the U.S. and U.K.'s secret submarine deal with Australia, which triggered the recall of France's ambassador to Washington for the first time in history.
What to watch: The meeting will be in Rome, but symbolically on French turf — either at the French Embassy to the Vatican or Italy, or the French-owned Villa Medici.
In addition to endorsing Europe's defense ambitions, the Biden-Macron statement will feature a mutual commitment to better coordination between the two countries, including on shared interests in the Indo-Pacific.
The subtext is avoiding an embarrassing repeat of the submarine debacle, which was part of a broader Indo-Pacific security pact known as AUKUS.
The big picture: The Biden administration has been engaged in a full-court diplomatic press to win back the trust of America's oldest ally, including sending national security adviser Jake Sullivan and Secretary of State Antony Blinken to Paris.
"We will see," Macron told reporters earlier this month when asked whether he believes Biden now understood the importance of the relationship.
A French official rejected the notion that the wounds had healed in the fallout over AUKUS. "It's not behind us, but we're looking forward," the official stressed.
Between the lines: Macron is a leading proponent of "strategic autonomy," or the notion that the EU should be able to defend its own interests without having to rely on the U.S.
The U.S. has long been "schizophrenic" on the issue, says Benjamin Haddad of the Atlantic Council, calling on the EU to increase its defense spending while also expressing concerns that new security initiatives could undermine NATO.
The AUKUS spat, as bitter as the rhetoric has been, has produced a new window to commit to an "ambitious plan" for strengthening Europe's defense capabilities within NATO, Haddad told Axios.
As the Biden administration pivots to the Indo-Pacific to focus on confronting China, it's in the U.S. interest for Europe to be able to fight its own battles, a French official argued. That includes through counterterrorism in the Sahel, where instability sends migrants toward Europe's shores but not to America's.
Flashback: America is "definitely" back, Macron told reporters during his June meeting with Biden at the G7 in England, where the two leaders spent much of the summit linking arms and laughing. "I think it's great to have the U.S. president part of the club and very willing to cooperate."
Go deeper