Vaccine benefits outweigh risks for kids, scientists say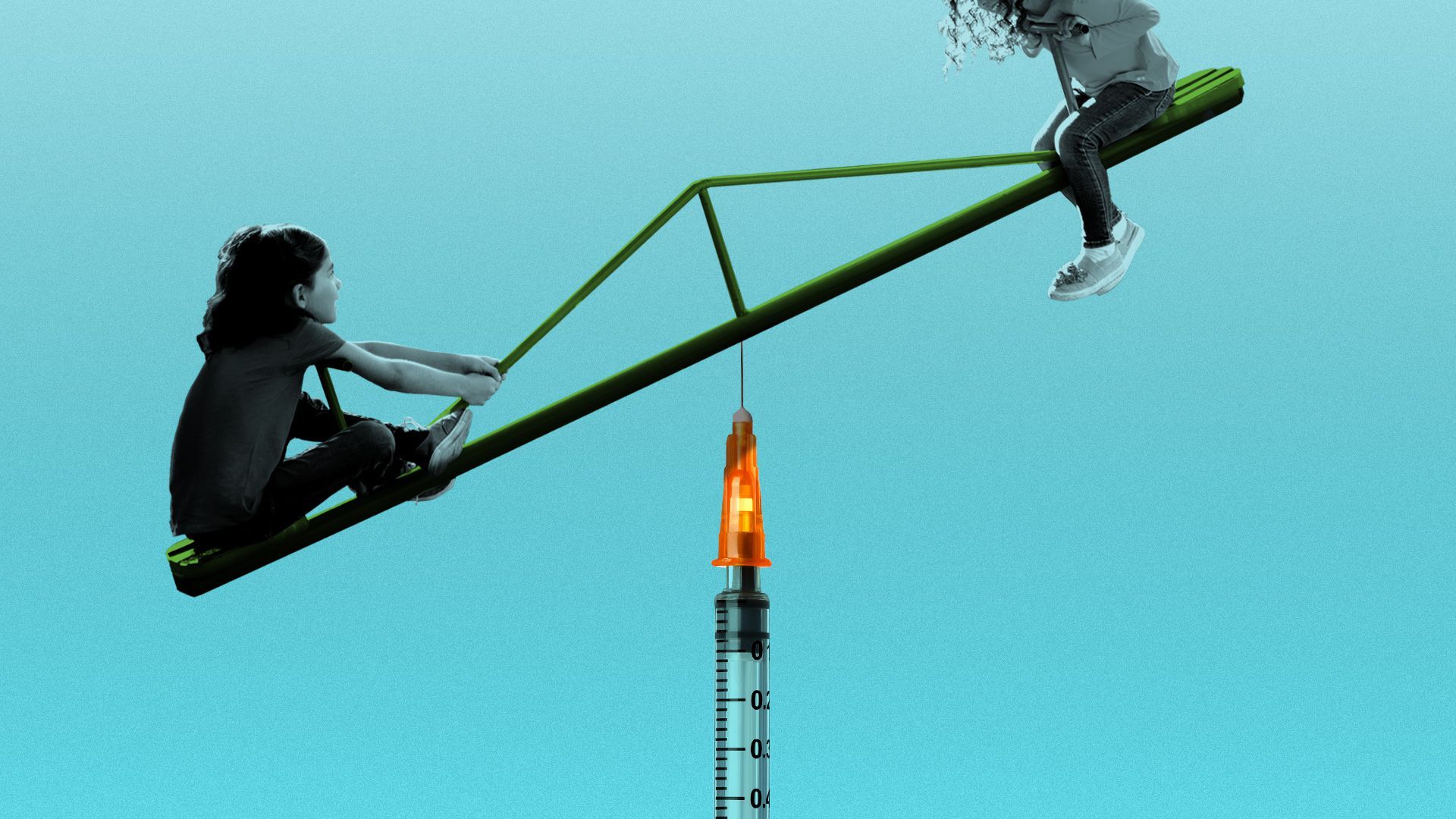 Polls suggest some parents are hesitant to vaccinate their young children against COVID-19, but the benefits outweigh the risks, several infectious disease doctors tell Axios.
The latest: The FDA and CDC may soon authorize Pfizer's lower-dose vaccine for that age group, with Moderna close to also seeking approval. NIAID director Anthony Fauci says he's "excited" about the possibility of broadening possible protection for 28 million more Americans.
"If you go around to pediatric hospitals throughout the country, you see that many of the beds, sadly, are occupied by children who are in serious condition," Fauci tells Axios.
The highly transmissible Delta variant changed the pandemic's trajectory: More people — including kids — started getting infected. Children comprise 16.5% of cases, with around 6 million infections and 700 deaths.
"There's lots and lots of SARS-CoV-2 infection [in kids] out there," says Rohan Hazra, acting director of the National Institute of Child Health and Human Development's Division of Extramural Research. Case numbers went down by early summer, "but then, boy, did it come roaring back" in August, propelling the vaccination argument.
Yes, but: Public health efforts to persuade Americans to get vaccinated has struggled with bad messaging.
A recent Kaiser Family Foundation poll found about 3 in 10 parents say they will "definitely not get" a shot for their 5 to 11 year-olds.
An Axios/Ipsos Coronavirus Index at the end of September found parents were split (44% likely/42% unlikely) in allowing their 5-to-11-year-old children to get the vaccine.
Risks from vaccines are tracked closely by the FDA and the CDC, Fauci and others say. Trial data found Pfizer's COVID shot so far carries very small risks.
If there were going to be serious side effects from a vaccine in young children, "usually you'd see some signal by now, in animal studies and in other age groups. ... There's been nothing like that, to my knowledge," says Amesh Adalja, senior scholar at the Johns Hopkins Center for Health Security.
Between the lines: In general, the younger the person, the less of a chance there will be serious symptoms from a COVID-19 infection.
However, while most children have no serious symptoms, "we can't predict who will develop severe COVID, MIS-C or long COVID. The immunology of the whole spectrum of COVID in children is not well defined," says Danilo Buonsenso, a pediatrician at the Gemelli University Hospital in Rome, who has published papers on long COVID.
"One thing we don't know is what the long-range effects are of a virus that enters your body and has the capability of inducing aberrant inflammatory and immunological responses," Fauci says.
Hazra, who researches MIS-C and long COVID in children, tells Axios they are looking hard at the "major, major question" of how many of these ailments in children are from the SARS-CoV-2 virus and how many are from other pandemic stressors. This will need large cohort studies on the long-term effects.
"It's really, really hard because the pandemic itself has had such an impact on children. So, when we talk about difficulty concentrating, pain, brain fog, fatigue, anxiety — those real symptoms are potentially part of long COVID. ... But we have to tease out how much of this is a result of infection," Hazra says.
What they're saying: "COVID-19 disrupts children's lives. And the more immunity in the population the better," Adalja says.
"This benefits the individual child because they're not going to be held hostage by COVID anymore. They're not going to be quarantined because of an exposure. They're not going to be stuck on virtual learning," Adalja says.
"This is something that makes them individually more resilient to the virus, and their schools and their organizations and the activities that they're part of more resilient to the virus," he adds.
Buonsenso says this return to normalcy will also benefit kids' mental health. "I definitely suggest vaccinations to all age groups, and with an equitable distribution in the whole world, without neglecting low-income countries."
Not only could vaccination help prevent severe disease or long-term symptoms, but it could also "indirectly contribute to protect those younger than 5, who can still have severe COVID," Buonsenso points out.
Go deeper: Fauci: "I would vaccinate them in a second"
Go deeper