Taiwan leader confirms U.S. troops on island training forces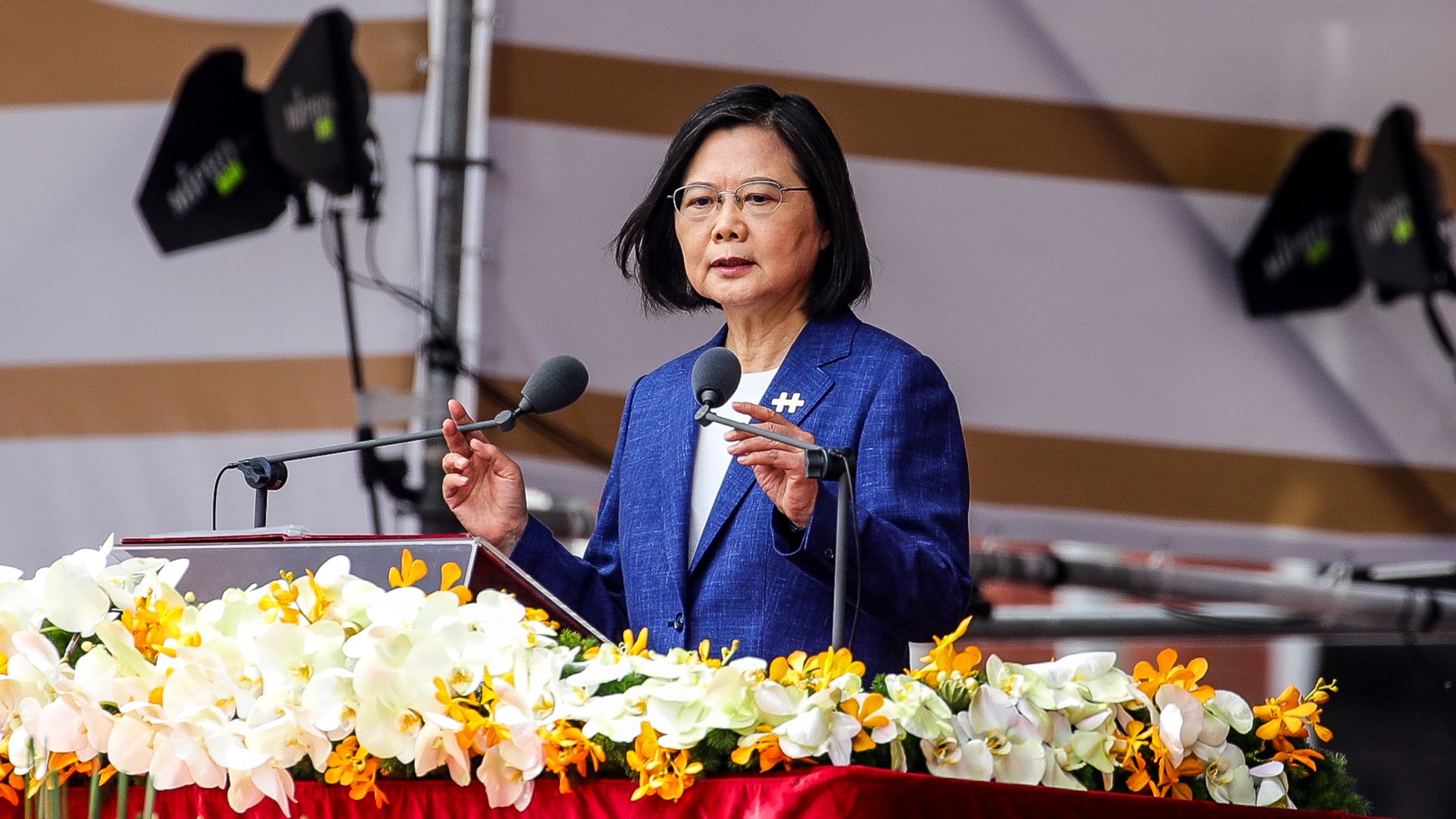 Taiwan's President Tsai Ing-wen told CNN on Thursday that a small number of American troops are on the island for training purposes and she has "faith" the U.S. would defend the democracy against a Chinese military attack.
Why it matters: This is the first time a Taiwanese leader has publicly acknowledged the presence of U.S. troops on the self-governing island since the last U.S. garrison left in 1979, when Washington switched formal diplomatic recognition to Beijing.
U.S. defense officials have publicly aired concerns that China's government will take Taiwan by force in the next four to six years, perhaps sooner as Beijing becomes increasingly aggressive — notably flying a record 145 warplanes into Taipei's air defense identification zone this month.
Of note: Presiden Biden said at a CNN town hall last week that "we have a commitment" to defend Taiwan if it were under attack. The White House later clarified there hadn't been a policy change and the U.S. continued to support Taiwan's self-defense.
Yes, but: Tsai told CNN that if Taiwan was attacked by China's military, she believed that the United States and other allies would come to the island's aid "given the long-term relationship we have with the U.S."
What they're saying: When asked for the precise number of U.S. military personnel on the island, Tsai told CNN that it's "not as many as people thought."
"We have a wide range of cooperation with the U.S. aiming at increasing our defense capability," she added.
Tsai said the threat from Beijing was increasing "every day."
Taiwan's Defense Minister Chiu Kuo-cheng told reporters Thursday, "We have personnel exchanges and they [U.S. soldiers] would be here for military cooperation, but this is different, according to my definition, from having 'troops stationed' here," per AFP.
The big picture: Taiwan separated from China in 1949 amid the Chinese Civil War and Beijing regards the democratically run island as a breakaway province.
Consecutive administrations have purposely maintained a posture of "strategic ambiguity" on the matter of whether the U.S. would defend Taiwan from a Chinese military invasion.
A Chinese government spokesperson responded to Biden's town hall comments by saying there's "no room" for compromise over Taiwan.
Representatives for the Biden administration did not immediately respond to Axios' request for comment.
Go deeper