"Build Back Better" goes global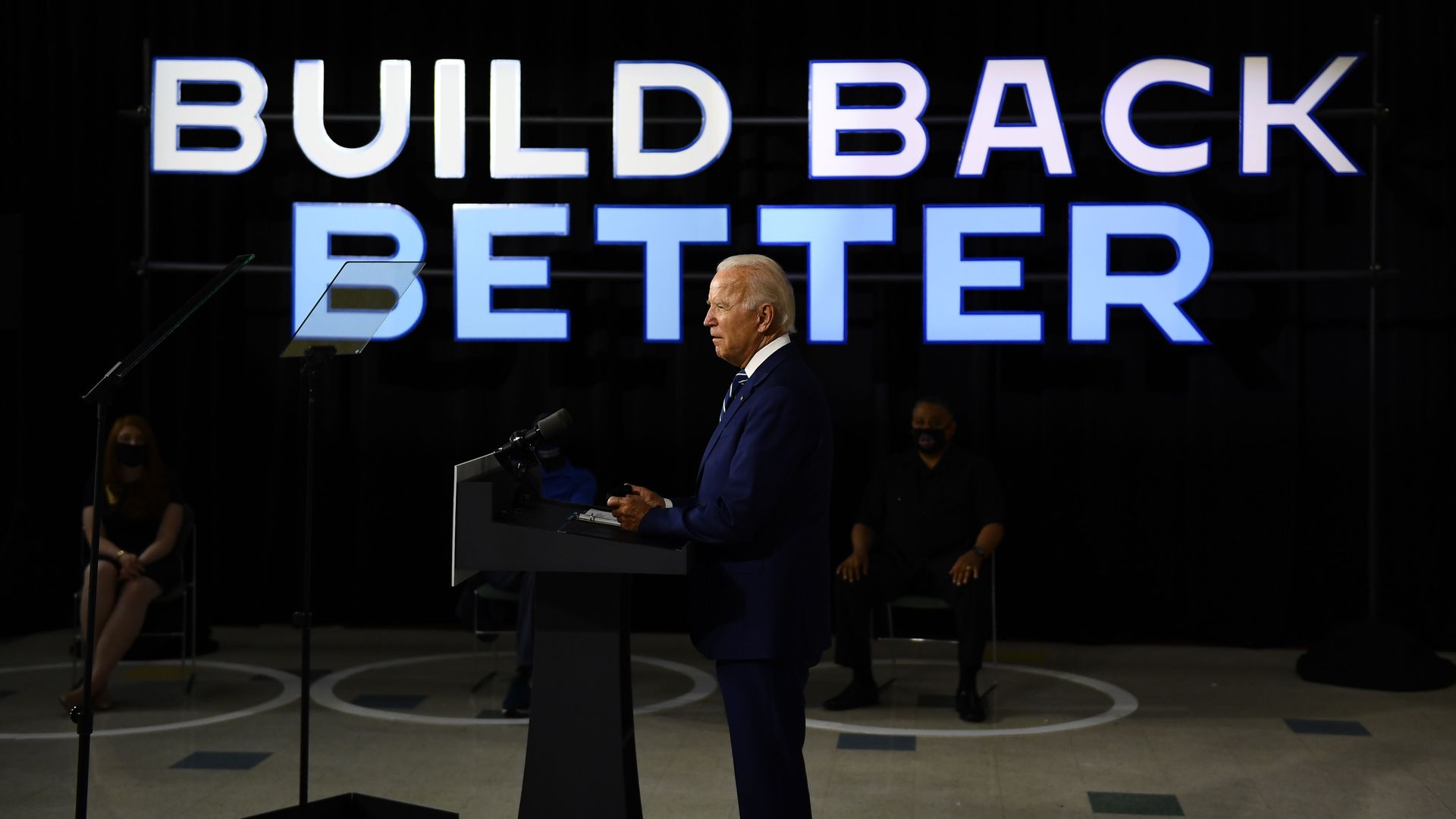 President Biden's "Build Back Better" mantra is about to take the global stage at the G20 summit in Rome.
The big picture: The global debate awaiting Biden in Rome has a lot in common with the debate he's leaving behind in Washington: whether and how to undertake a major economic restructuring with climate change and social equity at the forefront.
Driving the news: Biden's set to leave Washington today as congressional Democrats push to reach an agreement to pass a $1.2 trillion bipartisan infrastructure deal and his bigger social-spending proposal. He's set to meet with Pope Francis before the summit.
The G20's top priorities echo Biden's domestic agenda. U.K. Prime Minister Boris Johnson — who will host a landmark UN climate summit in Glasgow next week — also uses "Build Back Better" as his own government's slogan.
It's the first time since the start of the pandemic that the U.S. president and other leaders from the world's largest economies will meet in-person, with four notable exceptions: The leaders of China, Russia, Japan and Mexico won't be attending.
What to watch: Rome will be the best chance for the G20 to send a strong political signal that developed economies need to step up on climate — especially with the absence of China's Xi Jinping and Russia's Vladimir Putin, who typically put up roadblocks in global forums.
With Xi and Putin not in attendance, the U.S. and Europe will be "energized," "united," and "driving the agenda," Biden's national security adviser, Jake Sullivan, said this week.
Yes, but: That unity could be put to the test as Biden steps into a web of geopolitical tensions.
Biden will meet with French President Macron for the first time since a secret U.S.-U.K. submarine deal with Australia scuppered a multibillion-dollar submarine contract with France.
Macron and other EU leaders have also expressed resistance to Biden's push to build a global coalition to confront China, calling for "strategic autonomy" to pivot Europe away from a reliance on the U.S.
As Biden turns his focus to the Indo-Pacific, Russia has resumed its cyberattacks on U.S. companies, cut off all communications with NATO, and is threatening to use energy as a political weapon against Europe, which is experiencing fuel shortages.
The EU is facing its own existential crisis in a rule-of-law dispute with Poland, and could terminate its post-Brexit trade deal with the U.K. unless the two sides agree to a truce.
Angela Merkel, who has been Europe's crisis manager for 16 years, will be attending her final G20.
Turkey's President Erdogan threatened to expel 10 Western diplomats this weekend; Saudi Crown Prince Mohammed Bin Salman was accused of another assassination plot; and a Brazilian commission recommended criminal charges against President Bolsonaro for his COVID response.
Biden met with Erdogan at the NATO summit in June, but has avoided meeting with the latter two.
The bottom line: These countries, as many challenges as they face, represent about 75% of the global economy, 80% of carbon emissions and nearly all of the global vaccine supply.
The road to a green global recovery runs through the G20, but Biden will need all his diplomatic skills to produce any meaningful progress.
Editor's note: This story has been updated to correct that Biden met with Erdogan once before.
Go deeper