Biden to Dems: This is my make-or-break moment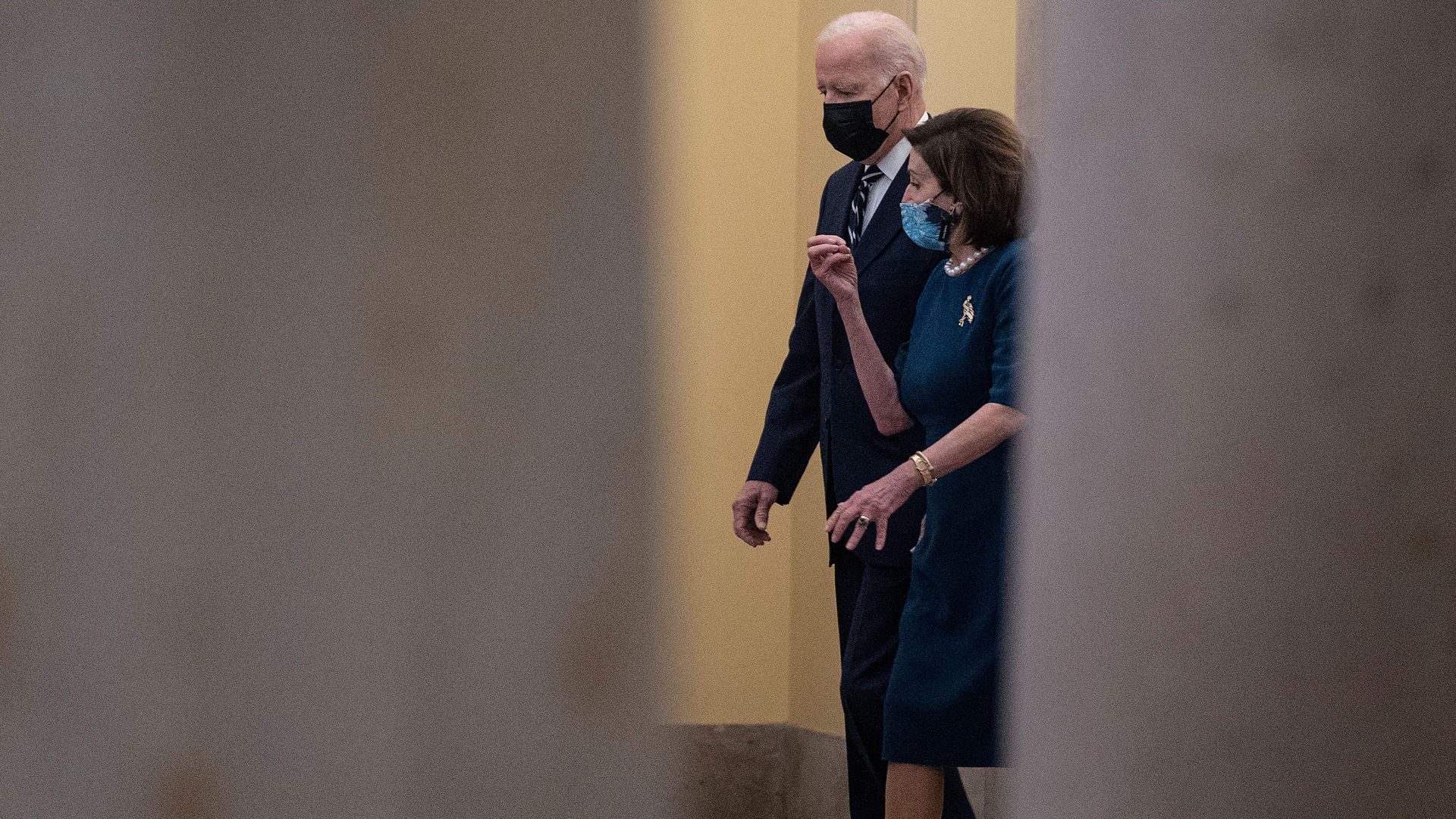 President Biden told the House Democratic caucus Thursday "my presidency will be determined" by the votes he wants in the next week on his $1.75 trillion social safety net expansion and $1.2 trillion infrastructure package.
Driving the news: Biden made the comment, according to a source in the room, as he tried to rally support for the $1.75 trillion package. House Speaker Nancy Pelosi acted immediately, calling for a vote on the $1.2 trillion bipartisan infrastructure bill later in the day.
The nearly $3 trillion question was whether the president's plea and Pelosi's action would be enough to win the support of House progressives, who want both bills passed simultaneously.
The Congressional Progressive Caucus was holding a meeting immediately after the session with Biden to discuss their position, Rep. Karen Bass (D-Calif.) told reporters.
What they're saying: The caucus chair, Rep. Pramila Jayapal (D-Wash.) seemed to pour cold water on the effort.
"Logistically it's possible," she said of a vote being held Thursday, "but I don't think we have the votes for it."
Support from the vast majority of House progressives is needed without dozens of Republican votes in that chamber.
For his part, Biden was blunt.
"I don't think it's hyperbole to say that the House and Senate majorities and my presidency will be determined by what happens in the next week," he told his fellow Democrats, according to the source in the room.
Members responded with shouts of "vote, vote, vote."
In a White House speech after the meeting, Biden said the framework was an example of a compromise: "No one got everything they wanted, including me, but that's what compromise is. That's consensus. And that's what I ran on."
The president called the framework "historic," adding that it "will fundamentally change the lives of millions of people for better."
Go deeper:
Editor's note: This story has been updated with additional comments from Biden.
Go deeper