Nor'easter slams East Coast with flooding rain and powerful winds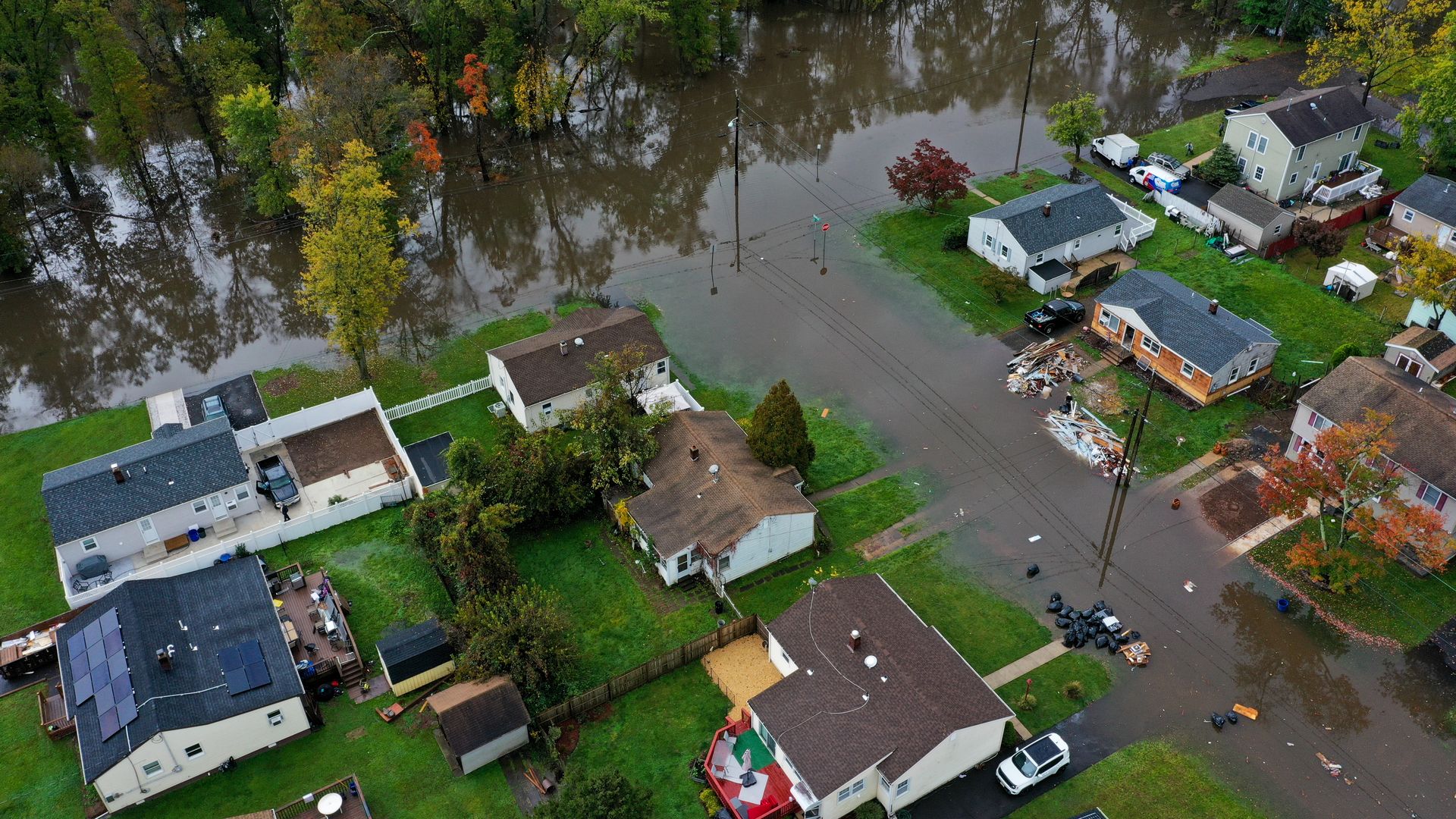 A monster storm was slamming the Northeast with record rainfall and powerful winds over Tuesday night — causing flash flooding that resulted in people having to be rescued in New Jersey and New York roads to close.
Threat level: All of southern New England and westward to New York City and northern New Jersey was under the threat of flash flooding and coastal flooding from the nor'easter through Tuesday night into early Wednesday, per the National Weather Service.
Winds "gusting to hurricane force" were possible near Cape Cod overnight, as the center of the storm edged closer, according to the NWS.
Forecasters warned the nor'easter could become a "bomb cyclone," a non-tropical storm whose pressure drops at least 24mb in 24 hours, like the off-coastal one that was associated with the storm system that pummeled Western states on Sunday.
The big picture: States of emergency were declared in New Jersey and New York ahead of the storm's arrival.
The nor'easter unleashed over four inches of rain over parts of New York, New Jersey and Connecticut on Tuesday, and the pounding of the region continued into the night after a brief respite in the afternoon.
What's happening: Roads flooded across the Northeast, with New Jersey in particular badly hit, the New York Times notes.
Police in Union Beach, New Jersey, said they had responded to more than a dozen emergency call-0uts from drivers "stranded in rapidly rising flood and storm waters," but added all rescues so far had been successful, per CBS News.
Flooding in New York along Interstate 81 north caused a stretch of the road to be temporarily closed at Tully on Tuesday, according to N.Y. State Police.
Meanwhile, more than 41,000 customers were estimated to be without power in Massachusetts early Wednesday, as the storm unleashed powerful winds and heavy rains on the state — with gusts of 60 mph forecast for coastal New England overnight.
By the numbers: Among the most rain-soaked areas in New Jersey by Tuesday night were the borough of Park Ridge, where 5.24 inches fell and the township of Hazlet, N.J., which saw 4.55 inches of rainfall.
Other significant totals elsewhere included Fordham, New York, (4.73 inches) and Danbury, Connecticut, (4.40 inches).
Of note: The Northeast is enduring its biggest soaking since the remnants of the deadly Hurricane Ida brought historic flooding to the region in September.
Editor's note: This article has been updated with new details throughout.
Go deeper