Scoop: Manchin waffles on billionaire tax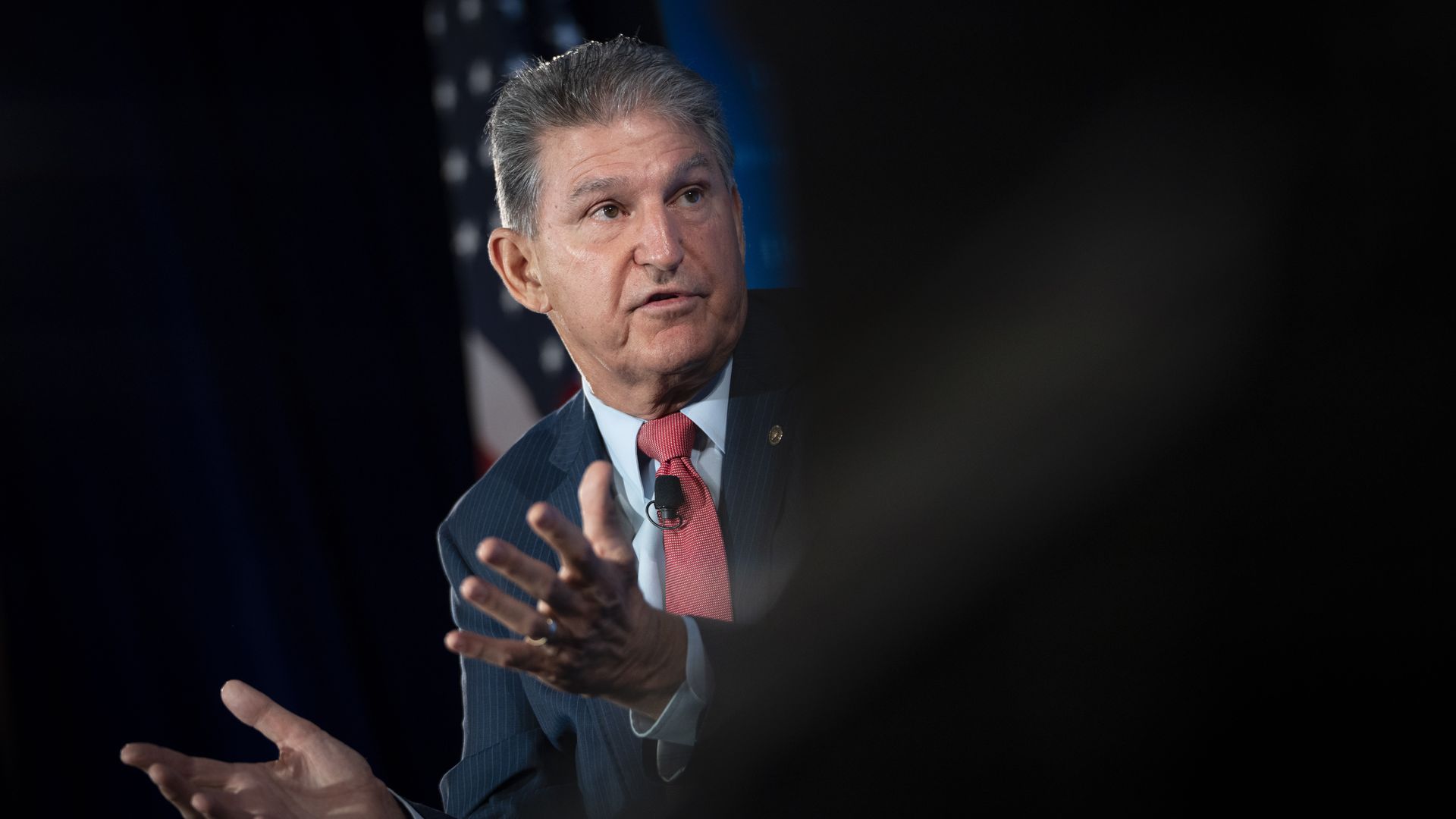 Sen. Joe Manchin (D-W.Va.) is telling colleagues he has deep concerns about a proposed "billionaire tax" but is waiting for more details before making a final decision, people familiar with the matter tell Axios.
Why it matters: The senator's doubts reveal an uncomfortable truth for the White House and congressional leaders as they race to finish — and pay for — their nearly $2 trillion social spending and climate package: A tax solution designed to satisfy Sen. Kyrsten Sinema (D-Ariz.) isn't necessarily acceptable to Manchin.
The billionaire tax gained currency over the weekend because Sinema, a fellow moderate and key negotiator, signaled her opposition to corporate, personal and capital gains tax hikes. Manchin's potential opposition to the billionaire-tax proposal would blow a $200 billion to $250 billion hole in the Democrats' plans for new revenues.
Manchin has long had concerns about "mark-to-market" proposals, which try to assess — and then tax — the appreciation of an asset before it's been sold. That would be the underpinning of the billionaire tax.
On Tuesday, Manchin noncommittally told reporters: "I haven't seen the text on it."
Driving the news: Sen. Ron Wyden (D-Ore.), chairman of the Senate Finance Committee, planned to release the details of his tax on unrealized gains for billionaires Tuesday evening, with senators and key House lawmakers eager to see actual legislation.
"These are complicated ideas and the devil's in the details," Sen. Mark Warner (D-Va.) told Axios.
Asked by Axios' Alayna Treene if he was skeptical about the proposal, Sen. Jon Tester (D-Mont.) said, "Oh of course. I think that — you know, I mean, I got to look at it."
Some House Democrats, including House Way and Means Chairman Richard Neal (D-Mass.), have expressed misgivings about the proposal but haven't formally announced their opposition.
The big picture: Senate leaders unveiled a separate plan to impose a 15% minimum book tax on corporations with more than $1 billion in profits.
Previously estimates have put the potential revenue for that provision at $150 billion over 10 years, but Sen. Angus King (I-Maine) suggested Tuesday it could raise between $300 billion and $400 billion.
Sinema proclaimed her support on Twitter, and Manchin told reporters earlier Tuesday he's comfortable with the plan.
Between the lines: Even with the 15% minimum tax, Democrats are running out of potential revenue sources to pay for their proposed new spending.
That could force them to shrink the overall size of the package and discard some progressive priorities, including paid family leave or a Medicare expansion.
On Tuesday, Manchin all but killed a proposal to require banks to share more information about customers' accounts with the IRS to help the agency find tax cheats — depriving negotiators of an estimated $200 billion in additional revenues.
"I think that one's going to be gone," Manchin said at an event hosted by The Economic Club of Washington.
Go deeper