Biden aims to soften Trump policy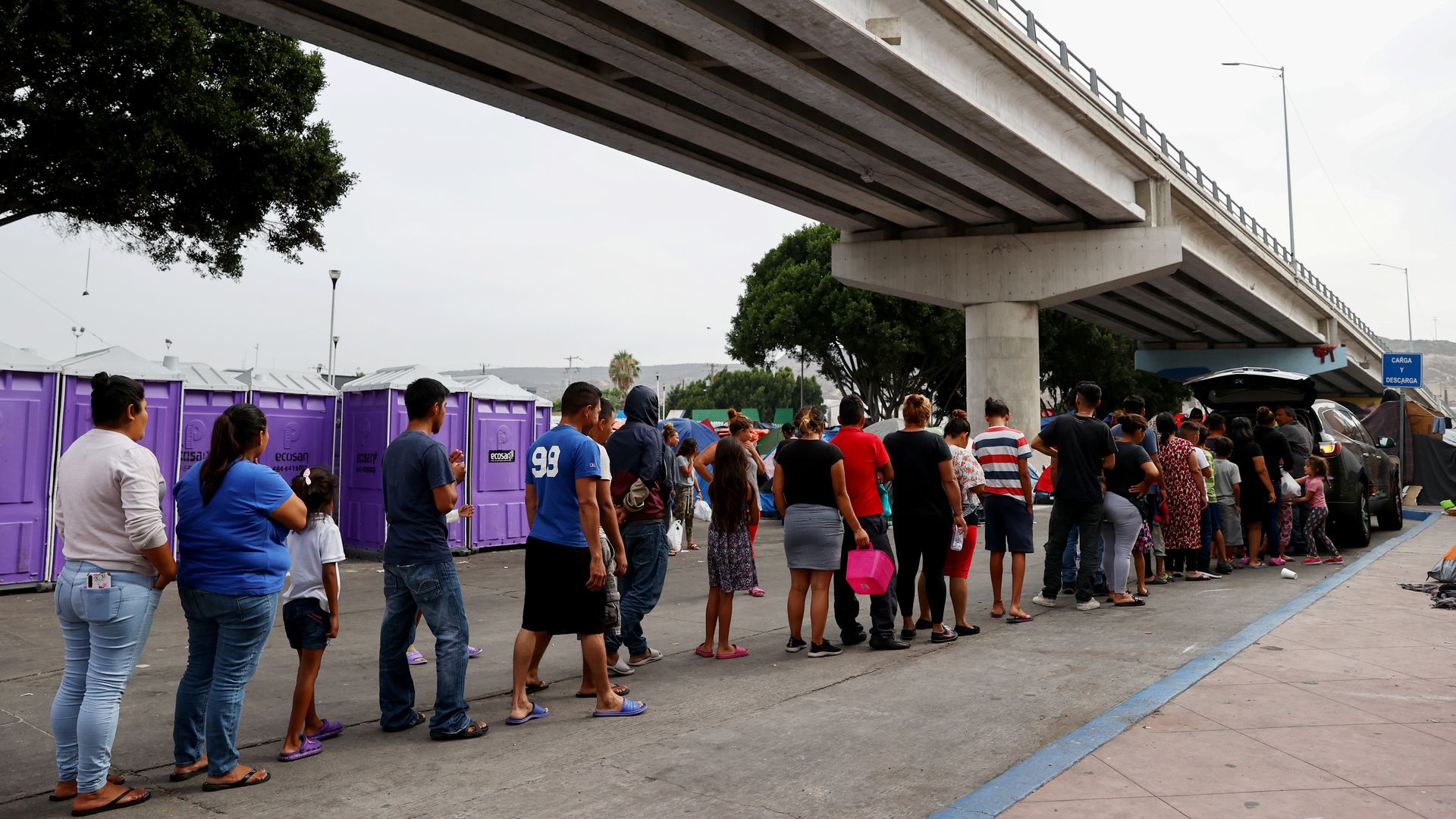 The Biden administration will restart President Trump's "Remain in Mexico" program in mid-November — but this time, it's considering offering vaccines to asylum-seekers waiting for a chance to immigrate, Axios has learned.
Why it matters: One of President Biden's big campaign promises was to end the program. He did — temporarily. Now, under court order, it's resuming, so the administration is working to make it more humane, and mollify activists who complain he's not trying hard enough to end it.
Efforts to both end and improve the controversial program are reflective of internal administration factions, one official said.
Some immigration officials see a more humane version of Remain in Mexico as a good option to handle the still-large numbers of migrants crossing the border.
Others — along with many advocacy groups — want nothing to do with the program, which has raised serious humanitarian concerns. The Department of Homeland Security has indicated it will soon try again to end the policy.
The details: Starting mid-November, migrants will be returned to Mexico under the Migrant Protection Protocols (MPP), likely through seven ports of entry across California, Arizona and Texas, two government officials familiar with internal plans told Axios.
Officials are preparing to handle as many as 175 asylum cases per day at makeshift courts being built in Laredo and Brownsville, Texas.
More than 70,000 migrants are estimated to have been placed in MPP between early 2019 and Biden's ending of the policy this year.
Officials may provide enrolled asylum seekers with the coronavirus vaccine — although the administration cannot require it. A DHS official told Axios that internal memos and discussions regarding implementation are "not to be considered final."
Immigration officials have already been offering the vaccine to migrants who've crossed the border and are in U.S. custody. About 30% to 40% decline getting the shot — not far off from the general U.S. population, according to another DHS official.
But, but, but: The administration can't send asylum seekers to Mexico without Mexico's participation.
The U.S. has been working to address some of Mexico's concerns — including wrapping up MPP asylum cases within six months, so the country doesn't have to accommodate migrants endlessly.
Mexico has already taken in hundreds of thousands of migrants kicked back by the U.S. under yet another controversial Trump-era policy still in place, Title 42.
What they're saying: "The administration is currently under a court order requiring it to reimplement MPP in good faith, which it will abide by even as it vigorously contests the ruling," DHS spokesperson Marsha Espinosa said in a statement to Axios.
"As stated previously, the department will soon be issuing a new memo explaining and reaffirming its decision to terminate MPP."
Go deeper