Vote fight draws Kennedy, MLK kin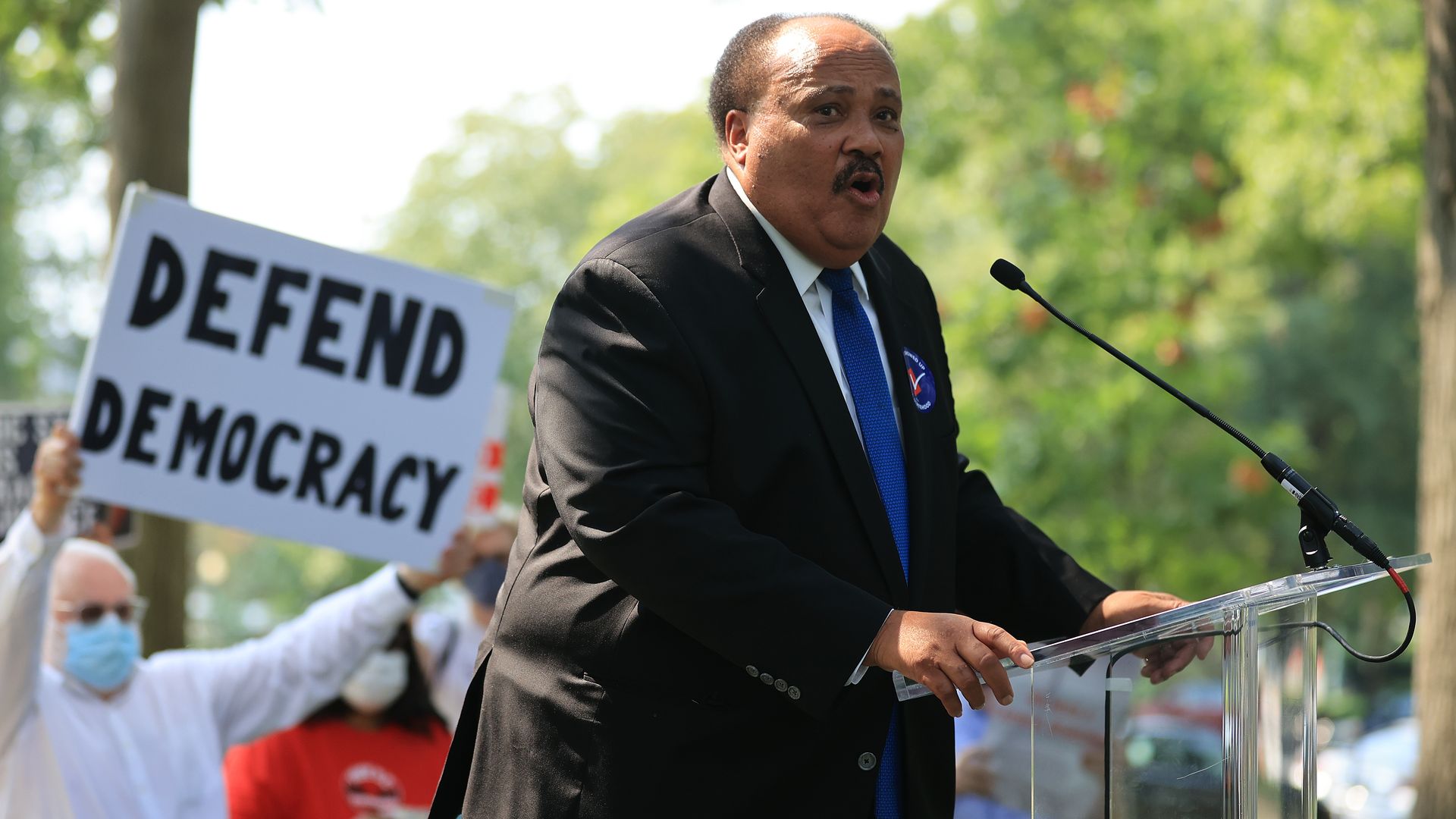 Martin Luther King III, Joe Kennedy III and other prominent figures have raised more than $1 million from small, daily donations to fight voting restrictions in a handful of Republican-controlled states.
Why it matters: Decades after the 1960s civil rights movement, two of its most prominent legacies — the King and Kennedy families — are still fighting to expand voting access. Nineteen states have enacted 33 new laws this year adding hurdles for some voters.
King, 64, an activist and the eldest son of Martin Luther King Jr., told Axios that voting rights restrictions threaten the Democratic majorities in the House and Senate, as well as President Biden's ability to follow through on his campaign promises.
Kennedy, 41, a former Massachusetts congressman and grandson of Robert F. Kennedy, said part of the campaign's goal is to provide more resources for groups in Republican areas, where there's traditionally less political incentive for the Democratic Party to invest in voter-protection efforts.
Joining them in their fundraising efforts are others including singer John Legend and NBA star Russell Westbrook.
Funds raised from the "Give Us the Ballot" campaign have already gone toward various voting rights organizations in Arizona, Mississippi, Georgia, Texas, New York, Alabama and West Virginia.
All but New York have Republican-controlled state legislatures and governorships.
Organizations that have received the funding include New Georgia Project, Black Voters Matter and Mi Familia Vota.
Supporters are asked to provide micro-donations of up to $2 per day.
What they're saying: "This is not, by the way, to tell everybody who to vote for. ... It's about making sure people have the opportunity," King said.
Kennedy said it's no accident that states have been passing laws that advocates say will make it more difficult to vote for some people.
"This is the direct consequence of literally a decades-long effort by conservatives to continue to tilt the playing field," he said.
What to watch: While the Senate failed last week to pass the Freedom to Vote Act pushed by Sen. Joe Manchin (D-W.Va.), both King and Kennedy told Axios the fight in Congress for expanded federal voter protections isn't yet over.
King compared the need for 6o votes to overcome the Senate filibuster to confederate statues, saying it's "a relic, and it needs to go."
He said he hopes that at the very least, Democrats create an exception to the filibuster to pass new voting rights laws.
On the decades his family has spent fighting for expanded and protected voting rights, King said, "Sure, I wish we were much further."
"I wish there were other issues that we were fighting at this time, not the precious issue — which is the most important, fundamental issue — which is the right to vote."
Go deeper