Inside Biden's Taiwan flubs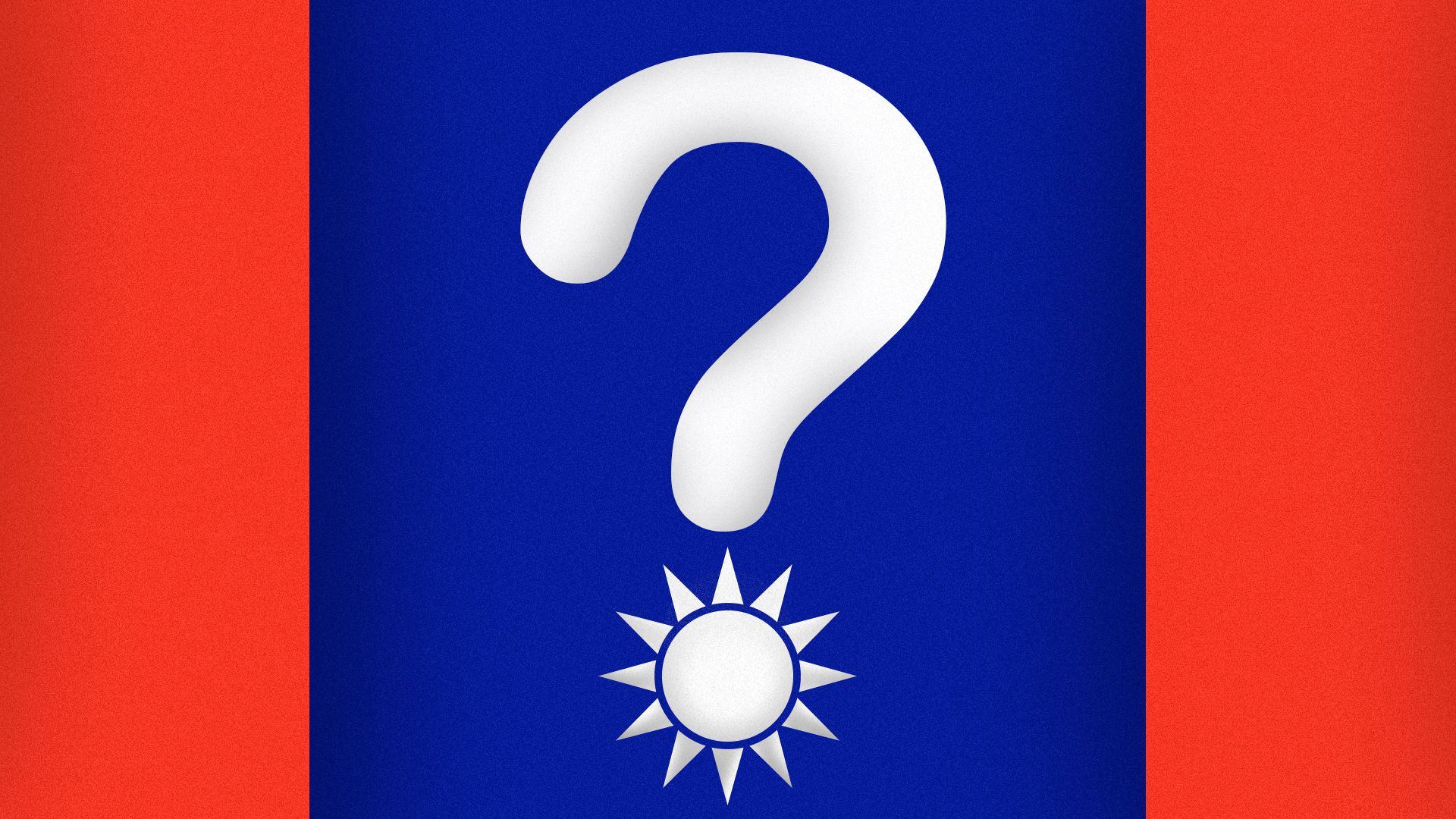 Twice this year, President Biden has blurted out commitments that the U.S. is prepared to defend Taiwan against a Chinese invasion — forcing the White House to walk back his statements and leading to confusion over a high-stakes national security policy.
Why it matters: U.S. defense officials have publicly aired their concerns that China will take Taiwan by force in the next four to six years, perhaps sooner. The president's position on this question may soon have real-world, life and death consequences.
China has been increasingly aggressive — flying a record 145 warplanes in Taiwan's neighborhood earlier this month in operations designed to threaten and demoralize the island into accepting the inevitability of Chinese rule.
Taiwan's defense minister has warned that China could be ready to mount a "full-scale" invasion by 2025.
Recent war games conducted by the Pentagon and the RAND Corporation indicated that China would defeat the U.S. in a military clash over Taiwan.
The big picture: The U.S. government has a long-running policy of "strategic ambiguity" on Taiwan. Within this sensitive construct, every word is delicately and legalistically parsed.
The U.S. government says it acknowledges China considers Taiwan as part of "one China." But the U.S. opposes any attempts to change Taiwan's self-governing, democratic status by force.
The U.S. government does not say whether it would use force to defend Taiwan from a Chinese invasion — only that the U.S. reserves the right to use force and is committed to helping Taiwan defend itself by selling American weapons.
Given China's increasingly aggressive actions towards Taiwan, there's a hot debate within Washington's foreign policy community about whether the U.S. needs to make a stronger, clearer statement to deter China from invading.
Between the lines: Since taking office, Biden has made two seemingly accidental statements that suggested a change in U.S. policy towards Taiwan.
In an interview with ABC in August, Biden rejected the notion that the Afghanistan withdrawal raises questions about America's commitment to its allies: "We made a sacred commitment to Article Five that if in fact anyone were to invade or take action against our NATO allies, we would respond," he said. "Same with Japan, same with South Korea, same with Taiwan."
And on Thursday night, in CNN's town hall, Biden responded "yes" when asked by an audience member whether he could "vow to protect Taiwan." Pressed by Anderson Cooper whether he was "saying that the United States would come to Taiwan's defense if China attacked," Biden responded: "Yes, we have a commitment to do that."
Both times, the White House has had to play cleanup, insisting the president's statements do not reflect a change in policy.
In response to Axios' questions, a senior administration official said Biden remains "committed" to the Taiwan Relations Act, through which the U.S. "will continue to assist Taiwan in maintaining a sufficient self-defense capability."
The White House did not respond to specific questions about whether Biden's comments were mistakes or deliberate.
Behind the scenes: A source who has discussed these sensitive matters with top Biden officials said he believes Biden has been accidentally revealing his true views — that Taiwan is too strategically important to the U.S. for China to seize by force.
One thing is near-certain: Biden's statements are not formal strategy. This White House is allergic to improvisation. If they change the U.S. strategy towards Taiwan, they will likely do so in a highly choreographed speech or a heavily vetted strategy document.
But the strange thing about these flubs and walk-backs is Biden understands the nuances of language with respect to Taiwan.
In 2001, then-Sen. Biden — the top Democrat on the Foreign Relations Committee — wrote an op-ed in the Washington Post criticizing then-President George W. Bush for having to walk back imprecise language committing the U.S. to defending Taiwan against a Chinese attack.
What they're saying: Matt Pottinger, the former deputy national security adviser and now distinguished visiting fellow at Stanford University's Hoover Institution, said Biden's recent statements about Taiwan have been "helpful," notwithstanding the White House's subsequent walk-backs.
"It's not a formal statement of strategic clarity, but a de facto signal to Beijing not to underestimate us," said Pottinger, who was an architect of President Trump's tough China policies.
Chris Johnson, a former top CIA China analyst who now heads China Strategies Group, said it's unclear whether Biden's statements are strategic or accidental, but "the result in Beijing will be the same. ... The Politburo will interpret it as a unilateral change in the U.S. position on the cornerstone underpinning the bilateral relationship."
Go deeper