The rise of vegan food in unexpected places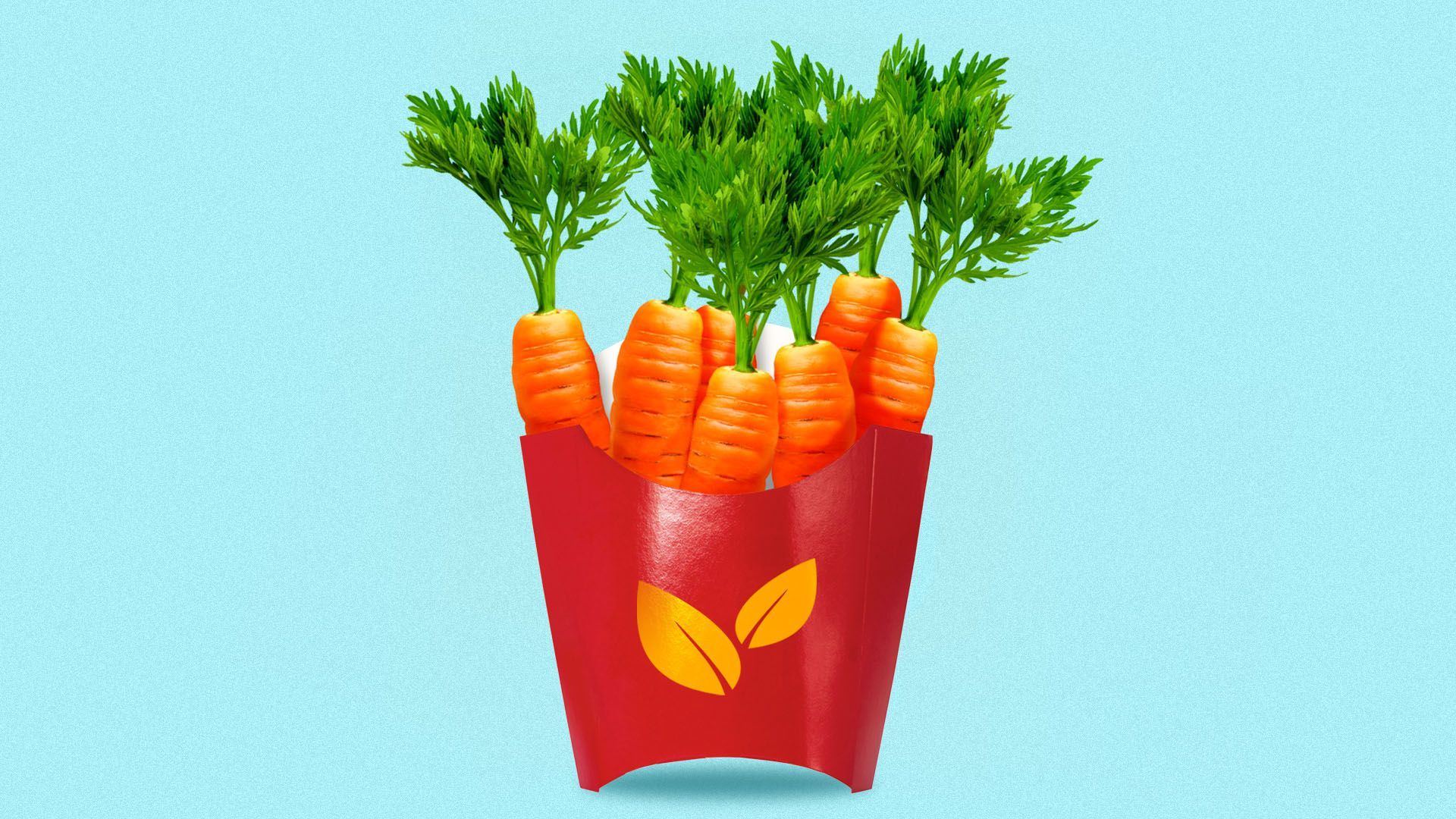 Vegan cuisine is popping up in two places it wasn't present before: fine dining and fast food.
Why it matters: The single biggest way an individual can reduce their carbon footprint is to eat less meat and dairy. Now, the popularization of meatless meals could help curb meat consumption in the U.S.
What's happening: Plant-based diets are hitting both ends of the food spectrum. High-end eateries are putting out vegan tasting menus, and fast food joints are serving up fried vegan chicken and meatless burgers.
New York's 3-Michelin star Eleven Madison Park made waves this summer when it reopened after its pandemic shutdown with a fully plant-based menu, at the same steep price of $335 per person.

"The current food system is simply not sustainable, in so many ways," chef Daniel Humm wrote in his reopening letter. "It is time to redefine luxury as an experience that serves a higher purpose and maintains a genuine connection to the community."

And a slew of fast casual and fast food restaurants are now serving vegan alternatives to their classics. Fuku — Momofuku's fast food sister restaurant — has chicken-less versions of all its nuggets. Starbucks sells a sausage, egg and cheese breakfast sandwich with Impossible meat.
"The world is just really changing now," says Doug McNish, a vegan chef and author of several vegan cookbooks.
"As more and more people adopt this way of living, you see people of affluence — whether that's thought leaders or influencers or celebrities or entrepreneurs — becoming plant-based. And then it just spreads like wildfire."
We've grown accustomed to equating luxury with expensive meats and animal products, like lobster and foie gras, but vegan chefs are out to prove that plants can be luxurious too.
"We have dishes on our menu that take a day and a half of labor to get onto the plate," says Rich Landau, the chef behind an upscale vegan restaurant in D.C. called Fancy Radish. "There is a lot of luxury in that."
"More people are starting to understand that food is about flavor, not flesh," he says.
Chefs keep coming up with creative ways to replace animal products with plants. "When you manipulate vegetables right, you can apply the same fine dining cooking techniques to them as you would to meat," McNish says.
Examples include watermelon instead of ahi tuna in sushi rolls and poke bowls, or spiced jackfruit as pulled pork.
McNish serves up a king oyster mushroom calamari at one of his restaurants. The mushrooms are sliced thin and the center is punched out to resemble calamari, and then it's deep-fried with the same flavors.
The bottom line: As plant-based options reach the highest levels of fine dining and start appearing alongside classics on fast food menus, they're not just for vegans anymore. McNish and Landau both tell me the vast majority of their clients are omnivores.
"There's a huge turning of the tides of the absolutism of veganism," says Landau. "It's not that way anymore. You can be as vegan as you want."
Go deeper