U.S.-Mexico border patrol arrests reach all-time high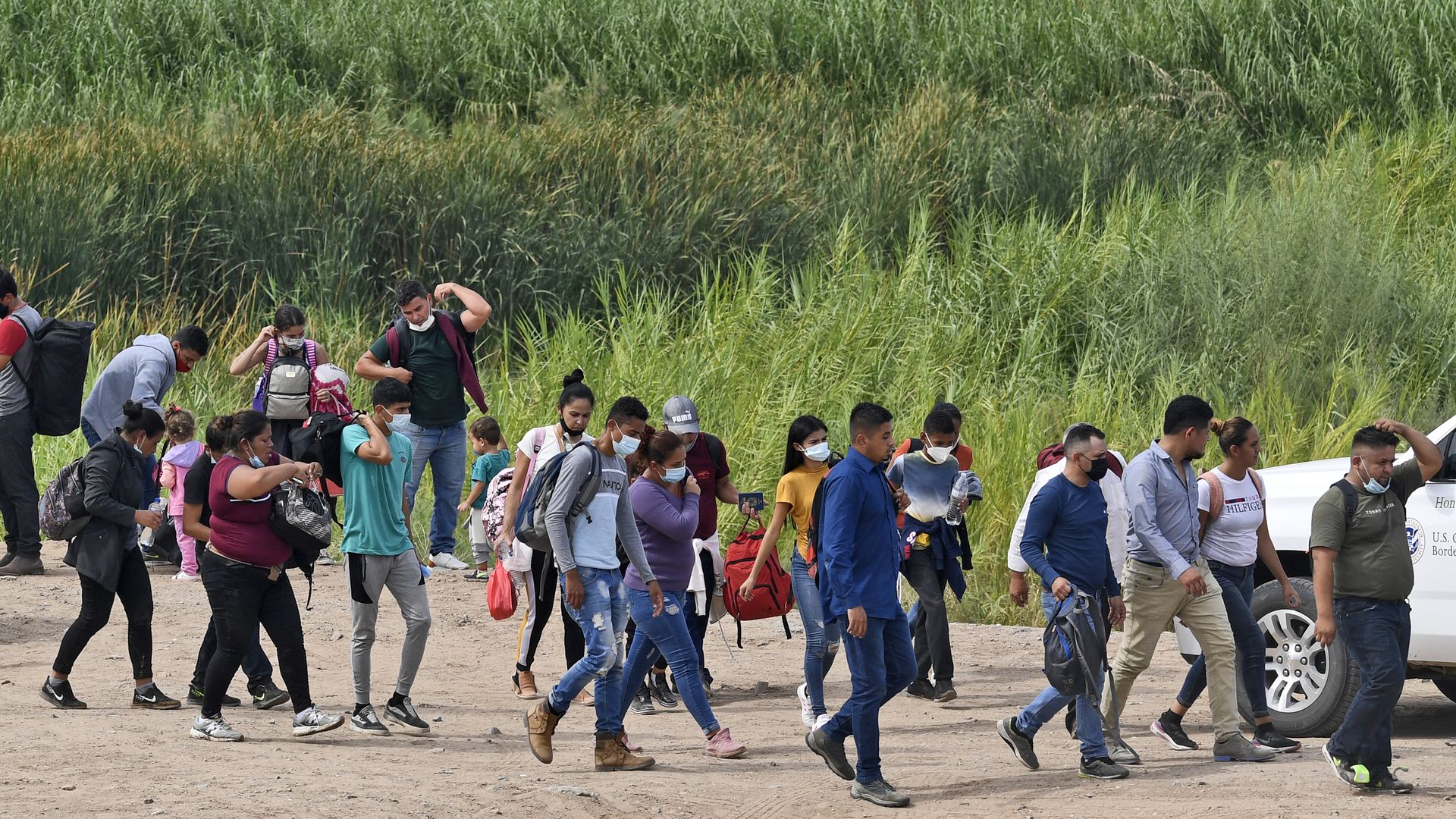 Border patrol made nearly 1.7 million arrests of immigrants illegally crossing the U.S.-Mexico border in fiscal year 2021 — the highest number on record, according to new agency data released on Friday.
Why it matters: Unauthorized crossings are beginning to decline, but still remain far above the usual numbers this time of year. The administration is also tracking other large groups of migrants headed toward the U.S.
Between the lines: Overwhelmed border and migrant care resources have plagued the Biden administration since February. The president has taken heat from both sides of the aisle — for both ending some harsh Trump-era policies, while continuing others.
The use of a public health order known as Title 42 has contributed to the high numbers, with migrants often attempting to cross multiple times after being promptly returned to Mexico under the policy.
There were more than 1 million expulsions of migrants under Title 42 for the fiscal year.
Title 42 was also used for just more than half of encounters with migrants last month, and about a quarter of migrants had attempted to cross at least one other time in the past year, according to Customs and Border Protection.
By the numbers: Border officials made more than 1.7 million encounters with people attempting to cross the border between October 1, 2020 and the end of September, according to the data.
1.1 million encounters were with single migrant adults.
Almost 480,000 were with members of migrant families.
147,000 were with unaccompanied minors. Both the number of families and the number of kids encountered by border officials dropped in September from August. But there were still at least three times as many as in recent Septembers.
Surges in past years have been driven by migrants from Guatemala, Honduras and El Salvador.
While the Northern Triangle and Mexico remain key regions of origin for U.S.-headed migrants, there's been a notable rise in migrants from further nations, as well — Haiti, Cuba, Venezuela and Brazil, for example.
About 36% of migrants who attempted to cross the U.S.-Mexico border last month were from nations other than Mexico and the Northern Triangle.
What to watch: Following court orders, the administration is expected to reimplement the Trump-era "Remain in Mexico" program next month, which forced asylum seekers to wait in Mexico until their immigration court hearings, held in tent-like facilities.
Go deeper