Reading the fundraising tea leaves in Virginia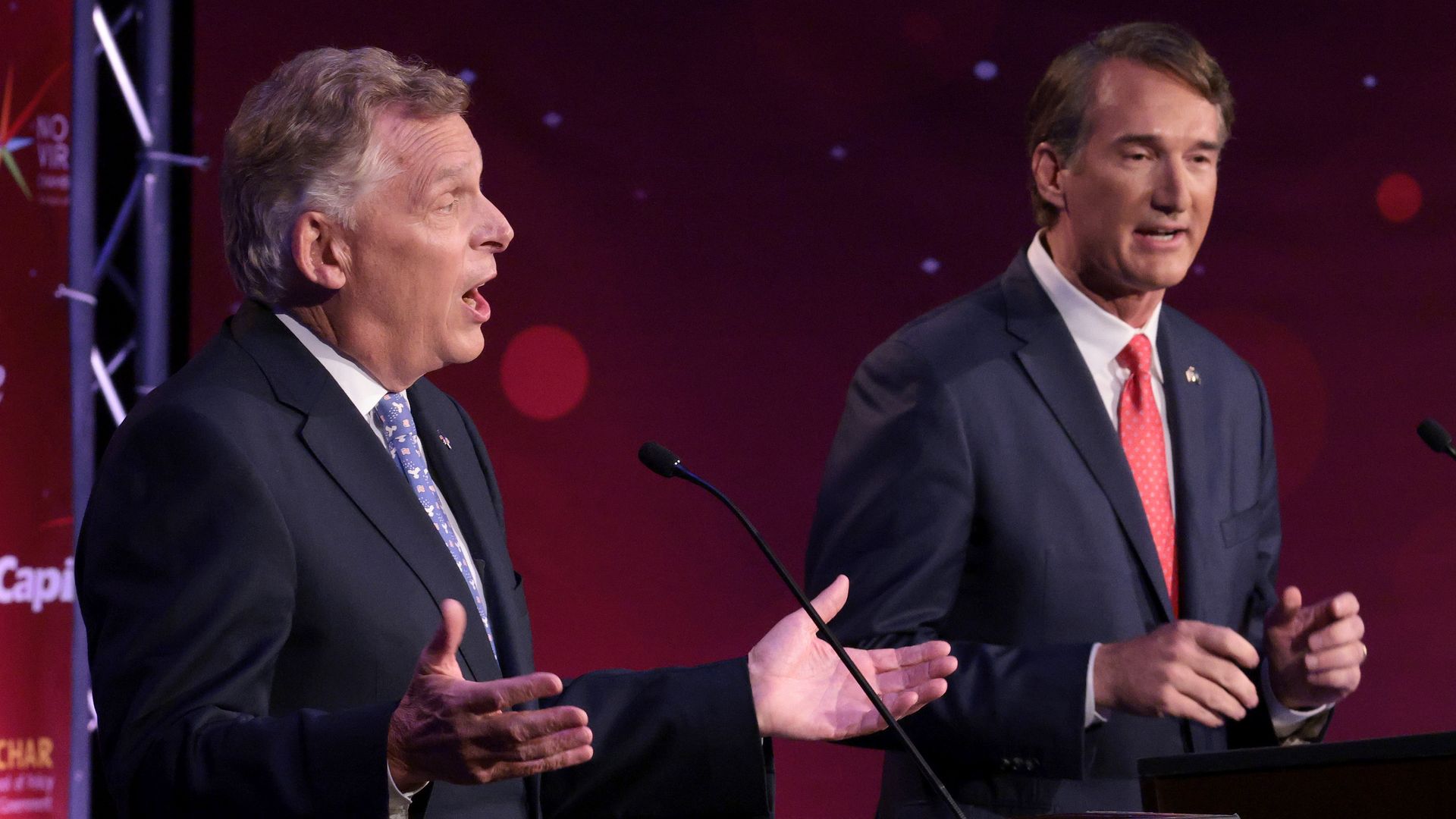 Democrat Terry McAuliffe may be trouncing Glenn Youngkin in fundraising, but when it comes to dollars from donors in Virginia — the state where they're battling to become governor — the Republican has the edge.
Why it matters: With tight polls between the two gubernatorial candidates less than two weeks before Election Day, the parties are also looking to fundraising as a predictor of success.
Youngkin's in-state support is a warning sign for the McAuliffe campaign.
The outcome has national implications, since political leaders — specifically Democrats — view it as a bellwether for how well they'll perform in the 2022 midterms.
By the numbers: Youngkin, a former Carlyle Group co-CEO and multimillionaire, has donated $16.5 million to his campaign.
Setting aside his personal loans to his campaign, he's outraised McAuliffe in Virginia in raw cash contributions by over $549,000 — $14.2 million to $13.6 million, respectively.
Additionally, a majority (59%) of Youngkin's cash donations are from within Virginia, while a majority (64%) of McAuliffe's are from outside the state.
The backdrop: Recent campaign finance reports show McAuliffe raised $12.6 million in September, compared to Youngkin's $7 million.
Excepting Youngkin's donations to his own campaign, McAuliffe is outraising him by more than $15 million for the year.
McAuliffe also has received a larger boost from his national party apparatus: the Democratic Governors Association has given his campaign more than $12 million, compared to less than $6 million that the Republican Governors Association gave to Youngkin.
Between the lines: Even within Virginia, the candidates have distinct financial power centers.
McAuliffe has raised far more in Northern Virginia and the D.C. suburbs.
Youngkin has a clear advantage in the South Hampton Roads region surrounding Norfolk and Virginia Beach.
What they're saying: McAuliffe disputed any fundraising lead for Youngkin during an interview with Axios on Wednesday.
"I outraised him. Take out his $16 million. Pick that out. I have seven times more donors than he has, and mine are under $35," McAuliffe said.
Later, in a statement, he added: "We have built the largest grassroots army in Virginia history and I am so proud of my supporters from every corner of the Commonwealth."
Matt Wolking, a spokesman for Youngkin, told Axios: "On the ground, the race is breaking toward Youngkin and it's not hard to see why."
Go deeper