Why Dave Chappelle's words inspired a Netflix protest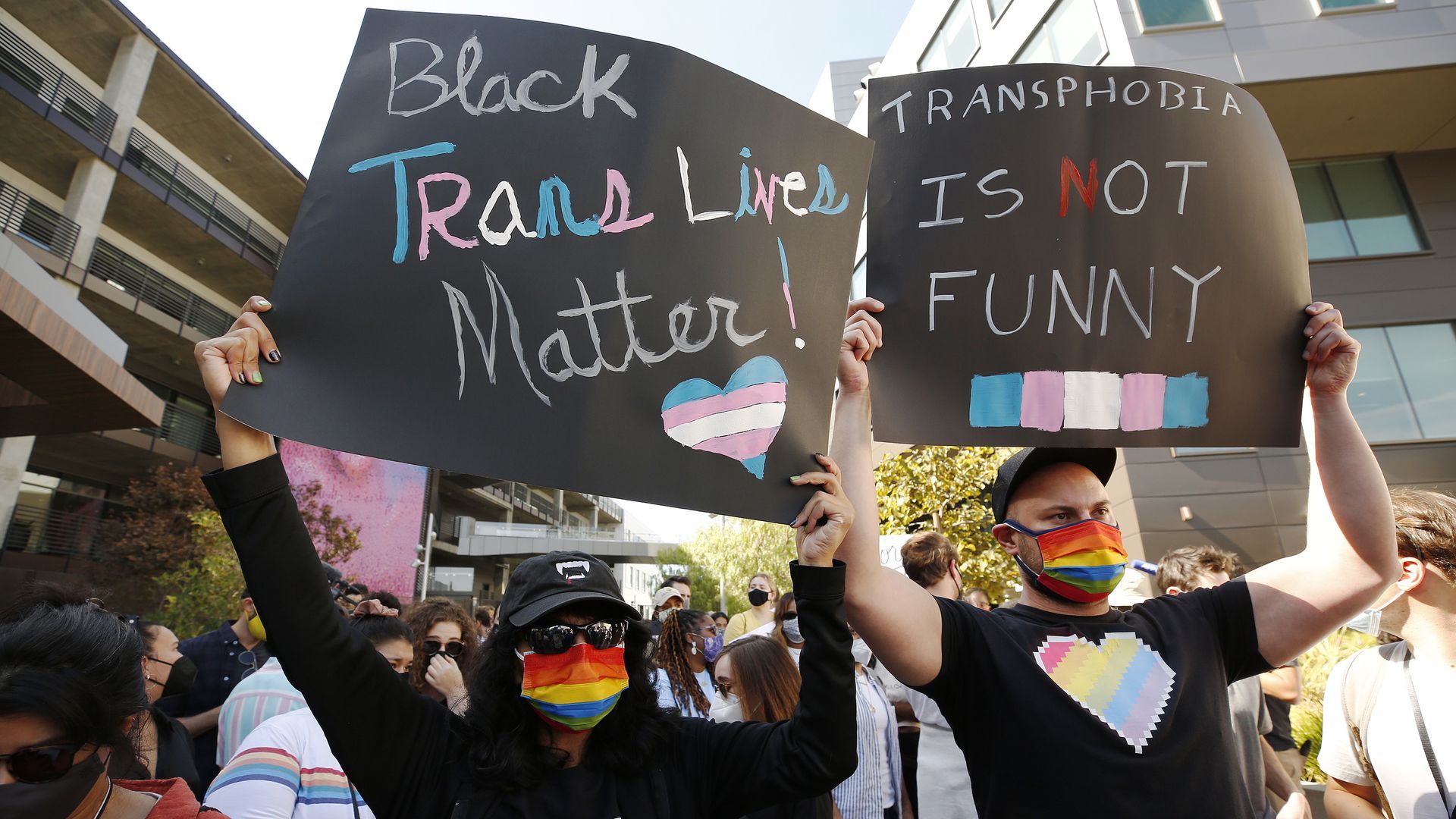 The Netflix workers who walked out on Wednesday aren't seeking to have Dave Chappelle's special taken off the service, but they do want their employer — and the world — to understand the impact his comments have.
Why it matters: LGBTQ advocates and Netflix's transgender employees say negative portrayals of transgender people in the media, including Chappelle's, further stigmatize an already vulnerable and misunderstood community.
Catch up quick: Led by transgender employees, Netflix workers in both Los Angeles and Silicon Valley staged protests Wednesday to criticize the streaming service's handling of Chappelle's latest comedy special, "The Closer."
Chappelle spends quite a bit of the show discussing and poking fun at lesbians, gays, bisexuals and especially the transgender community.
Some of his remarks are jokes (several of which I found funny), some are just attacks on the validity of trans people's identity. At one point, he declares himself part of "Team TERF," a reference to trans-exclusionary radical feminists who push an anti-trans agenda.
Netflix content chief and co-CEO Ted Sarandos has defended airing the special and vowed to keep it on the service. He apologized in an interview Tuesday for comments that denied a connection between anti-trans content in media and real-world violence.
Netflix also fired a pregnant Black transgender employee who the company accuses of having leaked company information.
The big picture: Chappelle's comments and the ensuing controversy come amid both a spate of anti-transgender legislation — often targeting trans youth — as well as an epidemic in murders of transgender people, largely Black and Brown trans women.
What they're saying:
Terra Field, the transgender Netflix employee whose Twitter criticism of the special went viral, told reporters that she and her colleagues are grateful for all of the support they have gotten. "I was personally in tears this morning," Field said.
Bri Barnett, director of advancement for the Trans Lifeline: "We know what causes our community to experience crisis because they tell us ... We know the jokes about trans people have tangible impacts on our mental health."
Netflix said in a statement Wednesday: "We value our trans colleagues and allies, and understand the deep hurt that's been caused. We respect the decision of any employee who chooses to walk out, and recognize we have much more work to do both within Netflix and in our content."
Go deeper