White House unveils landmark reports on climate links to security, migration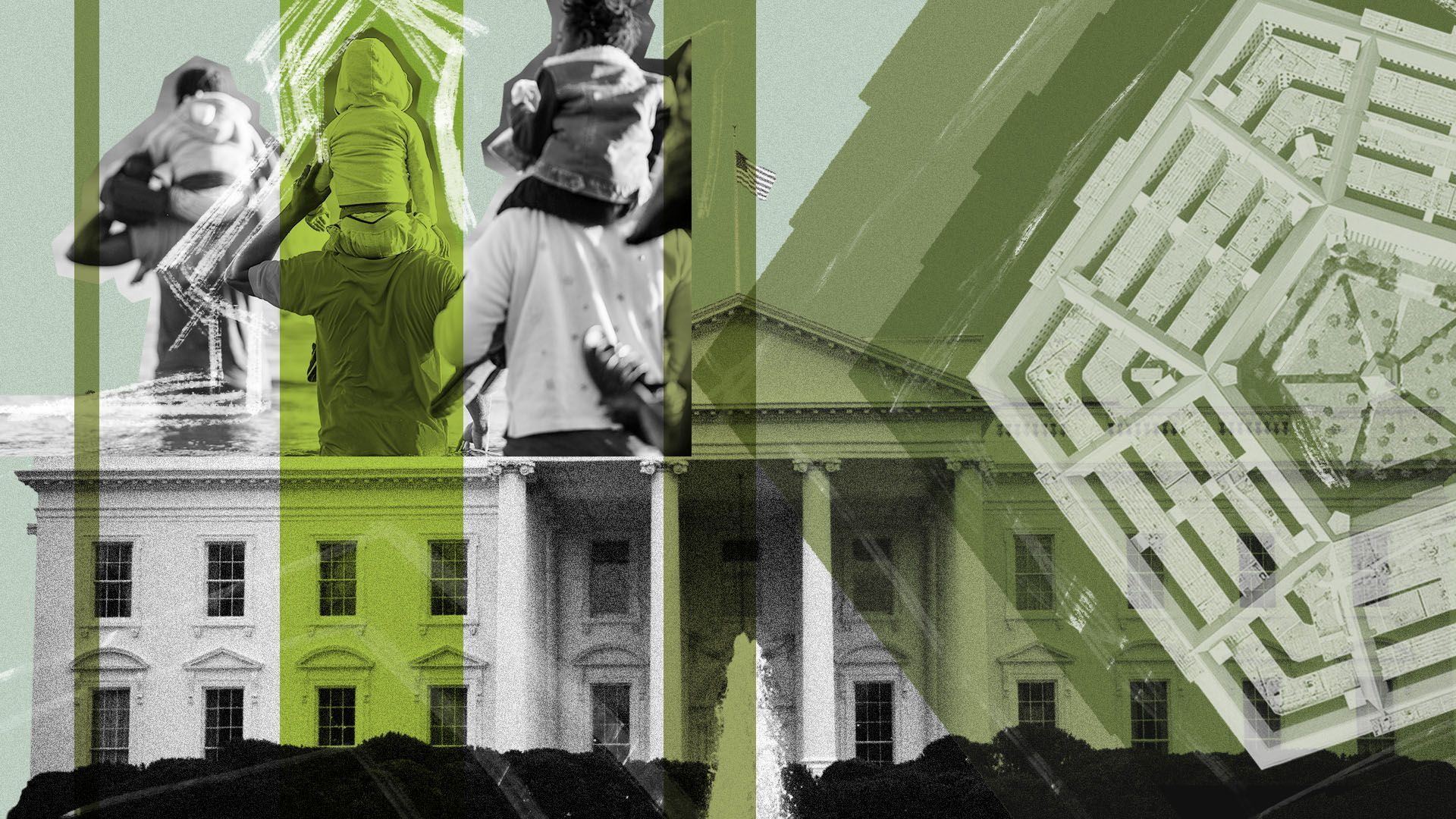 The Biden administration on Thursday released a sweeping set of assessments on climate change's threat to national security and its role in fueling migration.
Why it matters: One of the key products, a formal National Intelligence Estimate on climate change, marks the first time all 18 elements of the U.S. intelligence community have released a consensus report on the topic.
Separately, an analysis of the impact climate change is having on migration will "mark the first time the U.S. government is officially recognizing and reporting on" the connection, a senior administration official said.
The "central recommendation" of the climate and migration report is to establish an interagency policy process, which had not previously existed, the official added.
The big picture: The administration is seeking to breathe life into President Biden's week-one vow to make climate change "central" to U.S. foreign policy and national security.
Defense and intelligence analysts in and out of government have long recognized climate-related threats, but the Biden administration is looking to identify and prepare for those risks on several fronts.
In order to have a strategy on climate and migration, the official stressed, the government must first "understand the challenge itself."
The administration is also releasing two other analyses, the official said:
A Defense Department analysis of the "strategic and mission implications of climate change."
A Department of Homeland Security "strategic framework" on climate change that addresses areas like the response to "increases in climate driven emergencies."
Threat level: Analysts are increasingly exploring how climate change can become a threat multiplier due to strains on water supplies, driving displacement, and other forces.
It can also create new geopolitical tensions in areas like competition for resources needed for emerging technologies and as petro-states will eventually face a world with declining demand for their products.
What they're saying: A White House summary of the intelligence estimate says the intelligence community sees three broad categories of risks.
Increased geopolitical tension as countries argue over how to address climate change and how fast, and competition in the transition to lower carbon energy.
Cross-border "geopolitical flashpoints" from the physical effects of climate change.
Climate change "straining country-level stability in select countries and regions of concern."
What we're watching: New policies and actions that may flow from the assessments, including from the National Security Council's new interagency working group.
It's a recognition that while climate change is not the primary driver of migration, it can fuel human movement due to flooding and other extreme weather, effects on food security, worsening conflict in unstable nations and more.
The administration official, on a call with reporters, said one goal is identifying gaps where officials could "forge new legal pathways to protection."
The administration is working with other governments on better monitoring and warning systems for floods, powerful storms, extreme temperatures and other climate-related risks.
The report also describes efforts to coordinate with multilateral organizations and NGOs.
The Defense Department assessment will explore areas like "how to train fight and win in an increasingly complex environment."
The official also said it explores how climate-exacerbated crises are "likely to increase demand for defense missions and impact critical supply chains, infrastructure and readiness."
Go deeper