Biden's ambassador nominee: "China is not an Olympian power"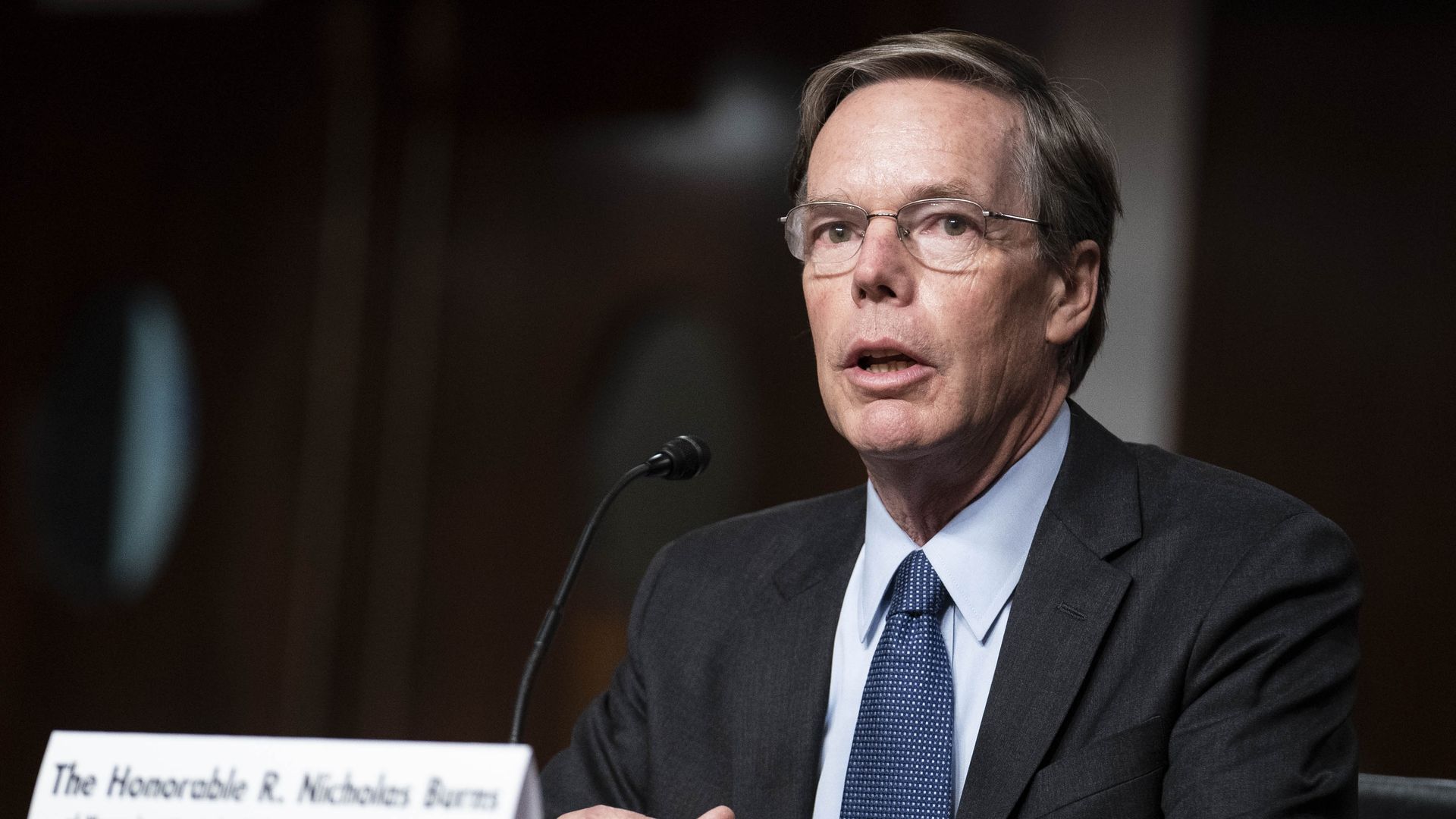 President Biden's nominee to serve as ambassador to China delivered a stark assessment of the challenges the U.S. faces in confronting Beijing, but stressed that the rising superpower is "not all-powerful" and the West retains "substantial" advantages.
The big picture: Nicholas Burns, a retired career diplomat and former U.S. ambassador to NATO, used his confirmation hearing Wednesday to echo the growing bipartisan consensus that China poses "the greatest threat to the security of our country and the democratic world" in the 21st century.
Between the lines: The Biden administration has defined its approach to China as "competitive when it should be, collaborative when it can be, and adversarial when it must be."
Burns reinforced that approach in his opening statement, stating that the U.S. has shared interests with China on "climate change, counternarcotics, global health, and nonproliferation."
But, in a sign of just how confrontational the relationship has become, Burns was asked only once about cooperating with China on climate by members of the Senate Foreign Relations Committee — and not at all about working with Beijing on the other issues he highlighted.
Highlights
Taiwan: The threat of a Chinese military invasion of Taiwan was the most prominent theme of the hearing.
Burns stressed that the U.S. "cannot trust China on Taiwan," given Beijing's crackdown on the once semi-autonomous Hong Kong, but opposed any explicit U.S. commitment to defend the island in the event of an attack.
"The most important thing the U.S. can do is to deepen our security cooperation, to expand our arms provisions to Taiwan," Burns said. "Our responsibility is to make Taiwan a tough nut to crack."
Nuclear weapons: Several senators raised this weekend's Financial Times report that China had tested a nuclear-capable hypersonic missile.
"[The Chinese government] have said for decades they want to have a minimum nuclear deterrent. They are blasting past that definition," Burns warned, citing the missile test and satellite images suggesting a nuclear arsenal buildup.
Allies: "China is not an Olympian power," Burns said. "They have enormous strengths — and very few friends. They have no real allies. And think of the strategic advantage we have with our 29 allies in Canada, the Europeans and NATO, and our multiple treaty allies in the Indo-Pacific. It is our comparative advantage."
Climate: Burns testified that seeking cooperation with China on climate change while also competing on other issues is what "makes this relationship so difficult," but stressed that China has "an obligation to the rest of us" as the world's largest emitter of carbon.
Tech: Burns warned that China is competing with the U.S. for commercial and military superiority in artificial intelligence, quantum computing and other advanced technologies.
He said tech would likely be "the central arena of competition between us with China" and called on Congress to pass research and investment legislation to ensure that China "cannot leapfrog" the U.S.
Human rights: Burns said the U.S. could not ignore China's actions in Xinjiang, Tibet or Hong Kong. "If there are atrocities occurring, or in the case of Xinjiang, a genocide is occurring, we have to speak out."
Olympics: Burns did not reveal whether he would advocate for a boycott of the upcoming Winter Olympics in Beijing, but said: "We obviously want to make sure that the American athletes, other athletes — if they are there — are able to speak their minds."
The bottom line: "Beijing proclaims that the 'East is Rising and the West is in Decline,' Burns testified. "I am confident in our country, and believe that, together with our allies and partners, we will prove them wrong."
Go deeper