Netflix workers walk out over handling of Dave Chappelle special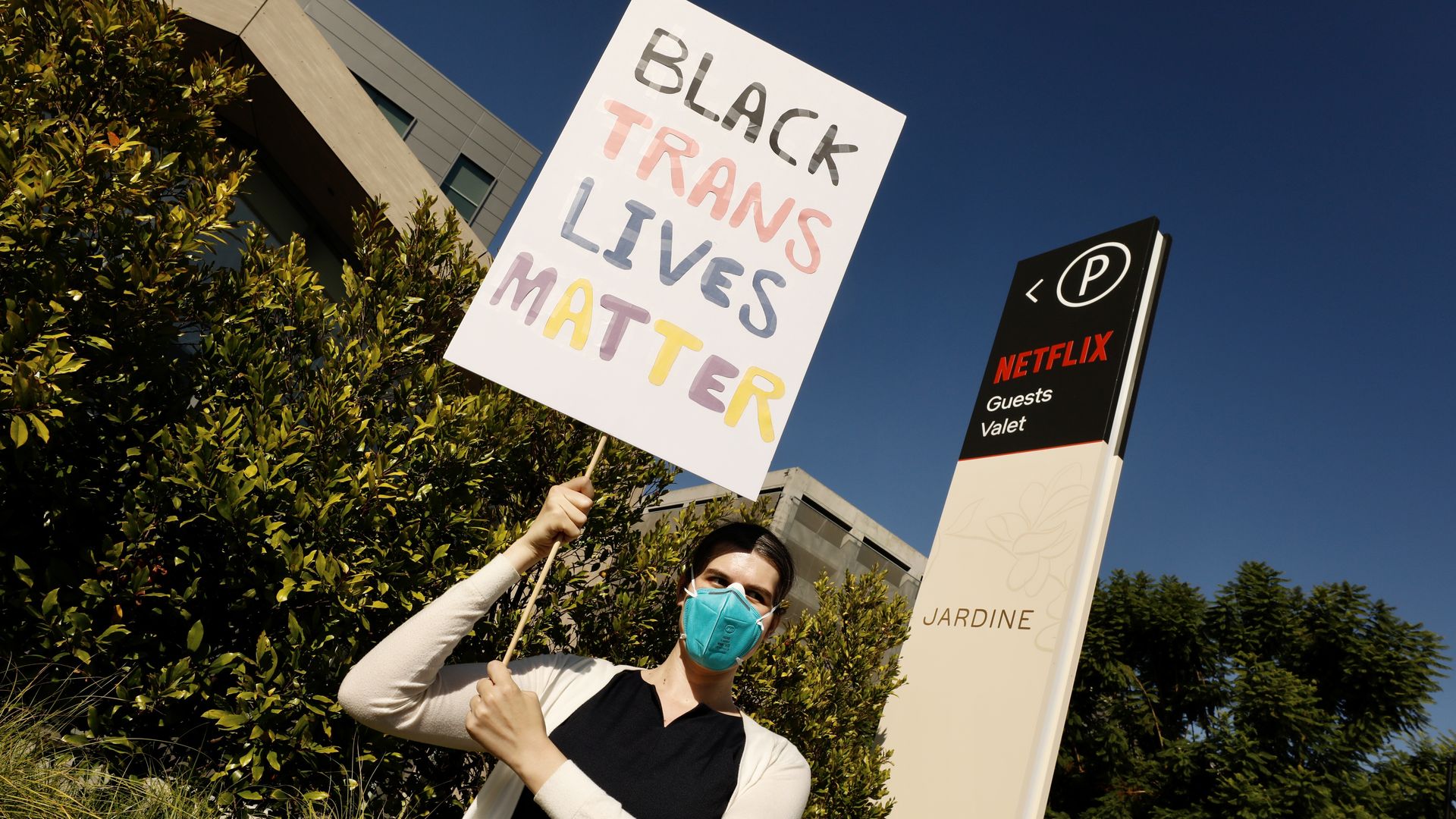 Workers at a Netflix office in Los Angeles and its Los Gatos. California, headquarters staged a protest on Wednesday over the company's handling of anti-transgender comments made by Dave Chappelle in his latest comedy special for the service.
Why it matters: The move comes amid growing controversy over Netflix's handling of the situation, which has also included the firing of one transgender employee for allegedly leaking company information.
Catch up quick: In the special, Chappelle declares himself part of "Team TERF," a reference to trans-exclusionary radical feminists.
Content chief and co-CEO Ted Sarandos has defended airing the special and has vowed to keep it on the service. He apologized in an interview Tuesday for comments that denied a tie between anti-trans content in media and real-world violence.
Netflix issued a statement Wednesday supporting the right of employees to protest: "We value our trans colleagues and allies, and understand the deep hurt that's been caused. We respect the decision of any employee who chooses to walk out, and recognize we have much more work to do both within Netflix and in our content."
A number of LGBTQ rights advocates and celebrities have come out in support of the workers, including trans actor Elliot Page. A video supporting the protest features trans and queer celebrities including Angelica Ross, Peppermint, Jonathan Van Ness, Sara Ramirez, Mason Alexander Park, Jameela Jamil, Our Lady J, Kate Bornstein and Colton Haynes.
What's new: Organizers of the protest have posted a list of demands, which does not include taking down Chappelle's special but calls for increased exposure for trans and nonbinary talent as well as more inclusion and leadership within the company.
On the ground: Several dozen people gathered in a parking lot outside Netflix's Los Gatos headquarters, some carrying signs reading "Artistic Freedom Demands Artistic Responsibility" and "Trans Stories are Human Stories" amid chants of "LGBT — We demand equality."
Speakers included a representative from Trans Lifeline, a crisis hotline for the transgender community. "We answer calls every day from trans people who are tired of being reduced to punchlines," the group said on Twitter. Among the others who spoke were Netflix employees who are parents of transgender kids.
An earlier, larger protest took place at Netflix offices in Los Angeles, where both critics and supporters of Chappelle gathered. Things grew tense at times, with Chappelle supporters being drowned out by cheers of "trans lives matter," per the 19th News' Kate Sosin.
Go deeper