Netflix boss defends Chappelle special but regrets hurting staff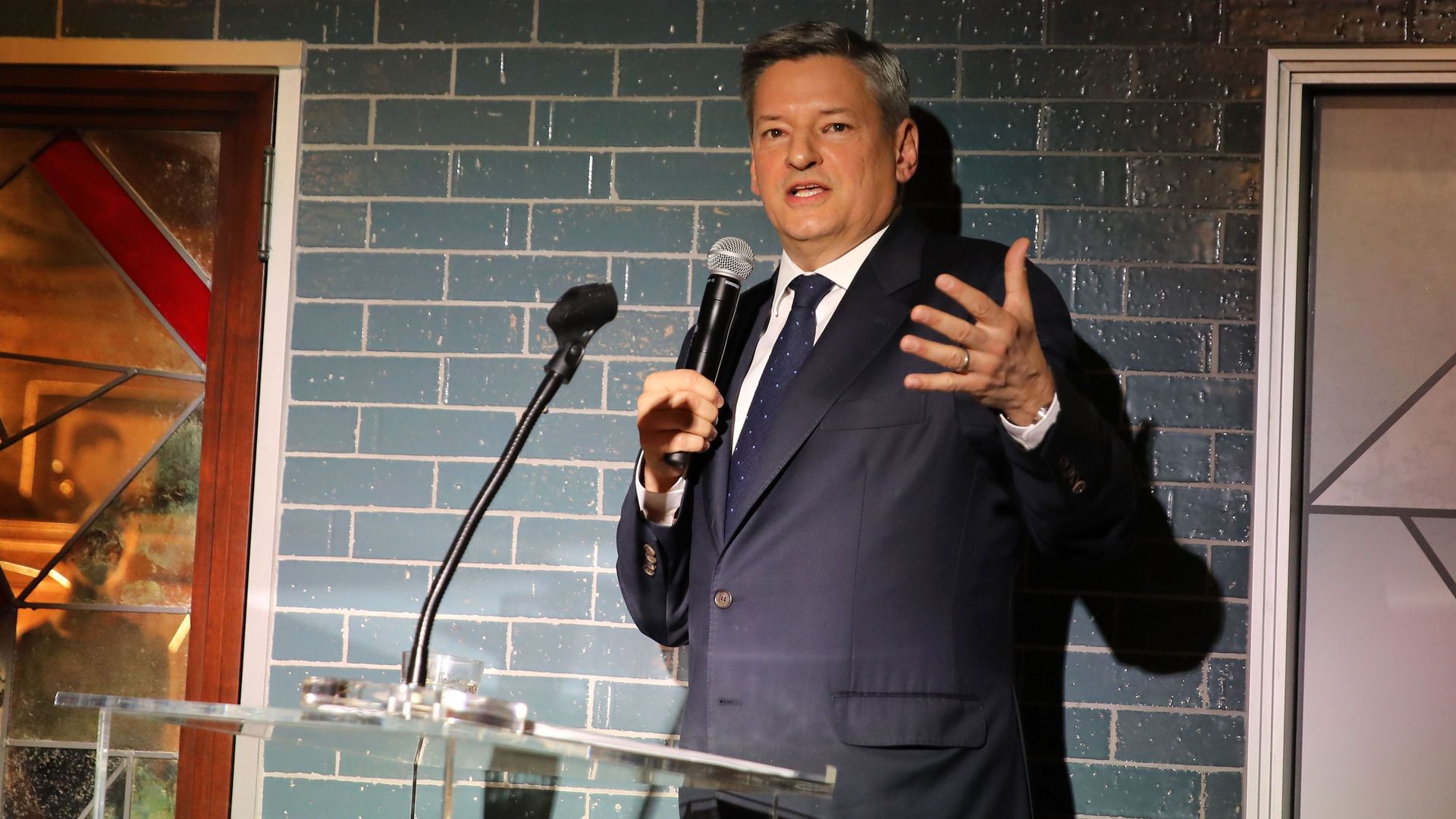 Netflix co-CEO Ted Sarandos said he "screwed up" in his communications with employees who are staging a walkout Wednesday over Dave Chappelle's anti-transgender comments in the comedian's latest comedy special on the platform.
Yes, but: While Sarandos told the Wall Street Journal and the Hollywood Reporter late Tuesday that he should have realized that airing Chappelle's special would hurt some employees, he still defended the decision to air "The Closer."
Catch up fast: Trans employees began to speak out against the company's decision to air the special soon after it debuted on Netflix.
Netflix suspended three employees, including Terra Field, a transgender employee whose Twitter thread on the matter went viral.
The streaming giant said they were suspended for trying to attend a meeting they weren't invited to, per The Verge. The employees were reinstated amid public backlash.
What he's saying: "What I should have led with in those emails was humanity," Sarandos told the WSJ. "I should have recognized the fact that a group of our employees was really hurting."
Sarandos told THR that his stance hadn't changed, but he expressed regret at his wording "in two ways" in two memos to staff defending the Chappelle show.
"One of them was, I should have first and foremost acknowledged in those emails that a group of our employees were in pain, and they were really feeling hurt from a business decision that we made," continued Sarandos, who made the comments the same day Netflix released its quarterly earnings.
On his argument in one memo, obtained by Variety, that Netflix has "a strong belief that content on screen doesn't directly translate to real-world harm," Sarandos acknowledged to THR that this was "clumsy."
"[T]hat line of causing harm in the real world was way over simplistic and talking about something very specific that we were talking about earlier that day."
— Sarandos to THR
The bottom line: LGTBQ advocates, as well as trans employees at Netflix note in regards to Sarandos' "harm" comments that the American Medical Association has found there's an "epidemic of violence" against trans women.
The violence has centered largely on Black and Latina trans women, including a record number of murders in recent years, per Axios' Sara Fischer and Ina Fried.
What they're saying: Media personality Ashlee Marie Preston, an organizer of the Netflix walkout at the company's Hollywood headquarters on Wednesday, said in an Instagram post that she wants "to underscore the importance of responsible content offerings that prioritize the safety and dignity of all marginalized communities."
"We shouldn't have to show up quarterly/annually to push back against harmful content that negatively impacts vulnerable communities," Preston added.
"Instead, we aim to use this moment to shift the social ecology around what Netflix leadership deems ethical entertainment, while establishing policies and guidelines that protect employees and consumers, alike."
Go deeper