Scoop: Jake Sullivan discussed Saudi-Israel normalization with MBS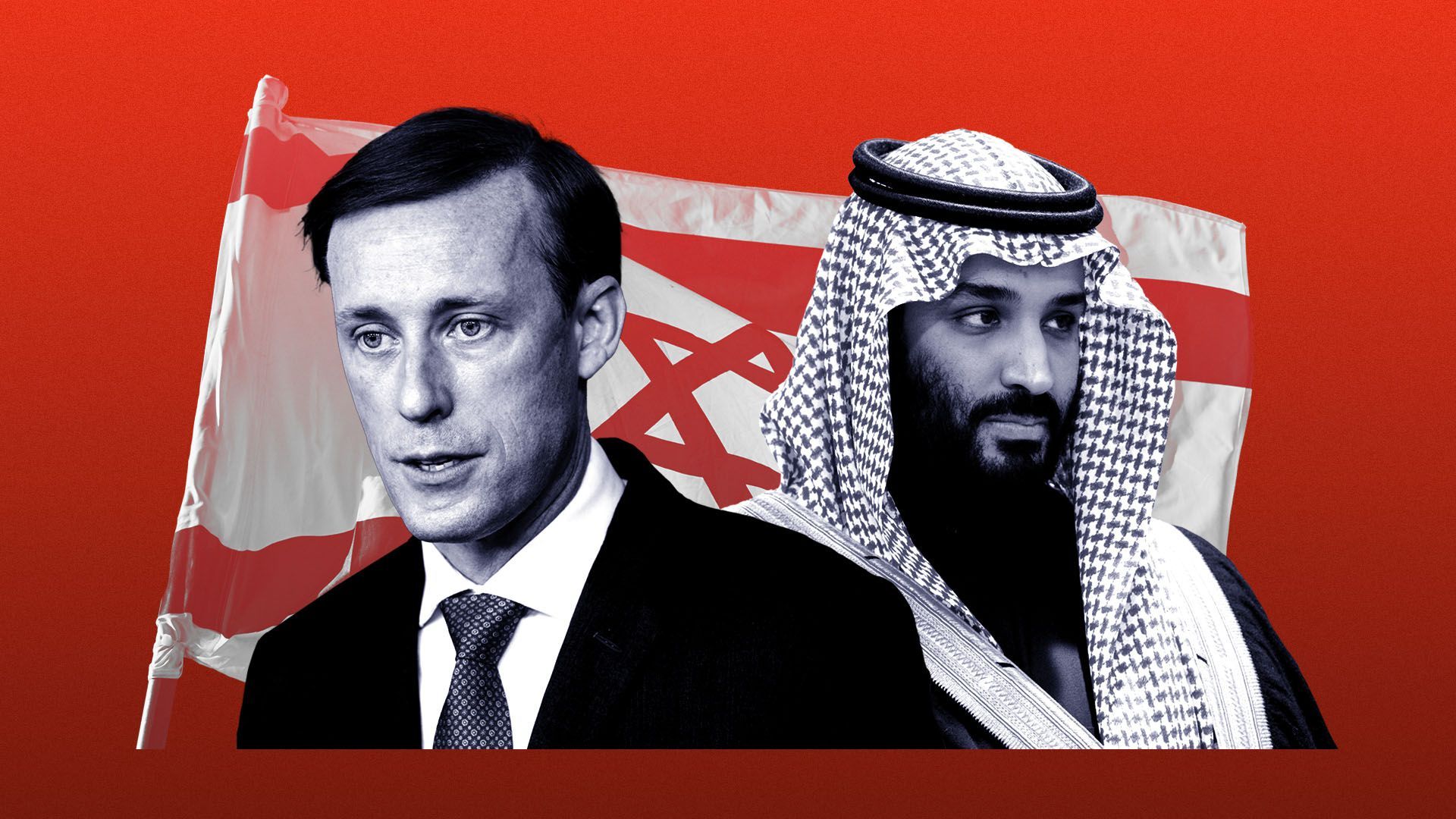 White House national security adviser Jake Sullivan raised normalization with Israel during his recent meeting with Saudi Crown Prince Mohammed bin Salman, three U.S. and Arab sources tell Axios.
Why it matters: Saudi Arabia would be the biggest regional player to sign onto the "Abraham Accords" peace agreement with Israel, and such a major breakthrough would likely convince other Arab and Muslim countries to follow suit.
Behind the scenes: During the Sept. 27 meeting in Neom, a futuristic planned city on Saudi Arabia's Red Sea coast, Sullivan raised the issue and bin Salman didn't reject it out of hand, the sources say.
Instead, the Saudis said it would take time and gave Sullivan a list of steps that would have to be taken first.
Some of those points involved improvements in U.S.-Saudi bilateral relations, one American source said.
Between the lines: The Biden administration has distanced itself from the Saudis over the murder of Jamal Khashoggi and the kingdom's broader human rights record.
Any Saudi move to normalize relations with Israel would most likely be part of a bigger deal that could include Israeli steps on the Palestinian issue and U.S. steps to restore relations with bin Salman, with whom President Biden has refused to engage directly.
The state of play: Saudi Foreign Minister Faisal Bin Farhan met Secretary of State Tony Blinken last Thursday in Washington, though neither country mentioned normalization with Israel in their public statements about the meeting.
Blinken and Sullivan did discuss expanding the Abraham Accords in their meetings last week with Israeli Foreign Minister Yair Lapid. A senior Israeli official briefed reporters after Lapid's visit that at least one country would "definitely" sign onto the accords in the next year.
Senior Biden administration officials also told Jewish leaders in a conference call last Friday that the U.S. was "quietly" engaging several Arab and Muslim countries that might be open to normalization with Israel, one Jewish leader on the call told Axios.
What they're saying: We are committed to continue building on the efforts of the last administration to expand the circle of countries with normalized relations with Israel in the years ahead," Blinken said last Wednesday during his trilateral meeting in Washington with the foreign ministers of Israel and the United Arab Emirates.
In response to a request for comments, the White House pointed to similar comments Blinken made on the one-year anniversary of the Abraham Accords.
Flashback: The U.S. has been trying to get Saudi Arabia to gradually normalize relations with Israel for more than a decade.
In 2009, President Obama asked the late King Abdullah to take small normalization steps and give other Arab countries a green light to do so.
Obama hoped that would encourage Israel's then-prime minister, Benjamin Netayahu, to make progress in the peace process with the Palestinians. But the Saudi king insisted the kingdom had already done its part by introducing the Arab Peace Initiative in 2002.
Flashback: That initiative stated that diplomatic normalization with Israel would be contingent on the formation of a Palestinian state. But the decisions of the UAE, Bahrain, Morocco and Sudan to normalize relations with Israel have diminished its relevance.
The Trump administration poured considerable effort into getting the Saudis to normalize relations with Israel, starting in 2017.
The crown prince showed openness to such a move, but his father King Salman insisted on maintaining Saudi Arabia's traditional policy on the Israeli-Palestinian issue.
Still, Saudi Arabia supported the UAE's decision to sign a peace treaty with Israel, and gave Bahrain a green light to join the Abraham Accords — even helping to facilitate the agreements by allowing flights between Israel and those Gulf countries to use their airspace.
Several Trump administration officials claim privately that that they would have sealed a deal with Saudi Arabia within a year if Trump had won a second term, and Jared Kushner urged Sullivan to push for a deal with the Saudis when they met during the transition.
Go deeper