Jan. 6 committee recommends contempt charges against Bannon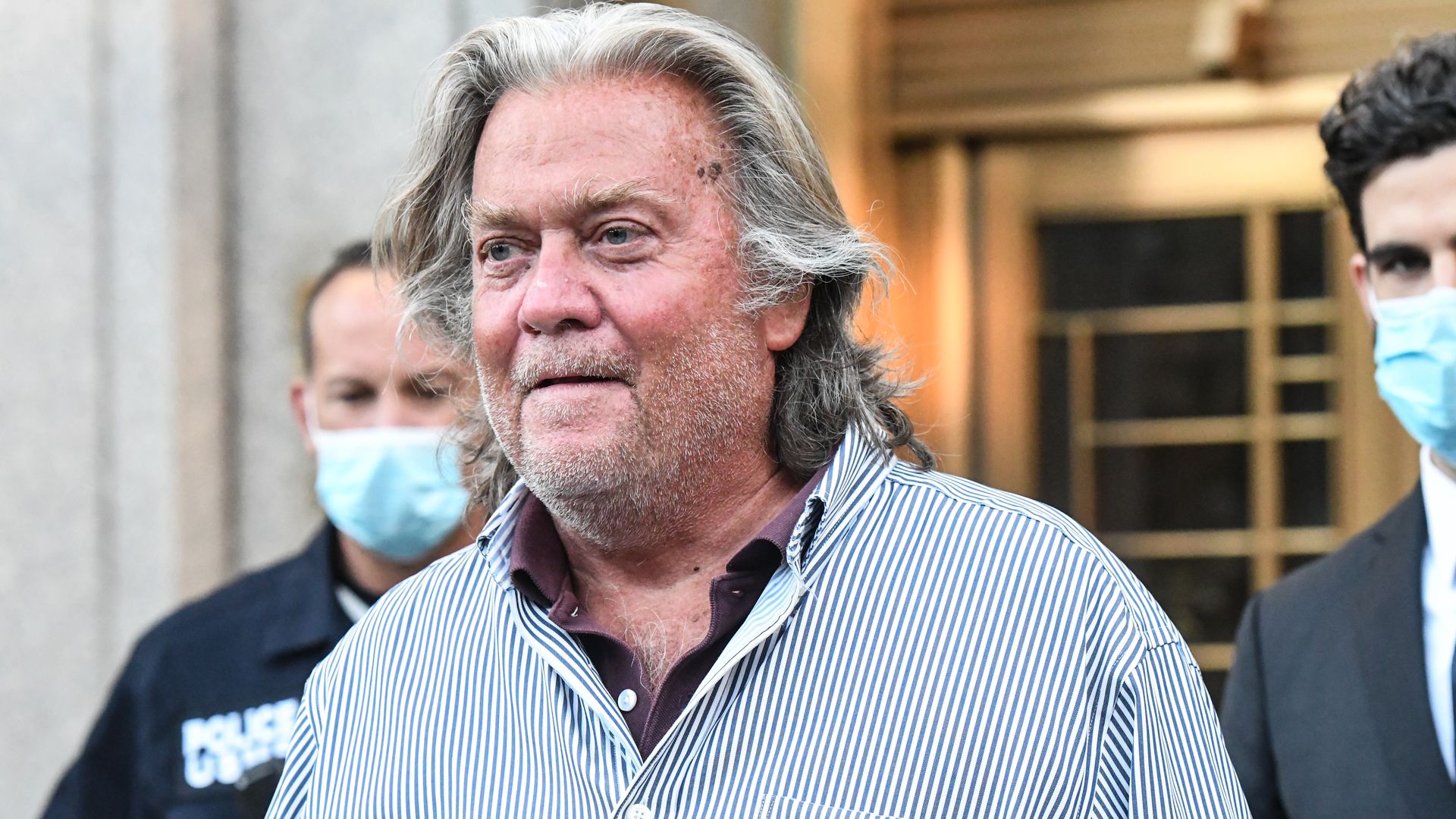 The House select committee investigating the deadly Jan. 6 Capitol riots unanimously approved a resolution Tuesday night recommending that former Trump aide Steve Bannon be held in contempt of Congress for refusing to comply with a subpoena.
Why it matters: The resolution sets up a House vote to refer Bannon for potential criminal prosecution, signaling that the committee will not tolerate attempts by former President Trump and his associates to stymie the investigation.
"Based on the committee's investigation, it appears that Mr. Bannon had substantial advanced knowledge of the plans for Jan. 6 and likely had an important role in formulating those plans," Rep. Liz Cheney (R-Wyo.) said.
Bannon's representative did not immediately respond to Axios' request for comment.
How we got here: Bannon failed to turn over subpoenaed documents or appear for his deposition on Oct. 14, citing a blanket assertion of executive privilege that Trump has sought to extend to several of his former aides and any records from his time in the White House.
The committee, slamming Bannon's legal arguments as "wholly without merit," moved quickly to schedule a contempt hearing for Tuesday.
The committee's contempt resolution notes that the former White House chief strategist had been a private citizen for over three years by Jan. 6, and that some of the subpoenaed documents do not even pertain to his communications with Trump.
The other side: Bannon's lawyer has insisted that the dispute is between Trump and the committee, and that he will comply with the subpoena if required to do so by a court. Contempt of Congress is punishable by a maximum fine of $100,000 and up to a year in prison.
The big picture: Trump sued the committee and the National Archives on Monday in an effort to block any records from being released — a strategy that he deployed repeatedly as president, forcing Democrats to engage in years-long legal battles and stalling their investigations.
Without the protections of the presidency, however, those tactics are unlikely to work for long: President Biden has waived executive privilege on an initial tranche of records and expressed support for the Justice Department prosecuting witnesses who defy subpoenas from the committee.
And Attorney General Merrick Garland, while stressing the importance of an independent Justice Department, has made prosecuting those responsible for the Jan. 6 attack a top priority.
What they're saying: "The former president's actions represented a unique — and existential — threat to our democracy that can't be swept under the rug," White House spokesman Michael Gwin said in response to the lawsuit.
"The constitutional protections of executive privilege should not be used to shield information that reflects a clear and apparent effort to subvert the Constitution itself."
Cheney, the vice chair of the committee, said that Bannon and Trump's privilege arguments suggest the former president was "personally involved in the planning and execution of Jan. 6."
Cheney also spoke directly to fellow Republicans, saying that "almost every one of my colleagues knows in your hearts, that what happened on Jan. 6 was profoundly wrong."
"You all know that there is no evidence of widespread election fraud sufficient to have changed the results of the election. You all know that the Dominion voting machines were not corrupted by a foreign power. You know these claims are false. Yet, former President Trump repeats them almost daily, and he is now urging Republicans not to vote in 2022 and 2024."
"This is a prescription for national self-destruction," she said. "I ask my colleagues, please consider the fundamental questions of right and wrong here."
Go deeper