Jan. 6 panel releases contempt report on Steve Bannon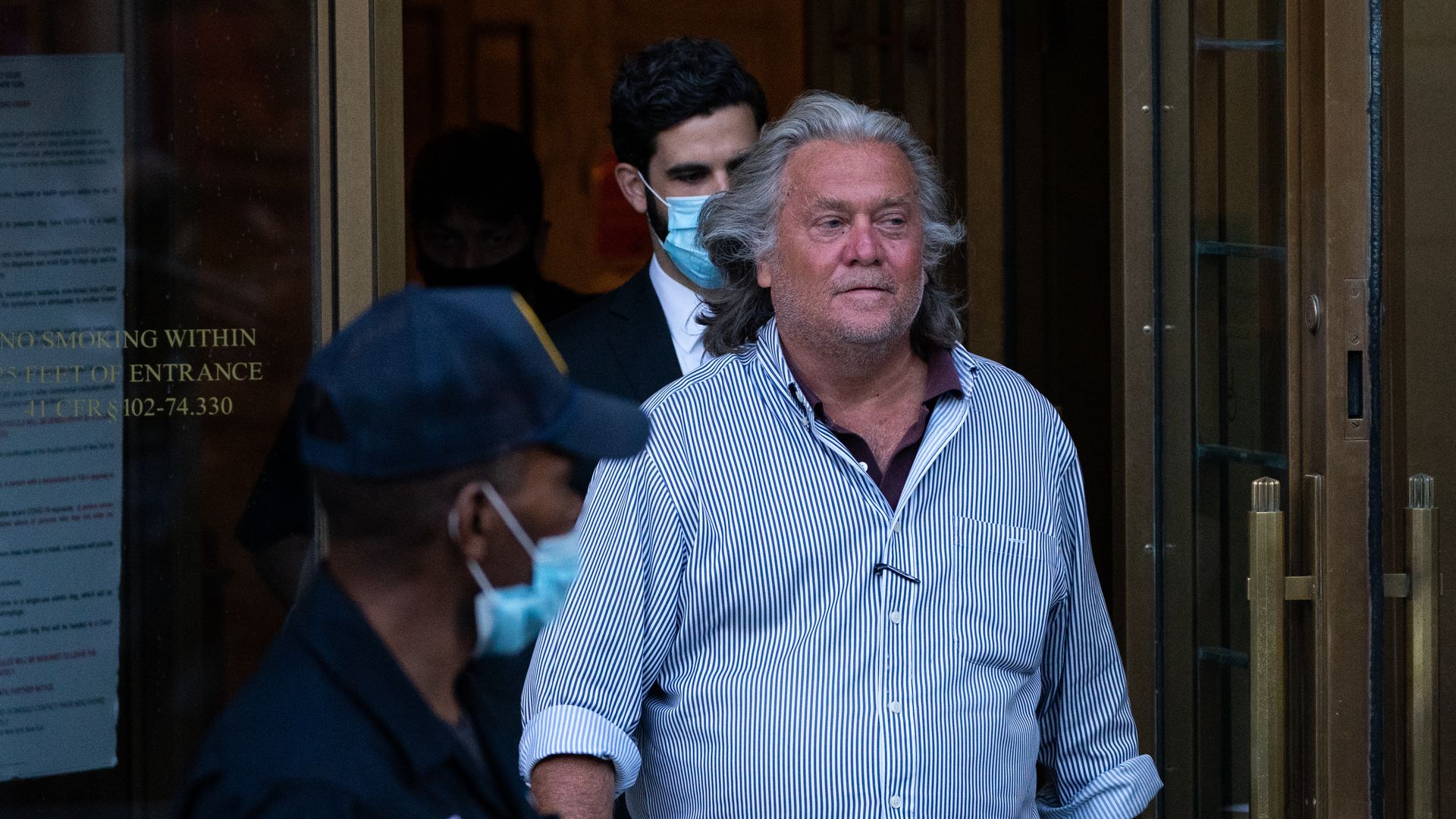 The Jan 6. select committee investigating the Capitol riot released a report and resolution on Monday night that seeks to hold Steve Bannon in contempt of Congress for failing to comply with a subpoena.
Why it matters: The report is the first of several steps that need to be taken to hold the former Trump administration chief strategist in contempt of Congress after he failed to show up for a deposition before the panel last Thursday.
Driving the news: Committee members have warned they would move quickly to hold non-cooperative witnesses who don't comply with subpoenas with contempt.
That contempt citation would then be referred to the Justice Department, which would consider whether to bring criminal charges — a process that could take months.
Of note: Bannon's lawyer told the panel in a letter earlier this month that he would not cooperate with the investigation, citing an assertion of executive privilege by former President Trump.
But Rep. Bennie Thompson (D-Miss.), the Jan. 6 select committee chair, rejected this assertion in a statement, calling the privilege argument "vague."
What they're saying: The committee said in its report on Monday that Bannon "relied on no legal authority to support his refusal to comply in any fashion."
It said that his testimony and document production were "critical" to the panel's investigation into the Capitol riot, noting that statements Bannon made publicly on Jan. 5 "suggest that he had some foreknowledge about extreme events that would occur the next day."
Among the examples the committee cited was Bannon's comments on a podcast stating: "All hell is going to break loose tomorrow. ... So many people said, 'Man, if I was in a revolution, I would be in Washington.' Well, this is your time in history."
What's next: The committee is due to meet on Tuesday to vote on the report recommending that the House cite Bannon for criminal contempt of Congress and refer him to the U.S. attorney for D.C. for prosecution.
Representatives for Bannon did not immediately respond to Axios' requests for comment.
Editor's note: This article has been updated with new details throughout.
Go deeper