Crooked Media takes on Biden era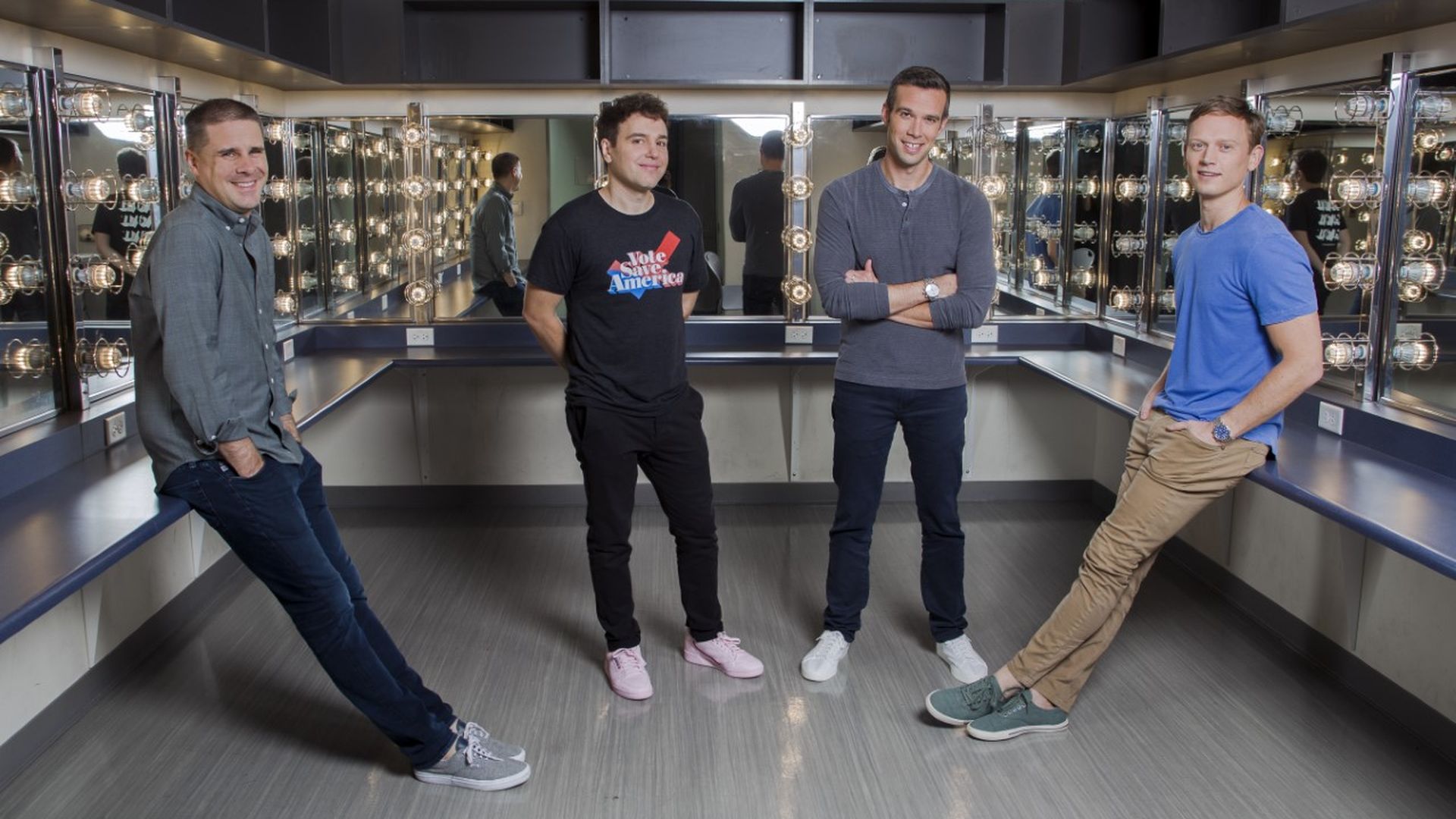 Crooked Media, a progressive political media company known primarily for its "Pod Save America" podcast series, is launching a new weekly interview series hosted by co-founder Jon Favreau called "Offline with Jon Favreau."
Why it matters: The new show builds on the group's efforts to tackle issues tangental to politics that impact political discourse and democracy, like social media addiction, tech monopolies and misinformation.
Details: "I wanted to explore what it's doing to us to be this online — what it's doing to our brains, our relationships, our jobs, the way we argue debate, etc.," Favreau said in an interview with Axios.
The series will include interviews with celebrities, journalists and activists such as Monica Lewinsky, Megan Rapinoe, DeRay Mckesson and Jia Tolentino.
Favreau says this podcast will be different in style from what he typically works with because it's a longer-form interview.
Eight episodes will air weekly, every Sunday morning. Episodes are typically 40-50 minutes.
Catch up quick: Crooked Media was launched in 2017 by former Obama staffers as a strong opposition voice to the Trump Administration, and has since broadened its scope to cover a range of issues impacting democracy writ large.
The company launched with its popular "Pod Save America" podcast series and has grown to encompass several podcast shows, streaming shows, and touring.
It now employs 70 people, up from 40 at the beginning of the pandemic.
The group, which has never taken any outside funding, makes its money from ads, touring, merchandise, and licensing its franchises for streaming shows.
While the Crooked Media team has discussed launching a subscription, it has yet to offer any sort of consumer paywall.
What's next: Moving forward, the group is looking to do a lot more in television and licensing its content across different platforms. "The TV side of it has become really exciting for us," Favreau says.
Favreau says the company's popular "Wind of Change" podcast has been licensed to a show with Hulu. "Keep It," the company's pop culture podcast, may also make it to television, he notes.
The company hired former Netflix executive Sarah Geismer as its head of development in 2019 to dive further into licensing content.
It airs a version of its "Pod Save America" podcast on Snapchat.
The big picture: Favreau says that while the Trump era was a "catalyst" for the group to take on this media venture, it will continue to build content and boost its advocacy efforts around the midterms in 2022 and the presidential election in 2024.
The company's advocacy arm, called "Vote Save America" is currently running a campaign called "No Off Years," pushing to mobilize support in key states ahead of 2022.
While many more news advocacy groups have launched since Crooked Media started five years ago, Favreau says Crooked Media continues to differentiate itself by explicitly combining news with advocacy.
"We had 300,000 volunteers sign up for the 2020 elections. We ended up working closely with a lot of coordinated campaigns on the ground.
"I think because of our campaign backgrounds ... we look at advocacy not as just "call your congressmen," but "let's get into the nuts and bolts of how you win a campaign."
What's next: Asked how the company plans to address the 2024 elections if Donald Trump runs for president again, Favreau said that while "the prospect of it terrifies me," Crooked Media will be "right there fighting every step of the way."
Go deeper