Housing slowdown threatens China's economic muscle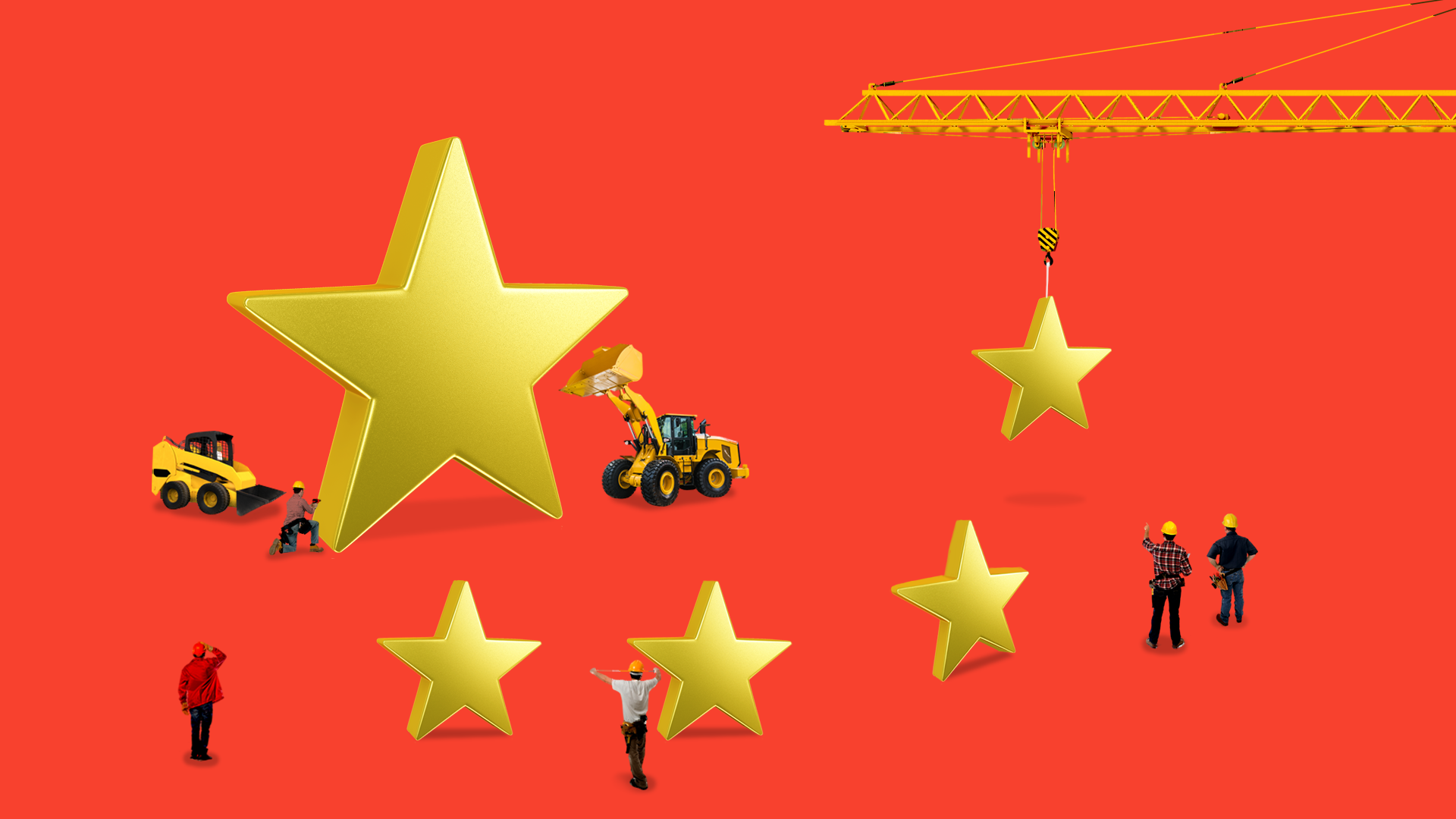 China Evergrande and a growing group of Chinese housing developers are inching toward defaulting on their debt.
Why it matters: While that's unlikely to cause a crisis of Lehman proportions, as Axios' Felix Salmon has reported, just how much China's real estate sector cools could impact the nation's role as a growth driver for companies around the world.
China's real estate sector makes up about 25% of its GDP. So a pullback there can significantly affect the country's economy and a large portion of its workers — along with their spending power on the world stage.
The backdrop: The government has asked banks to tighten lending conditions for property developers in an attempt to keep the developers' ballooning leverage in check.
State of play: China's epic economic growth is already slowing. On Monday it reported lackluster Q3 GDP growth of about 4.9%, compared to its average 9% over the last two decades.
"For the first time in at least 20 years, if not longer, China is not leading the global recovery," Gerwin Bell, lead Asia economist at PGIM Fixed Income, tells Axios.
"China has correctly identified that they need to transition away from a growth model that's so dependent on housing. But doing that is difficult, and if it's handled incorrectly, you could see a lot of really strong negative spillover effects to consumption and other sectors," Nicholas Borst, China research director at Seafarer Capital Partners, tells Axios.
The big question: Will home prices start falling?
The number of home sales in China has plummeted in recent months, as the WSJ reports. That's one reason that developers like Evergrande are having trouble shoring up their balance sheets and refinancing debt.
There's anecdotal evidence that prices are starting to go down as well, according to the WSJ report.
But lower prices haven't started showing up in official data yet. "Chinese authorities have told developers: don't cut prices too much. The result has been fewer sales," Bell says.
Housing is a major store of wealth for individuals in China. If housing values fall, homeowners will feel less wealthy, which could affect their spending, Borst says.
But falling prices are unlikely to spawn a crisis of homeowners underwater on mortgages, the way they did in the U.S. financial crisis — in large part because down payments in China are typically anywhere from 20% to 40%, he adds.
The bottom line: China's property sector slowdown is unlikely to spark a global crisis. But it could be a drag on growth both inside and outside its borders.
Go deeper