Democrats' attempt to lower private drug prices is likely to fail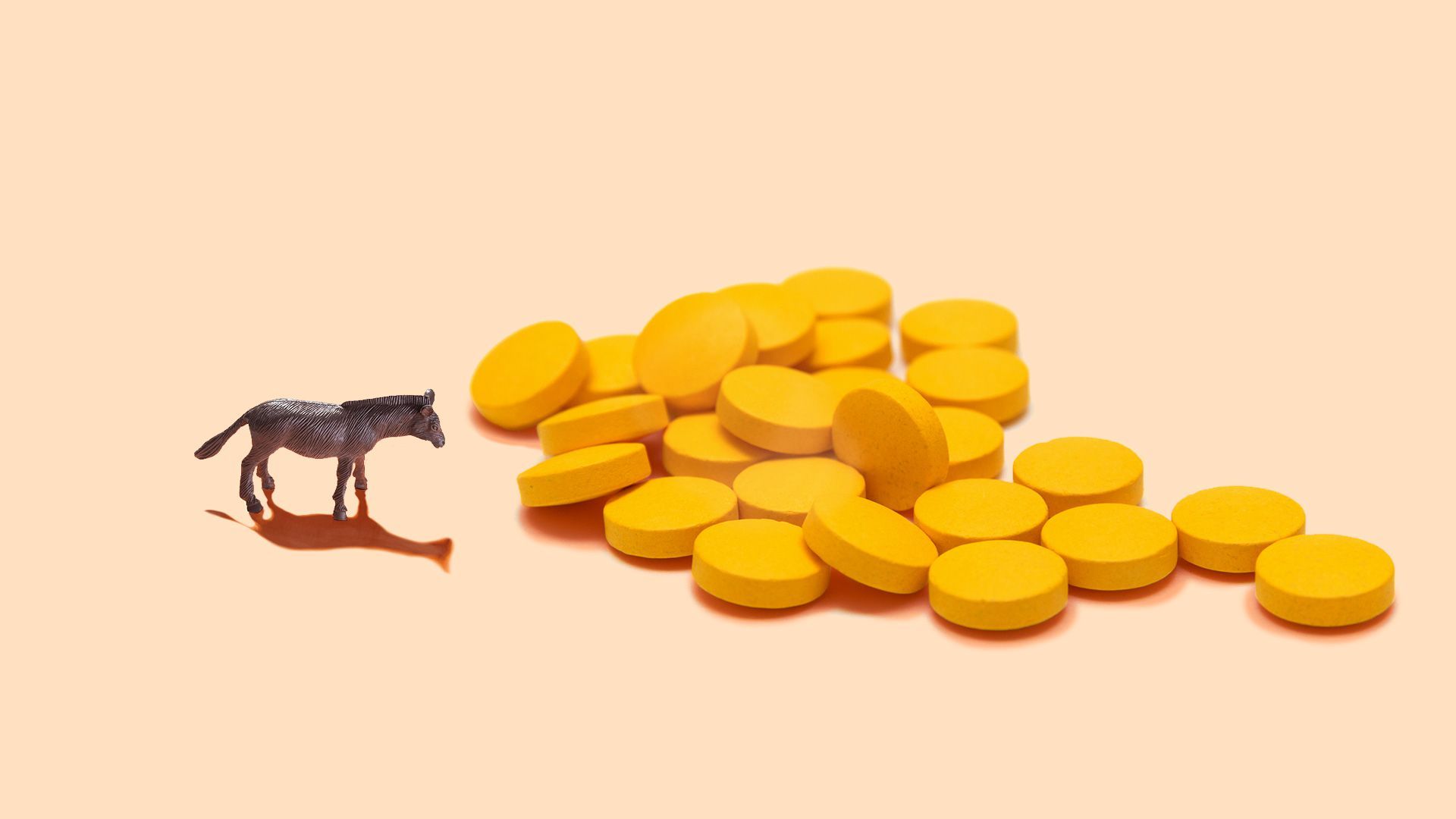 The Democrats' most significant attempt to rein in health care costs in the private market— specifically prescription drug costs — is increasingly likely to fail.
Why it matters: U.S. health care costs have ballooned over the last few decades. But there's fierce industry resistance to allowing the government to step in and regulate private market prices. Plenty of lawmakers hate the idea as well.
State of play: House Democrats' prescription drug pricing plan, also known as H.R. 3, would allow Medicare to negotiate the prices of some prescription drugs. A piece of that measure would also make those prices available in the private market.
Moderate Democrats in both the House and Senate have made clear that they have issues with the scope of the Medicare negotiation plan, which would save the federal government hundreds of billions of dollars over a decade. Republicans generally strongly oppose Medicare negotiations.
Part of the controversy has been over Medicare-specific provisions of the policy, like linking the prices of drugs in the U.S. to what other countries pay for those drugs.
But how those negotiated prices would apply to the private market — and thus its impact on commercially insured Americans — is also a huge point of contention.
What they're saying: Allowing private plans to have access to Medicare-negotiated prices is "no longer now price negotiation — that's price control," Sen. Bob Menendez told Axios last month.
"I'm not for price controls. As a country, we've never been for that," Menendez added. "Negotiation is different than price controls. Price control is when I say to a company, for anything, 'You're going to sell your product for X.' That's not negotiation."
Every Democrat in the Senate has huge sway over shaping the entire reconciliation bill. Menendez has already emerged as one of the members most skeptical of Medicare negotiations.
Where it stands: Major players ranging from President Biden to Finance Committee Chairman Ron Wyden have thrown their support behind the measure. But that won't matter if Menendez — or any other Democratic senator — is steadfastly opposed to it.
Between the lines: Medicare regulates what it pays other health care sectors, like hospitals and doctors. That means it wouldn't be unprecedented for it to cap what it pays drugmakers as well, although this could lead to fewer new drugs being developed in the future.
But the government doesn't regulate the prices that private insurers pay providers.
"Drugs are now the anomaly in Medicare," said KFF's Larry Levitt. "Extending federally negotiated drug prices to the commercial market is unprecedented, at least in the U.S. It's the norm elsewhere in the world."
Yes, but: Other big pieces of the House bill could likely still ultimately be applied to the commercial market, even if employers and other private insurers don't have access to Medicare-negotiated prices.
That includes the provision that limits how much drug companies can increase their prices every year.
The big picture: Several other administrations have tried — and failed — to regulate health care prices in the private market, including hospital and provider prices.
The industry hates the concept, and if the most recent attempt fails, it's not just the drug industry that will celebrate.
The measure in the House bill "sets a precedent that could lead to other public policy that might undermine private-sector negotiation," Chip Kahn, president and CEO of the Federation of American Hospitals, recently told Axios.
Go deeper