Jan. 6 panel to seek criminal charges after Bannon defies subpoena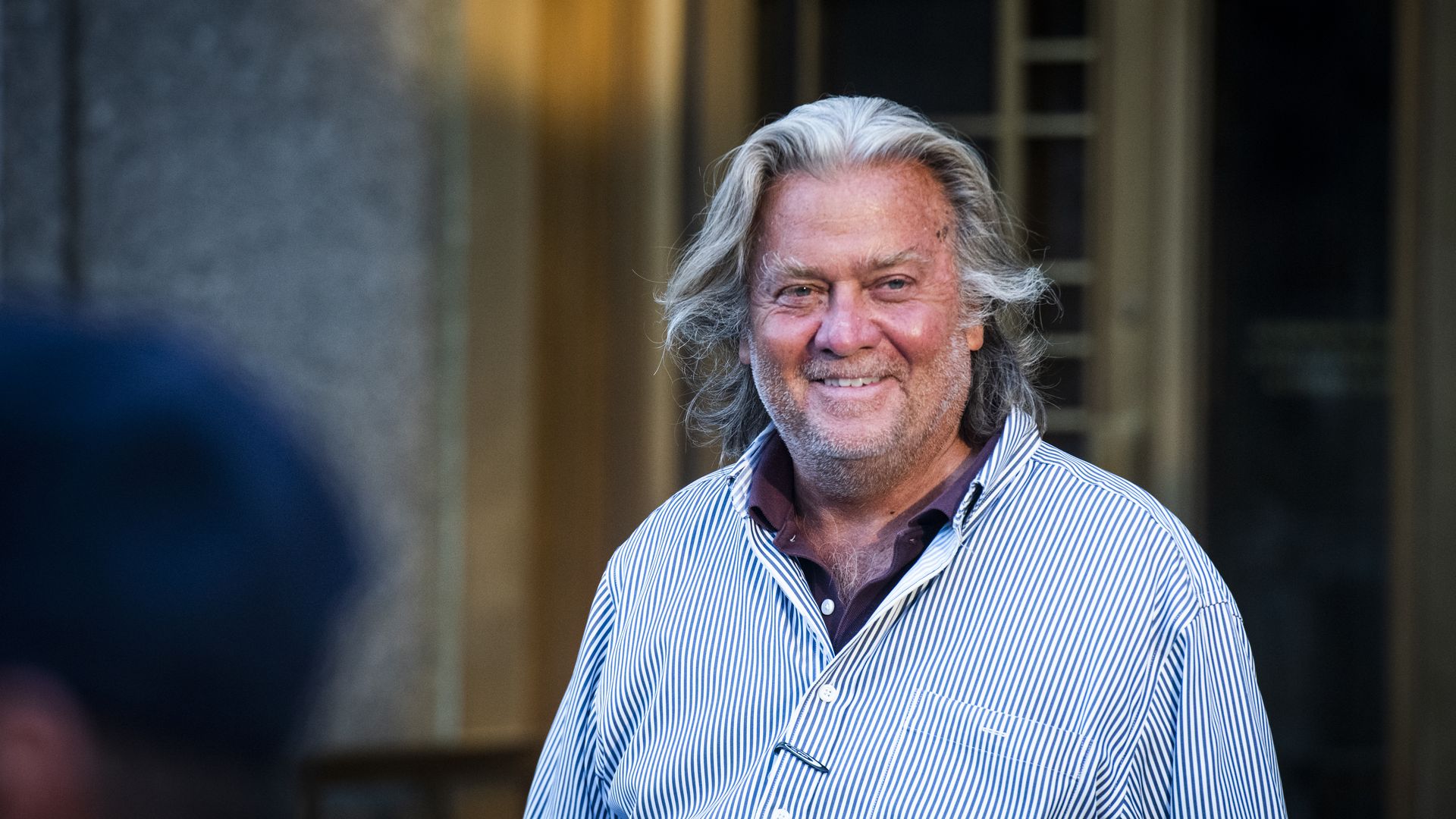 Trump ally Steve Bannon failed to show up for a deposition before the Jan. 6 select committee on Thursday, paving the way for the House panel to seek criminal charges against him for defying a congressional subpoena.
Why it matters: It's the first major test for how the committee will respond to witnesses' refusal to cooperate, an obstacle that stalled countless Democratic investigations during the Trump era by triggering protracted legal battles.
What they're saying: "Mr. Bannon has declined to cooperate with the Select Committee and is instead hiding behind the former President's insufficient, blanket, and vague statements regarding privileges he has purported to invoke. We reject his position entirely," committee Chair Bennie Thompson (D-Miss.) said in a statement.
"The Select Committee will not tolerate defiance of our subpoenas, so we must move forward with proceedings to refer Mr. Bannon for criminal contempt. I've notified the Select Committee that we will convene for a business meeting Tuesday evening to vote on adopting a contempt report."
Catch up quick: Bannon's lawyer sent a letter last week informing the committee that he would not cooperate with the investigation, citing an assertion of executive privilege by former President Trump.
Democrats and many legal experts criticized the claim of privilege as dubious, as Bannon had been fired by Trump in 2017 and was a private citizen at the time of the Jan. 6 Capitol attack.
Bannon's lawyer wrote that executive privilege was a matter for the committee and Trump to work out and that he would comply with the subpoena once that issue was resolved by the courts.
What to watch: The committee had previously signaled that it would move quickly to enforce subpoenas against noncooperative witnesses, likely via a House vote to hold them in contempt of Congress.
That contempt citation would then be referred to the Justice Department, which would consider whether to bring criminal charges — a process that could take months.
Democrats are hopeful that Attorney General Merrick Garland, who vowed to make investigating Jan. 6 his top priority, will strengthen Congress' oversight ability by making an example out of Bannon and others who defy subpoenas.
The big picture: The committee has issued 19 subpoenas so far as part of its sprawling investigation into the circumstances surrounding Jan. 6. Bannon was subpoenaed on the same day as former Pentagon official Kash Patel, former White House Chief of Staff Mark Meadows and former White House head of social media Dan Scavino.
Patel also failed to appear for his scheduled deposition on Thursday, but the committee had previously said that he and Meadows were "engaging" with investigators.
Scavino was finally served with a subpoena last week after a struggle to physically locate him. He and Meadows are scheduled for depositions on Friday, but it's unclear whether they will appear.
Go deeper