Iraq elections boost nationalist al-Sadr at expense of pro-Iran bloc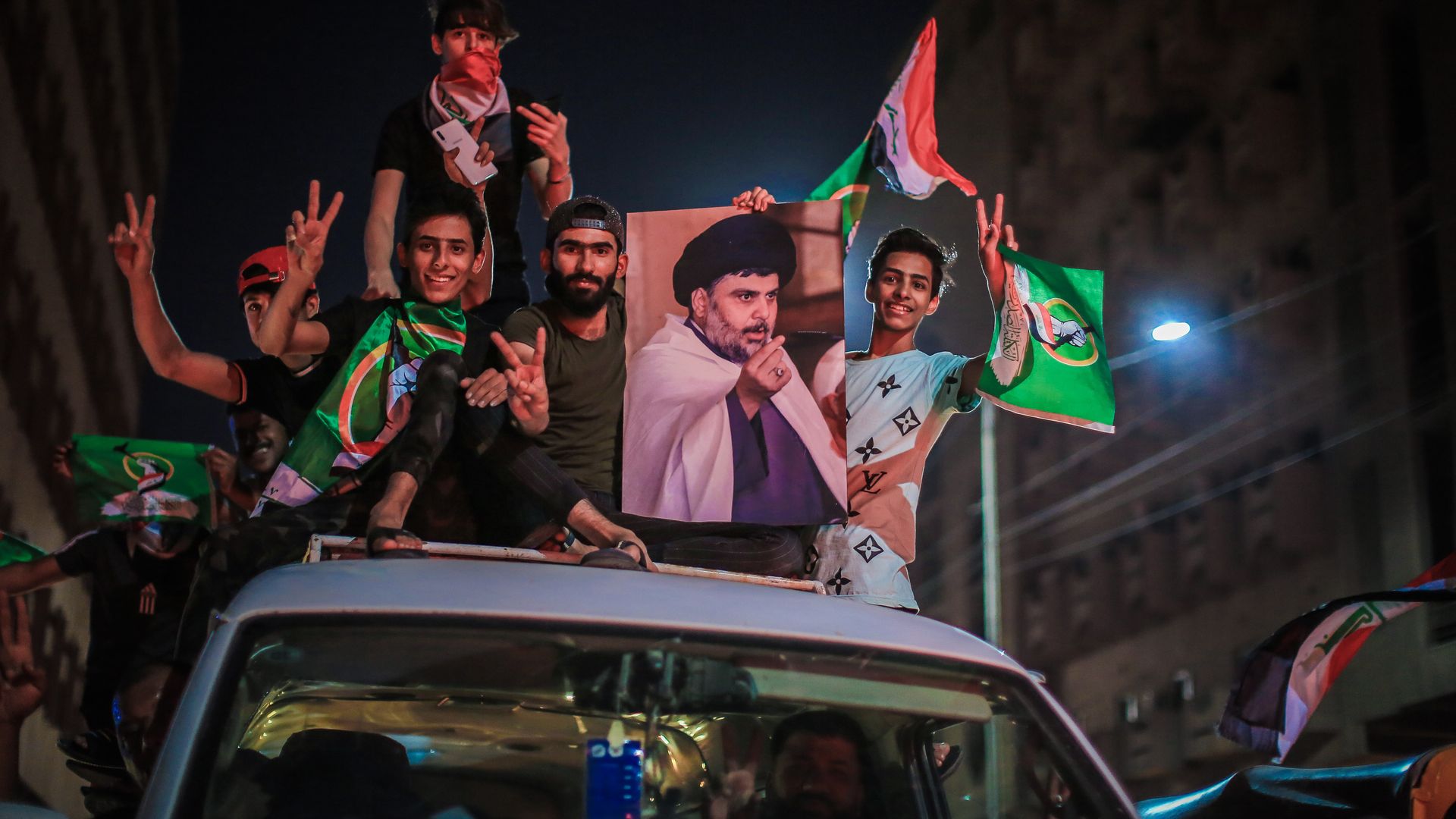 Abu Dhabi — Shiite cleric Muqtada al-Sadr has emerged from Sunday's parliamentary elections as the leading figure in Iraqi politics.
Why it matters: Al-Sadr has positioned himself as a bulwark against foreign interference in Iraq. He has a history of violent opposition to U.S. forces in the country but has more recently proved adept at presenting himself to regional and international partners as a more palatable alternative to pro-Iranian rivals.
He is arguably the most successful opportunist of the post-Saddam Hussein era, rising over the last 18 years from relative obscurity to nationalist kingmaker.
The state of play: Turnout is estimated at just 41% of registered voters, and would be lower still if all eligible voters were included. Millions chose to boycott, and young Iraqis are particularly disillusioned.
The vote had been brought forward after mass protests against corruption, poor public services and Tehran's interference in Iraqi affairs.
Breaking it down: Preliminary results showed al-Sadr's bloc winning at least 73 seats in the 329-member parliament.
The Iran-aligned Fatah Alliance, made up of Shiite militias, won just 14 seats, down from 48 in 2018. That could be viewed as a rejection of Iranian influence and of the militias' violent opposition to the protests. The head of the alliance rejected the results.
Al-Sadr is a rival of the Fatah Alliance and positions himself in opposition to Iran's influence over the Shiite political class. But Nouri al-Maliki, the Iran-aligned former prime minister, also had a strong performance, complicating the prospects for a Shiite alliance.
A coalition led by Sunni parliamentary speaker Mohammed al-Halbousi won 38 seats, making it potentially the second-largest bloc in parliament. Kurdish parties won 61 seats.
What's next: Official final results are also still pending with votes still to be counted and seats to be determined. Although this is unlikely to change al-Sadr's position, the delay increases the already charged atmosphere. 
There is a real risk of intra-Shiite tensions spilling into violence on the streets as groups jockey amid negotiations to form a government and choose a prime minister, which could take several months.
Prime Minister Mustafa Al Kadhimi did not run in the elections, though he could still potentially retain his job. Under his leadership, Iraq has taken on a mediator role for the region, and the choice of prime minister will influence whether that continues.
Of note: The Iraqi government has denied reports that the commander of Iran's IRGC Quds Force, Esmail Qaani, made a secret visit to Baghdad on Monday. Tehran will be keen to massage any disputes between parties loyal to it.
Go deeper