Biden administration leans into Abraham Accords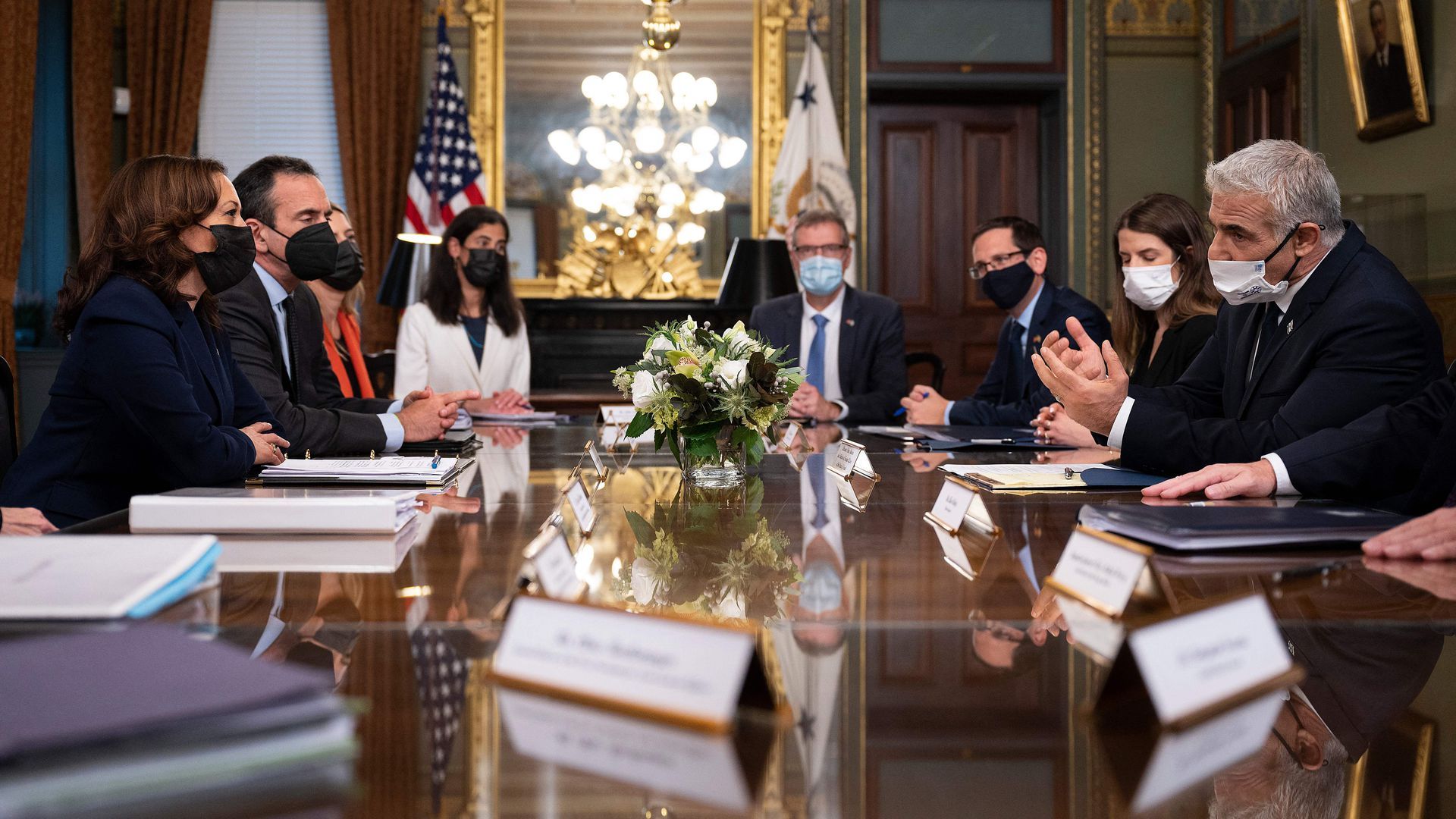 The trilateral meeting on Wednesday between Secretary of State Antony Blinken and the foreign ministers of Israel and the United Arab Emirates epitomized the Biden administration's belated embrace of the Abraham Accords.
Why it matters: The normalization deals struck between Israel and four Arab countries were Donald Trump's landmark foreign policy achievement, and while the Biden administration has long said it wants to push them forward, it has only recently started taking steps in that direction.
Senior administration officials were reluctant at first to use the term "Abraham Accords," which is so closely associated with Trump.
But since the first anniversary in September, the administration has not only been discussing the accords but celebrating them.
The state of play: Blinken held a virtual meeting last month with his Israeli, Emirati, Bahraini and Moroccan counterparts to commemorate the anniversary.
U.S. diplomats also joined a public visit by the Israeli and Bahraini foreign ministers to the headquarters of the 5th fleet in Manama, and the U.S. charge d'affaires in Jerusalem spoke alongside Jared Kushner at an event to celebrate the accords at the Israeli Knesset.
Between the lines: Israeli and Emirati officials think the Biden administration is trying to counter the narrative that it is disengaging from the region, particularly after the withdrawal from Afghanistan.
"They understood it can be a win for them after Afghanistan," an Israeli official told me, noting that the accords provide a positive agenda in the region.
Driving the news: The issue of strengthening the Abraham Accords and getting more countries to join featured prominently in the meetings Israeli Foreign Minister Yair Lapid had on Tuesday with Vice President Kamala Harris and national security adviser Jake Sullivan.
The main action item out of Wednesday's trilateral meeting was the formation of two trilateral teams, one on promoting religious coexistence and the other on cooperation in water and energy.
What's next: The Biden administration is trying to get Sudan to sign a normalization agreement with Israel that has been sitting on the shelf for months. Sudan's domestic political crisis is holding up progress for now.
Go deeper