Updated Oct 12, 2021 -

World
Kim Jong-un blames U.S. for tensions as Pyongyang showcases weaponry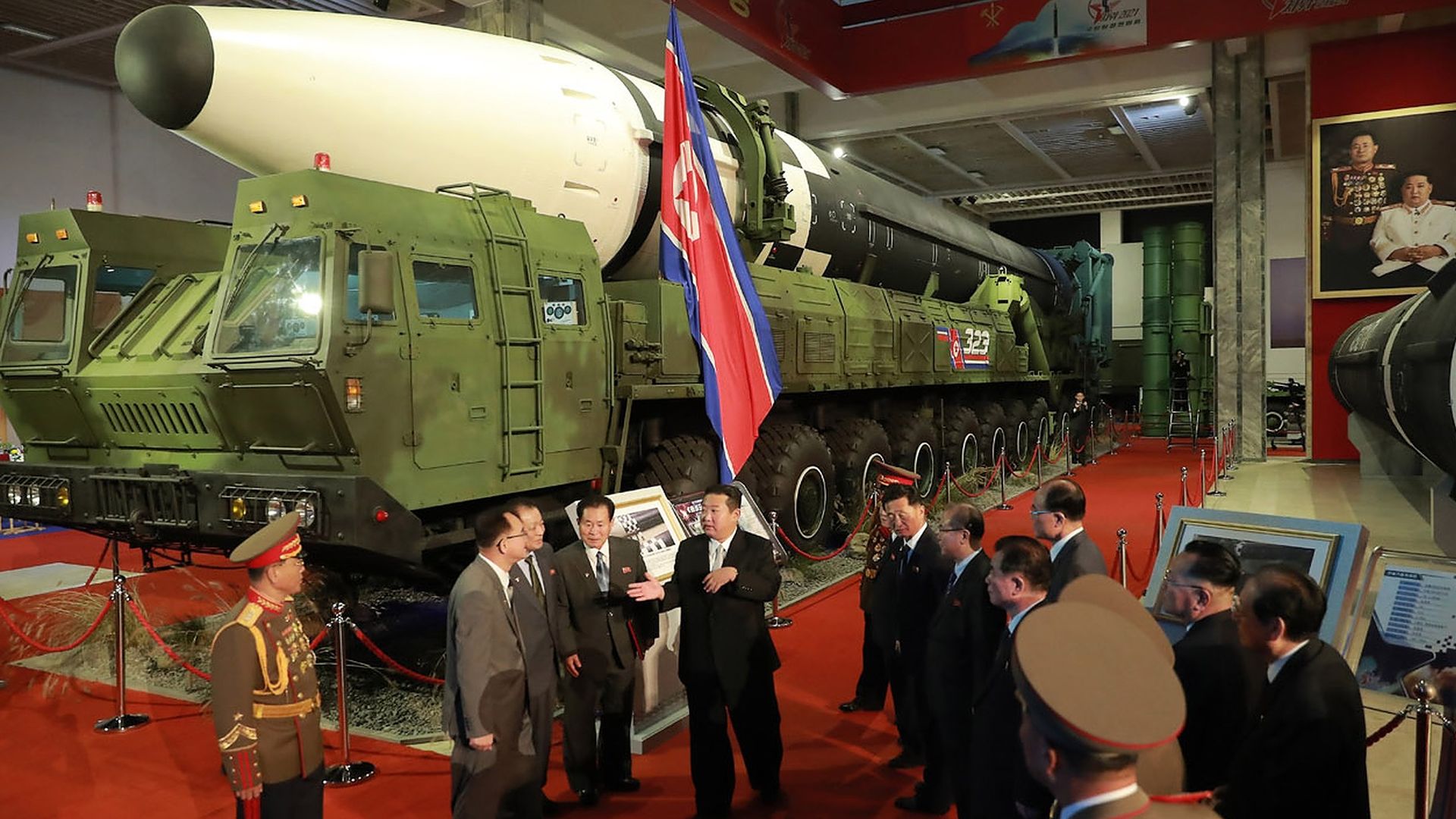 North Korean leader Kim Jong-un declared while attending a weapons exhibition that the country had "invincible" defense capabilities as he accused the U.S. of being the source of regional tensions, state media reported Tuesday.
Why it matters: Kim said in a speech at Monday's event that the country was strengthening its weapons arsenal but didn't want a war, per the state-run Korean Central News Agency (KCNA).
He accused the U.S. of being "hostile" as he stood next to weapons including the "Hwasong-16, North Korea's largest ICBM, unveiled at a military parade in October 2020, but not yet test fired," Reuters reports.
Between the lines: KCNA released a photo of Kim standing next to what appears to be a hypersonic missile that the North Korean military claimed to have tested last month. The authenticity of the weapon could not be immediately verified and experts couldn't rule out it being fake.
Vipin Narang, a nuclear security expert at the Massachusetts Institute of Technology, told the Washington Post the weapon had a similar resemblance to China's hypersonic glider, the DF-17, but said it's too early to tell whether it's "legit."
"More generally, Kim wants to show us that his deterrent is not only 'complete,' but that he continues to work on improving survivability and penetrability against both [South Korea] and the U.S., like 'normal' nuclear powers do," Narang added.
What else he's saying: Kim also criticized South Korea's government for having a "hypocritical attitude" for denouncing North Korea's weapons program while conducting its own tests and developing its own arsenal — including the purchase of U.S.-made F-35 stealth fighters, Reuters notes.
The big picture: The United Nations' International Atomic Energy Agency said in August that North Korea's military appeared to have resumed operations at a key nuclear reactor that's believed to produce fuel for nuclear weapons.
What to watch: A spokesperson for South Korea's defense ministry said that Seoul and Washington intelligence agencies were examining the images of the weapons featured at the exhibition, per Reuters.
White House national security adviser Jake Sullivan was due to meet with his South Korean counterpart, Suh Hoon, in Washington, D.C., on Tuesday, Reuters notes.
The Biden administration did not immediately respond to Axios' request for comment.
Editor's note: This article has been updated with new details throughout.
Go deeper