Jon Gruden out as Las Vegas Raiders head coach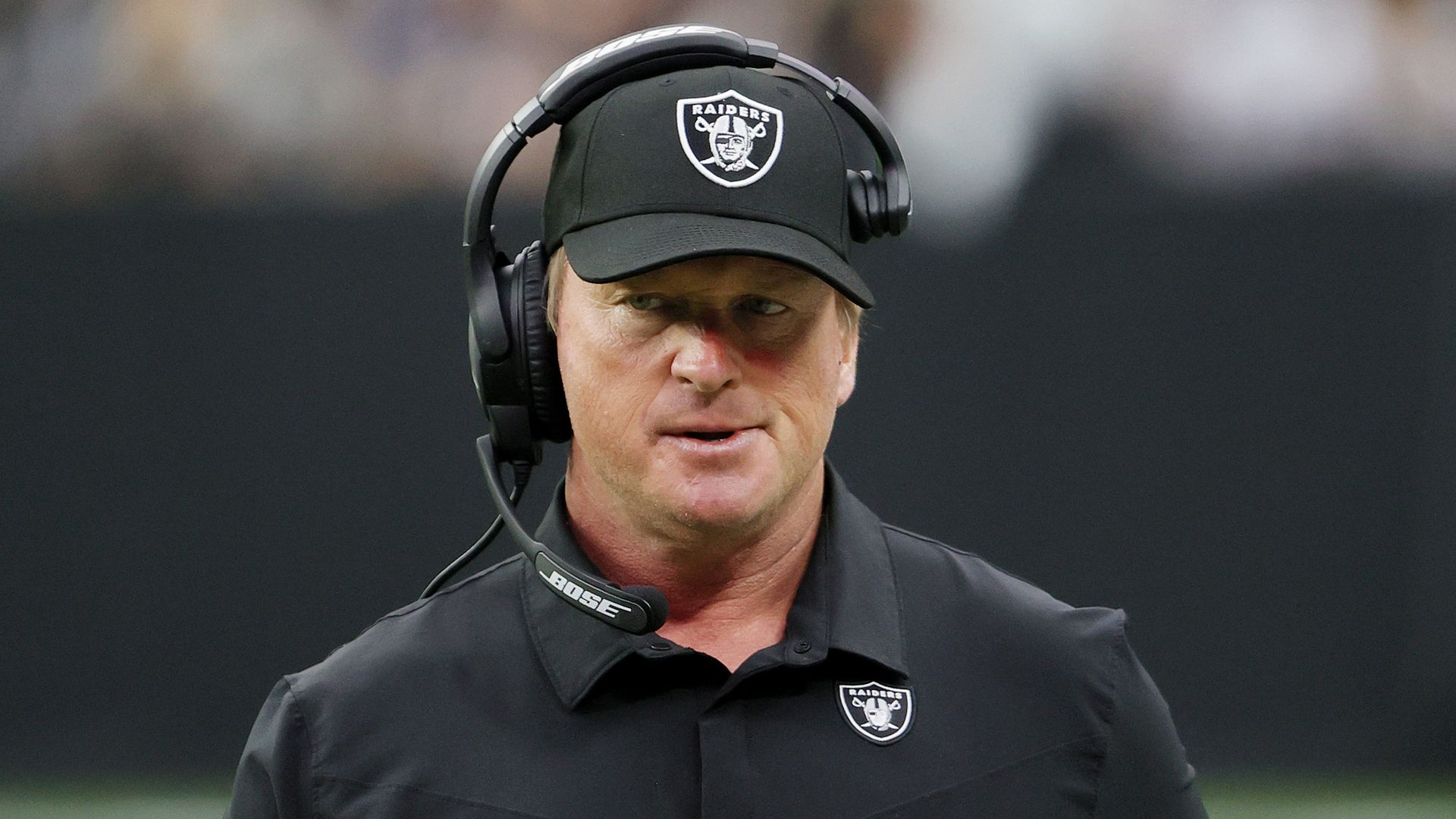 Jon Gruden announced Monday that he had resigned as Las Vegas Raiders head coach.
Why it matters: The New York Times reported earlier Monday that Gruden used homophobic and misogynistic language in emails over a roughly seven-year period that ended in 2018 before he joined the Raiders, in addition to racist remarks that emerged last week.
The NFL criticized him on Friday for sending a 2011 email when he worked for ESPN that used a "racist trope to denigrate DeMaurice Smith, the executive director of the NFL Players Association," the Washington Post notes.
He apologized for that email while denying that he's racist.
What he's saying: "I love the Raiders and do not want to be a distraction," Gruden said in a statement on Monday.
"Thank you to all the players, coaches, staff, and fans of Raider Nation. I'm sorry, I never meant to hurt anyone."
Of note: Although Gruden was not with a team at the time he sent the newly uncovered emails, he had great influence in the league, having won a Super Bowl with the Tampa Bay Buccaneers following the 2002 season, the NYT notes.
He was hired for a second time as the Raiders franchise head coach in 2018.
Carl Nassib, who became in June the first active NFL player in history to come out as gay, plays for the Las Vegas Raiders.
Driving the news: In the newly revealed emails, Gruden used homophobic slurs to describe NFL commissioner Roger Goodell while corresponding with Bruce Allen, the former president of what's now the Washington Football Team, according to the NYT.
Gruden also allegedly said Goodell shouldn't have encouraged then-Rams coach Jeff Fisher to draft "queers" — a reference to Michael Sam, a gay player who joined the team in 2014.
Female referees and players protesting during the national anthem were two other issues derided by Gruden in the emails, per the NYT.
He was working as an ESPN commentator during "Monday Night Football" at the time.
What they're saying: "The comments are clearly repugnant under any circumstance," ESPN said in a statement. (ESPN was first to report Gruden's resignation.)
Smith posted a statement to Twitter on Monday evening:
Editor's note: This article has been updated with new details throughout.
Go deeper