Democrats eye Hispanic candidates to boost swing-district turnout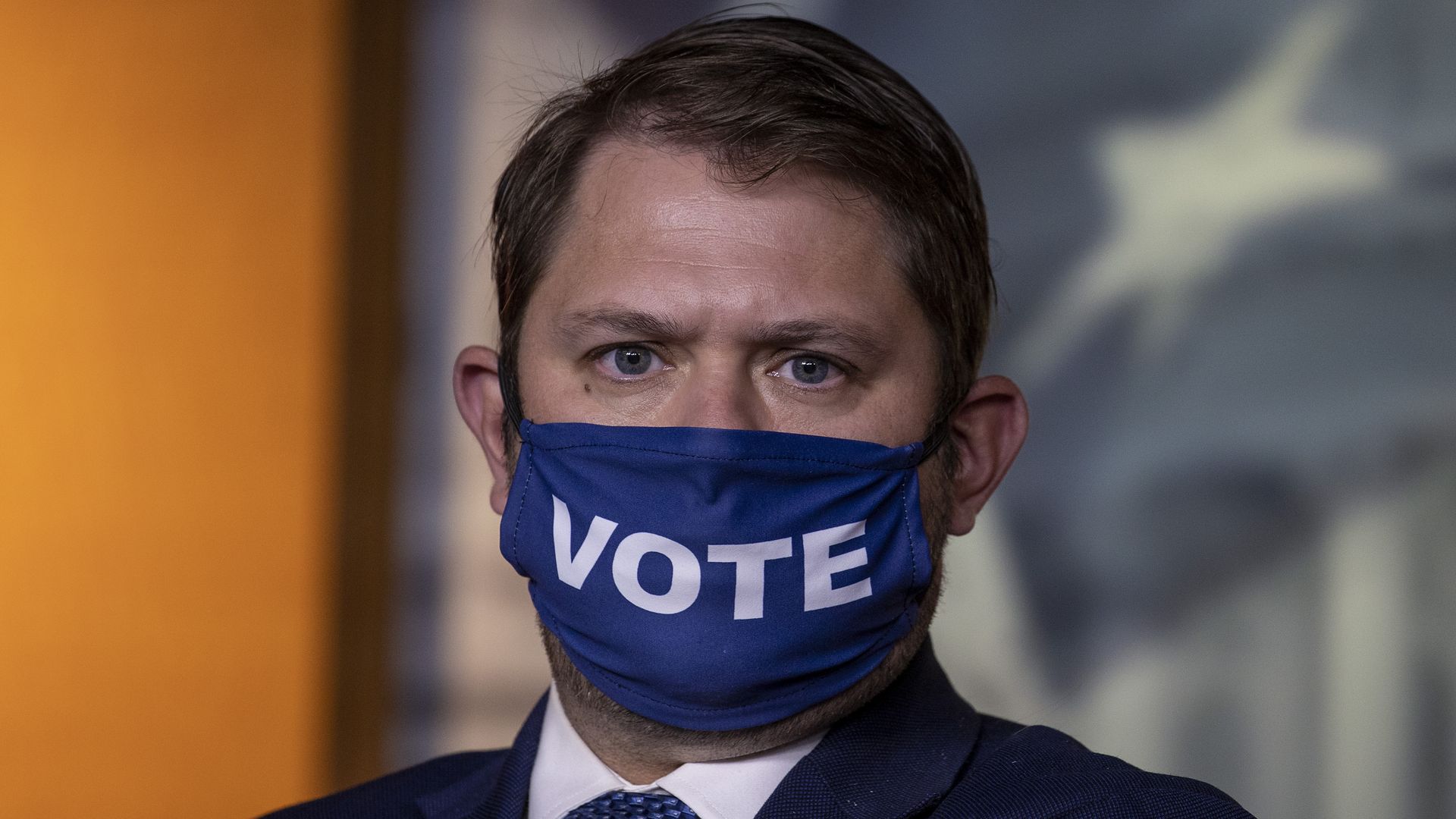 The campaign arm of the Congressional Hispanic Caucus is launching an aggressive effort to recruit more Hispanic and Latino candidates to compete next year in swing districts with open seats or Republican incumbents.
Why it matters: U.S. Rep. Ruben Gallego (D-Ariz.), who chairs the CHC BOLD PAC, told Axios he believes running more Hispanic Democratic candidates could increase Latino voter engagement and the prospects for a midterm blue wall keeping Democratic control of the House of Representatives.
But some districts will be shaped by the once-a-decade redistricting process playing out over the coming months.
With just a handful of votes deciding control, the House of Representatives, Democrats are anxious after Republicans made some gains with Hispanic voters in 2020.
What they're saying: "We are winning or losing a lot of these swing districts by really small margins," Gallego told Axios. "In a lot of swing districts, we're seeing somewhere between 20% Latino, sometimes up to 50% or even more Latino (voters), who can change the outcome."
Gallego told Axios the PAC has begun recruiting with plans to tailor individual candidates to fit newly drawn districts — and that when it comes to candidate ideology, the approach is pragmatic.
"We don't go looking only for progressives or moderates or conservatives," he said. "We want to make sure that we get the right Latino, and Democrats, to win the district."
The big picture: Advocacy group Voto Latino held a Power Summit last week featuring civil rights leader Dolores Huerta and Georgia voting rights advocate Stacey Abrams to galvanize Latino activists and train advocates on voter outreach.
The Democratic Congressional Campaign Committee is dispatching 48 organizing directors around the U.S. to boost "strategic outreach and build trust," among communities of minority voters in midterm battlegrounds, the AP reported in July and a DCCC spokesman, Adrian Eng-Gastelum, confirmed to Axios.
The other side: The National Republican Congressional Committee is launching its own Latino engagement with Hispanic Community Centers to share GOP ideas and build on Trump's support.
NRCC spokesman Michael McAdams said the GOP will portray Democrats as having a "socialist agenda focused on defunding the police, opening our borders and increasing taxes," and predicted that image would be "toxic" with many Hispanic voters.
Rep. Henry Cuellar (D-Texas), whose district runs from the outskirts of San Antonio to the Rio Grande, told Axios in November that "defund the police" rhetoric and progressive climate ideas that threaten oil jobs had boosted former President Donald Trump's performance in traditionally blue, largely Latino counties in his state.
Last year, Republican Yvette Herrell defeated then Rep. Xochitl Torres Small, a Democrat, in a conservative-leaning district in southern New Mexico. At least one progressive Hispanic Democrat has said he will challenge Rep. Herrell next year.
By the numbers: The U.S. House has 47 Hispanic members, including two nonvoting delegates and the resident commissioner, per the Congressional Research Service. Nearly 3 in 4 are Democrats.
There are six Hispanic senators; four Democrats and two Republicans.
The intrigue: The Congressional Hispanic Caucus began as a bipartisan organization but is now comprised only of Democrats. The Congressional Hispanic Conference members are Republicans.
Get more news that matters about Latinos in the hemisphere, delivered right to your inbox on Tuesdays and Thursdays. Sign up for the Axios Latino newsletter.
Go deeper