Senate passes temporary debt ceiling deal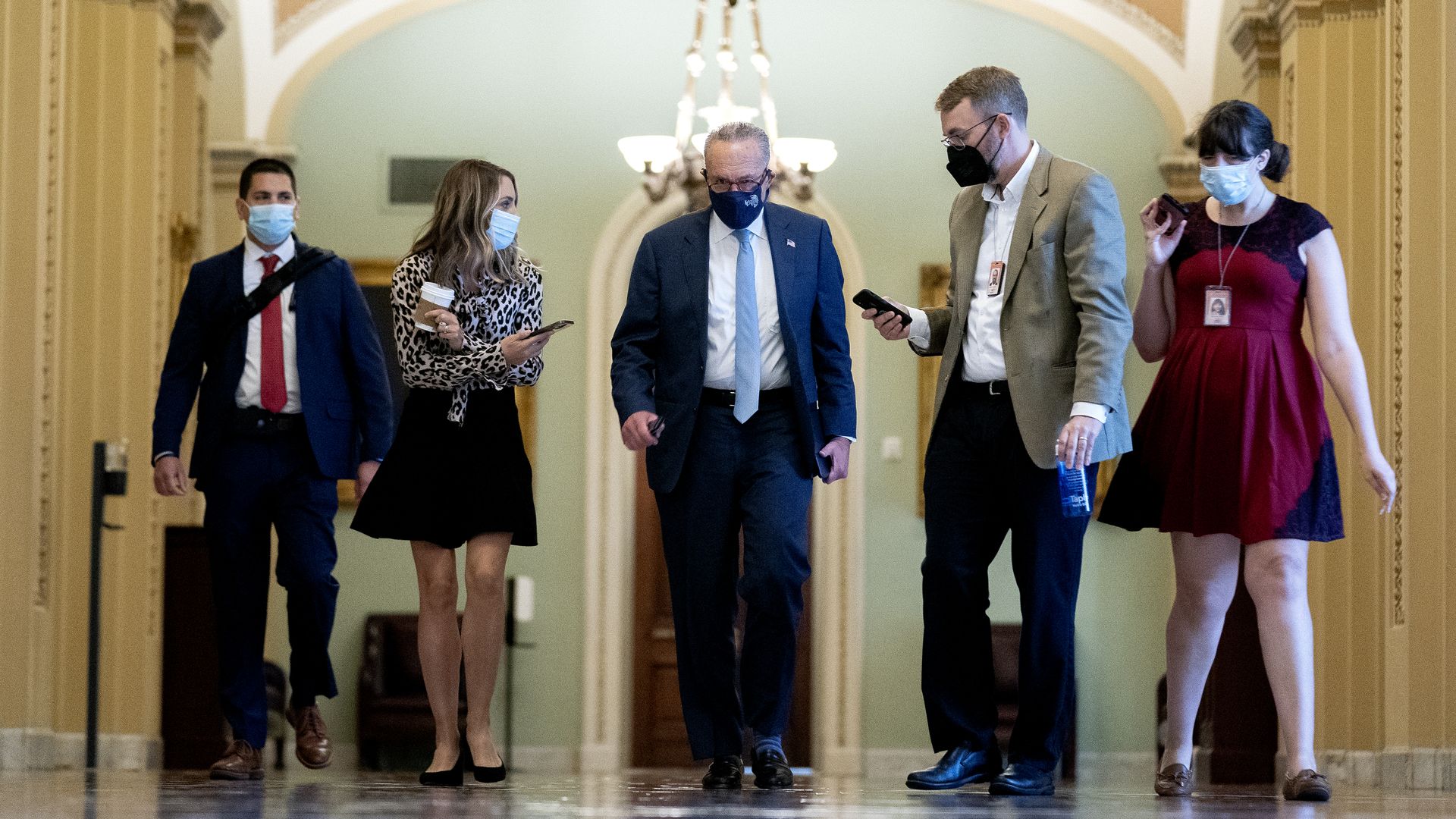 The Senate voted 50-48 on Thursday night, passing an agreement to raise the federal debt limit by $480 billion through Dec. 3. The bill now goes to the House, where there is a clear Democratic majority.
Why it matters: The deal, struck early Thursday by Senate Majority Leader Chuck Schumer (D-N.Y.) and Minority Leader Mitch McConnell (R-Ky.), would avert the threat of the U.S. defaulting on its debt as of Oct. 18. Treasury Secretary Janet Yellen had warned that unprecedented move could trigger a recession and have global ramifications.
Republican Sens. John Cornyn (R-Texas), Susan Collins (R-Maine), Lisa Murkowski (R-Alaska), Richard Shelby (R-Ala.), Rob Portman (R-Ohio), John Barrasso (R-Wyo.), John Thune (R-S.D.), Shelley Moore Capito (R-W.Va.), Mike Rounds (R-S.D) and Roy Blunt (R-Mo.) — a mix of moderates, retirees and leadership — joined McConnell in helping reach the 60-vote threshold to invoke cloture and move the Senate toward a floor vote. Cloture passed 61-38.
Sen. Richard Burr (R-N.C.), who is not running for re-election, didn't vote.
Schumer, after the vote, announced: "Republicans played a dangerous and risky partisan game, and I am glad that their brinksmanship did not work."
Between the lines: Multiple Senate Republicans were so frustrated by the compromise McConnell struck that they not only refused to support the vote but also threatened to prevent it from happening via a simple majority.
That left McConnell and his team scrambling today, hunting for at least 10 members to help push the deal past the 60-vote threshold.
Senate Republicans met for 90 minutes Thursday evening, during which they aired their concerns with McConnell's approach.
While the bill will avoid a pending calamity, the Senate will have to address this fiscal cliff again come December — a month when lawmakers also face several other important deadlines, including funding the government.
The $480 billion is what Yellen said was needed to support government spending to Dec. 3, after which the country again faces the risk of default.
Between the lines: Politically, this was a big moment for both Senate leaders.
McConnell, who refused for months to budge over his insistence that Democrats suspend the debt limit through the budget reconciliation process, blinked.
Nonetheless, Schumer also accepted a temporary solution rather than a long-term one.
The result: Members of both parties are frustrated, and many are already complaining about what this means for December.
Go deeper