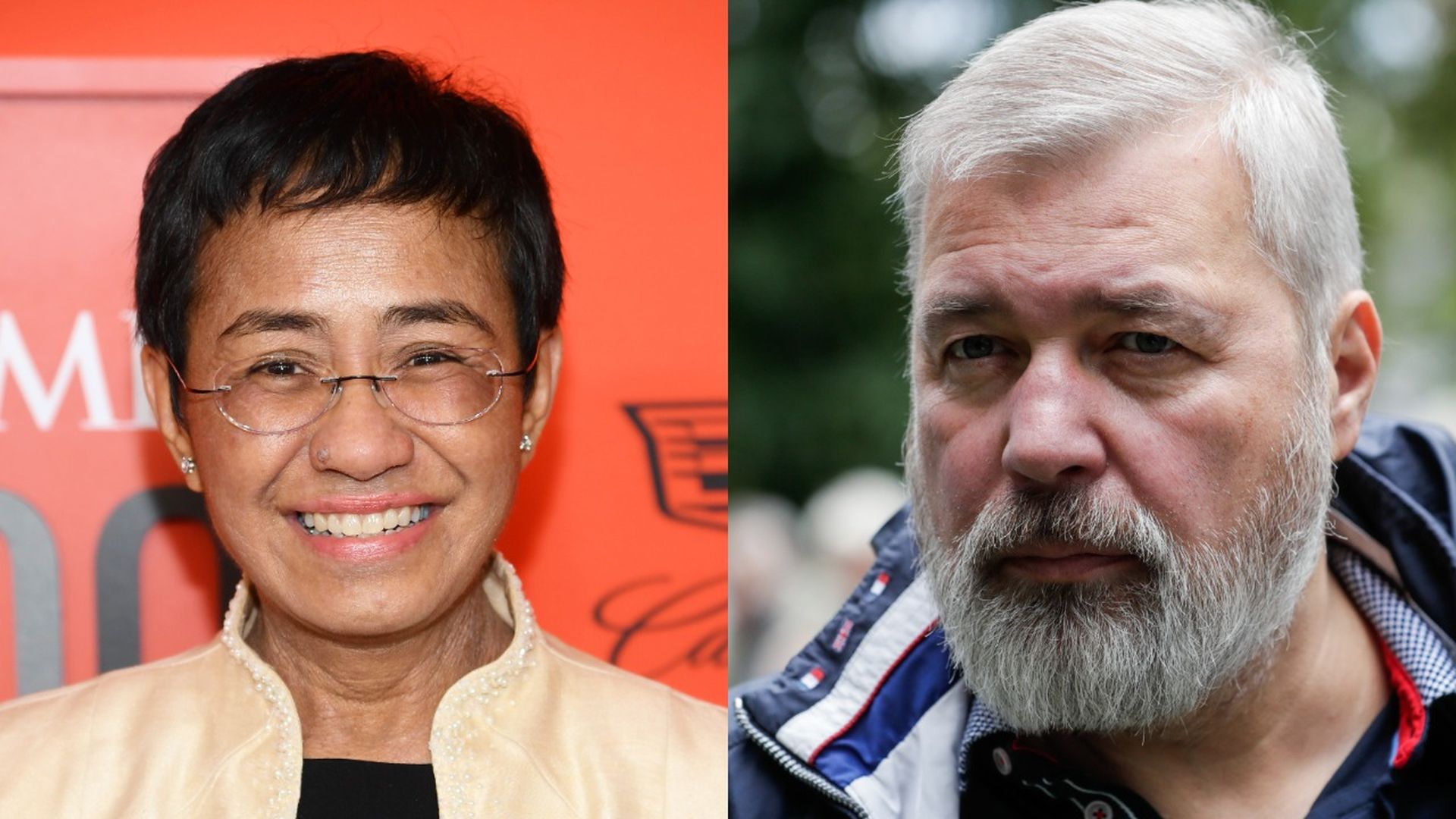 Dissident journalists Maria Ressa and Dmitry Muratov were awarded the 2021 Nobel Peace Prize "for their efforts to safeguard freedom of expression," which the Nobel Committee described as "a precondition for democracy and lasting peace."
Ressa, who co-founded the Philippine news site Rappler in 2012, has been prosecuted for her reporting on Philippine President Rodrigo Duterte and his government's deadly anti-drug campaign.
Muratov is the founder of Novaya Gazeta, described by the committee as "the most independent newspaper in Russia today."
Between the lines: It's the first time a journalist has received the Nobel Peace Prize since 1935, when Germany's Carl von Ossietzky won the iconic award for his secret work exposing his country's re-armament after World War I, according to Reuters.
The big picture: Rappler, which first went public in 2012, gained recognition for its coverage of Duterte's war on drugs. The news site also focused on reporting about the spread of fake news on social media and the government's use of bots to manipulate public opinion.
Rappler's coverage has led to several governmental agencies starting legal proceedings against the site, some of which Rappler has called "a failure of justice and democracy."
Novaya Gazeta has been recognized as "the only truly critical newspaper with national influence in Russia today" by the Committee to Protect Journalists. Muratov and other reporters for the newspaper have covered topics such as human rights violations, corruption within the Russian government and abuse of power.
In the last two decades, six journalists from Novaya Gazeta have been killed for their work, the committee notes.
"Despite the killings and threats, editor-in-chief Muratov has refused to abandon the newspaper's independent policy," the committee said.
What they're saying: Ressa and Muratov "are representatives of all journalists who stand up for this ideal in a world in which democracy and freedom of the press face increasingly adverse conditions," Berit Reiss-Andersen, chair of the Norwegian Nobel Committee, said in her announcement.
"Free, independent and fact-based journalism serves to protect against abuse of power, lies and war propaganda," she said.
Go deeper