McAuliffe changes tune on Biden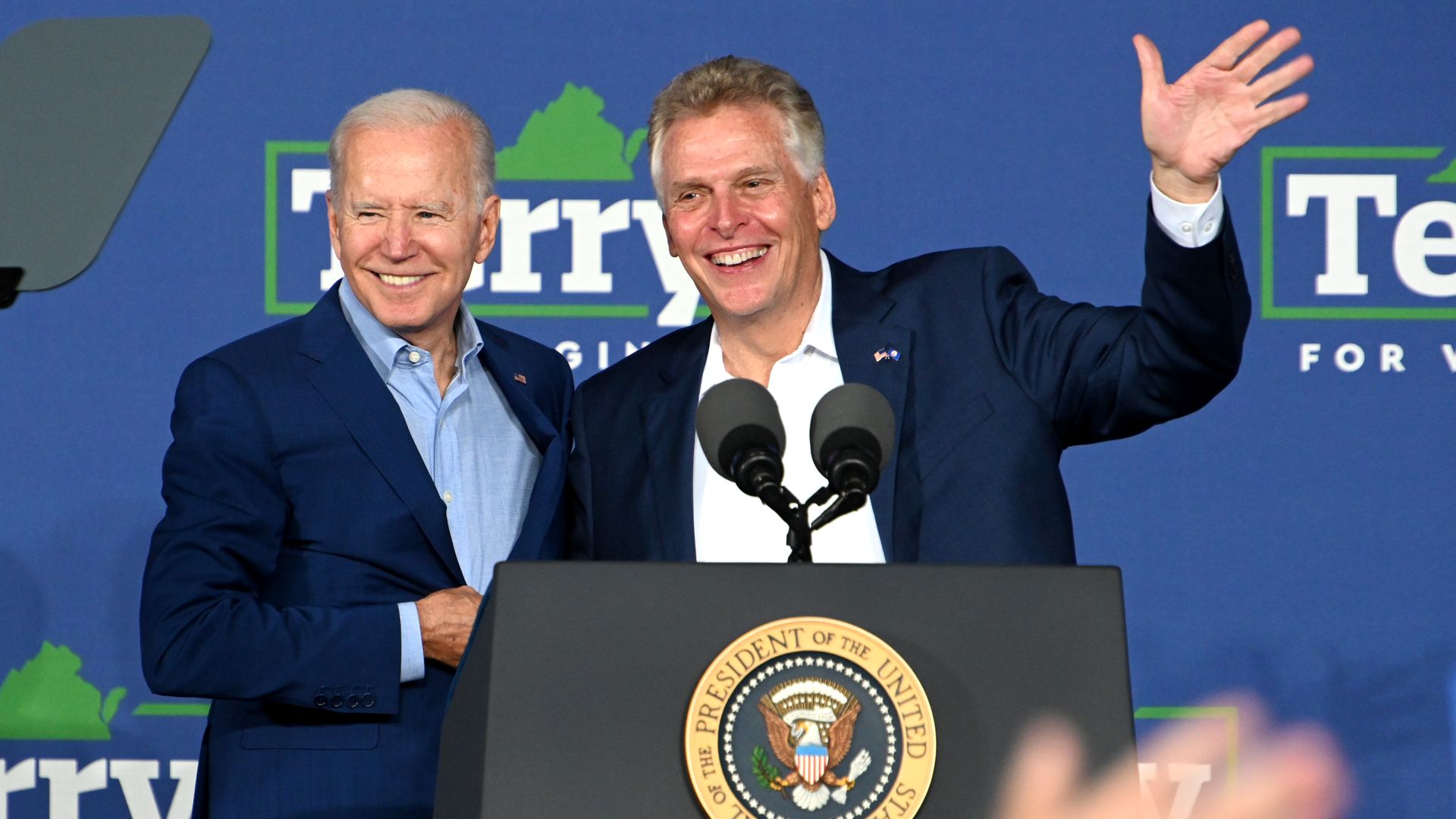 Terry McAuliffe latched onto President Biden late this summer as he sought to boost his campaign for governor of Virginia. Now, with his race tightened, the Democrat admits the president is "unpopular" in the state.
Why it matters: The off-year election in Virginia is often viewed as a national bellwether. The question confronting Biden is how many candidates like McAuliffe are worried about fallout from his policies — and fear it portends disaster for them in the 2022 midterms.
'The president is unpopular today, unfortunately, here in Virginia, so we have got to plow through," McAuliffe said during a video conference call that surfaced this week and was published by the Daily Mail and others.
Likewise, McAuliffe complained last week about members of Congress stalling action on a $1.2 trillion bipartisan infrastructure bill that would send billions to each state for road, bridge and other construction work.
"I say: 'Do your job,'" CNN quoted McAuliffe as telling Virginia entrepreneurs last Friday, after being asked for his message to his fellow Democrats. "You got elected to Congress. We in the states are desperate for this infrastructure money."
What they're saying: A McAuliffe spokesman told Axios, "Terry's point was clearly that Democrats can't take anything for granted and must turn out to vote this year. Glenn Youngkin is running on a divisive, Trumpian agenda that puts election conspiracy theories and banning abortion first."
McAuliffe, seeking a second, non-c0nsecutive term as governor, has spent much of his campaign branding his Republican rival Youngkin as an acolyte of former President Donald Trump.
That worked for a while in a formerly red state that's turned purple and had been trending blue.
While Biden beat Trump in Virginia last fall, Youngkin has closed the gap on McAuliffe, in part over public doubts about how the current president handled the Afghanistan withdrawal and amid confusion about mask mandates and Democratic spending disagreements on Capitol Hill.
During a July rally with Biden in Arlington, Virginia, McAuliffe didn't just embrace the president but asked voters to think of them as a team.
"Imagine what we can do for Virginia, as Joe Biden as president and I'm back as governor?" McAuliffe said to the crowd. "Let me tell you, folks, this state is going to take off like a rocket booster."
During his own remarks, Biden tied together the fates of McAuliffe and the Democratic Party.
"Virginia, you got to elect him again. You got to elect him again. And I mean this, not just for Virginia, but for the country."
The president added: "The country's looking. These off-year elections, the country's looking. This is a big deal."
Go deeper