Dissecting Google's climate denial crackdown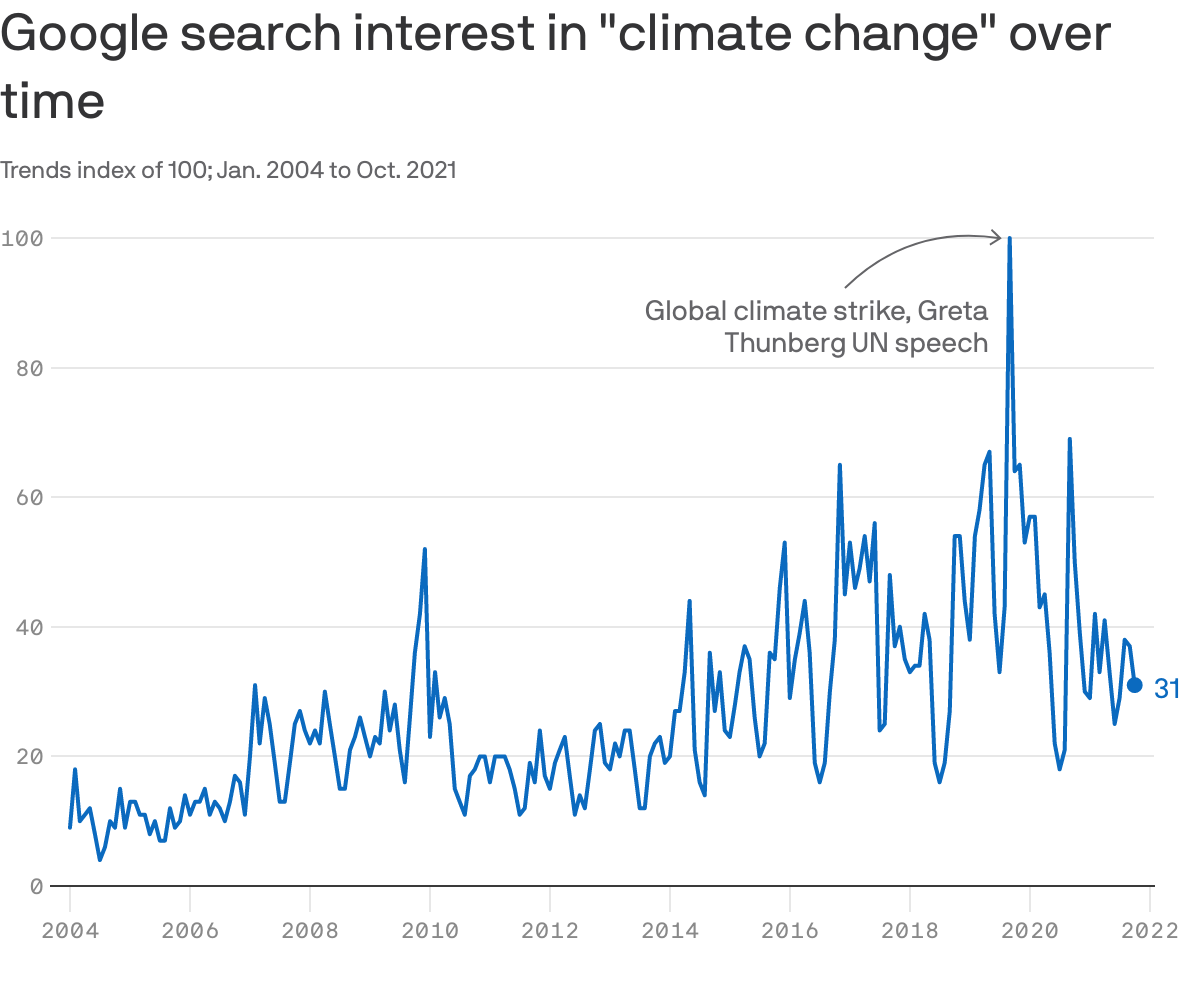 Google's new policy of demonetizing climate denial content marks a significant step in its efforts to rein in climate misinformation.
Why it matters: Videos promoting clear falsehoods about the existence of global warming or its causes have long found a home on YouTube, which Google owns.
Meanwhile, on search, ads for climate contrarian websites have consistently appeared next to search listings for sites offering politically neutral and scientifically rigorous evidence.
Driving the news: The company's announcement Thursday that the new policy takes effect Nov. 1, during the UN Climate Summit in Glasgow, could cool the political polarization around climate in the U.S.
How it works: Per a Google statement, the policy affects the monetization of "content that contradicts well-established scientific consensus around the existence and causes of climate change."
"This includes content referring to climate change as a hoax or a scam, claims denying that long-term trends show the global climate is warming, and claims denying that greenhouse gas emissions or human activity contribute to climate change."
Google plans to use "automated tools and human review" to put the policy into practice.
The system does not seek to limit policy debate, making Google's job easier but potentially allowing the promotion of partisan assaults on established science.
Discerning denial can be tough. Google says it will "look carefully at the context in which claims are made, differentiating between content that states a false claim as fact, versus content that reports on or discusses that claim."
Our thought bubble, from Axios' Scott Rosenberg: Facebook and Google have both faced censorship accusations from conservatives who object to measures that have sought to limit misinformation on COVID, elections and other topics.
YouTube's move on climate is likely to encounter similar objections, given the politically polarized views on this issue, especially in the U.S.
Between the lines: The policy also brings Google's ad revenue strategy more in line with its sustainability agenda.
The company aims to run on 100% carbon-free energy by 2030.
On Wednesday, Google rolled out new features to help travelers limit the carbon footprint of their flights via Google Flights.
What's next: The policy will immediately be put to the test with COP26 taking place.
Spikes in social media activity around climate change over the last six months coincided with major news events, according to data from Keyhole.
Peaks in search activity also tend to occur around news events, including climate summits, according to Google Trends.
What we're watching: Whether Google's move boosts pressure on Facebook to modify its efforts to limit climate misinformation.
Facebook expanded its Climate Science Center last month and steers users there when they search for climate-related terms. Facebook also pledged $1 million to a grant program to combat misinformation.
But activists say the platform still allows denial to flourish.
Go deeper