Zurich meeting brings rare sign of U.S.-China thaw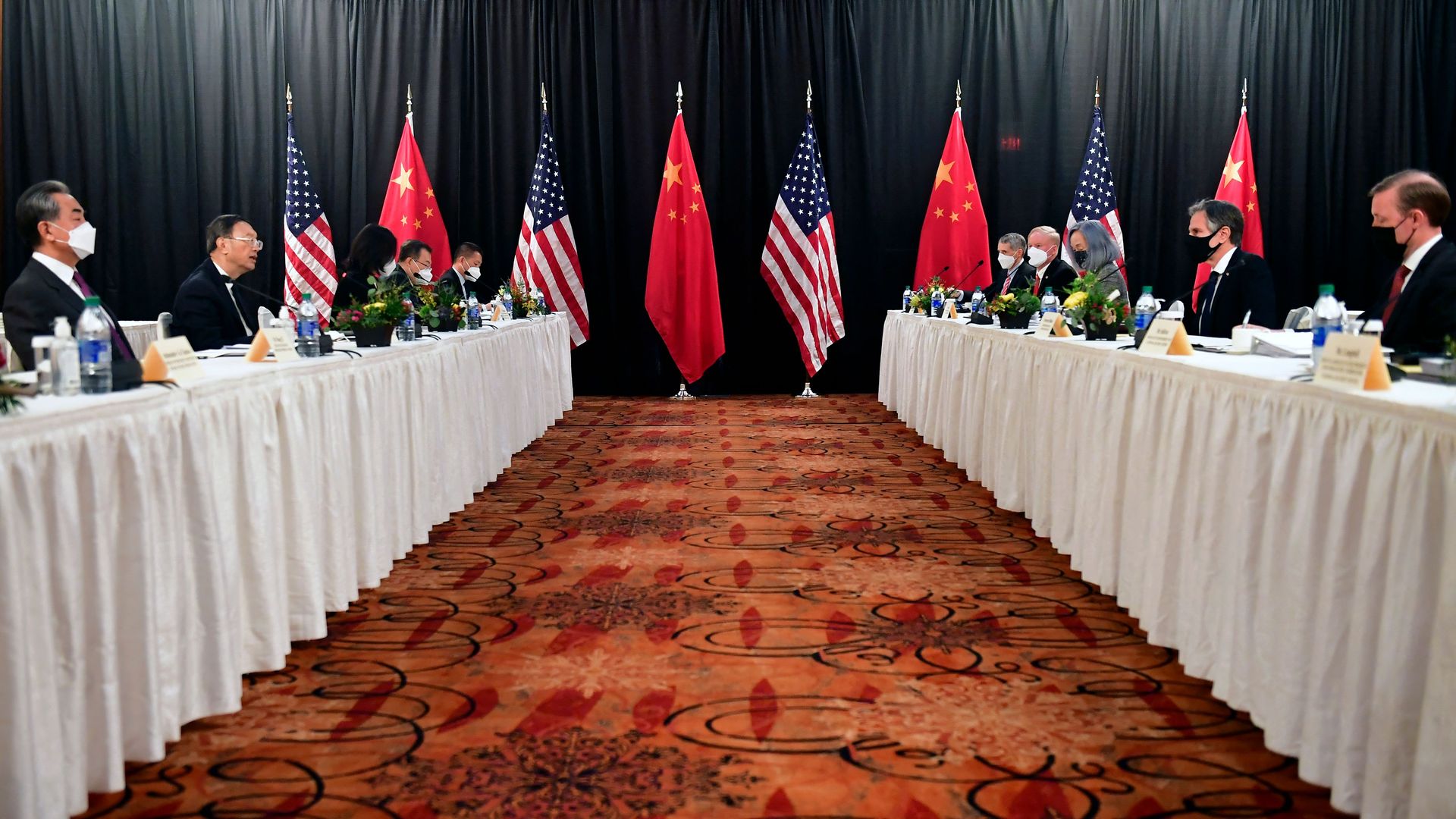 The six-hour meeting White House national security adviser Jake Sullivan had with his Chinese counterpart in Zurich on Wednesday may have done more to defrost the U.S.-China relationship than anything since President Biden took office.
Why it matters: That speaks more to the severity of tensions between the two superpowers than anything Sullivan achieved during his marathon with Yang Jiechi. But the White House counted it as a win and "model" for future talks.
Those talks include Biden's virtual summit with Chinese President Xi Jinping, set to be held sometime before the end of the year.
Driving the news: The session Wednesday marked the most senior-level meeting between U.S. and Chinese officials since their now-infamous Alaska summit in March.
That meeting, involving Yang, Sullivan and Secretary of State Tony Blinken, devolved almost immediately into a verbal sparring match.
Blinken and Sullivan delivered opening statements about China's threats to the "rules-based international order," prompting Yang to launch a lengthy diatribe in response.
Yang accused the U.S. of its own human rights issues, including the Black Lives Matter movement, and assailed Sullivan and Blinken for their "gross interference" in Chinese affairs and lack of hospitality.
Flash forward: Sullivan and Yang met in private on Wednesday at the behest of Biden and Xi. They agreed during a phone call last month about the importance of having direct lines of communication to "set guardrails" on the relationship, according to a senior Biden official who briefed reporters.
It was "probably the most in-depth conversation" that the two governments have had since Biden took office, the official said, adding that the meeting took on a "different tone than Anchorage."
The discussion involved a "genuine back and forth" that prompted the Chinese side to finally move beyond their "talking points," which the U.S. had viewed as a challenge in previous lower-level talks.
The official characterized the meeting as an important step in providing a "foundation" to avoid miscalculations that could cause "intense competition" — which the administration says it welcomes — to veer into conflict.
Yes, but: Asked for any single area in which the U.S. and China were currently able to work productively or had made any tangible progress, the official did not name one.
Sullivan reiterated the U.S. position that cooperation on climate change must be separate from other issues in the relationship, such as the genocide in Xinjiang.
"I don't think that [Yang] necessarily accepted our view, and we certainly didn't accept their view, but I think it was an honest discussion," the official acknowledged.
And recent, worrying trends in the U.S.-China relationship loomed large: Taiwan's defense minister warned today that military tensions with China are at their worst in four decades, after Beijing flew a record 148 warplanes near the island's airspace over four days.
Go deeper