NATO chief: "We don't regard China as an adversary or an enemy"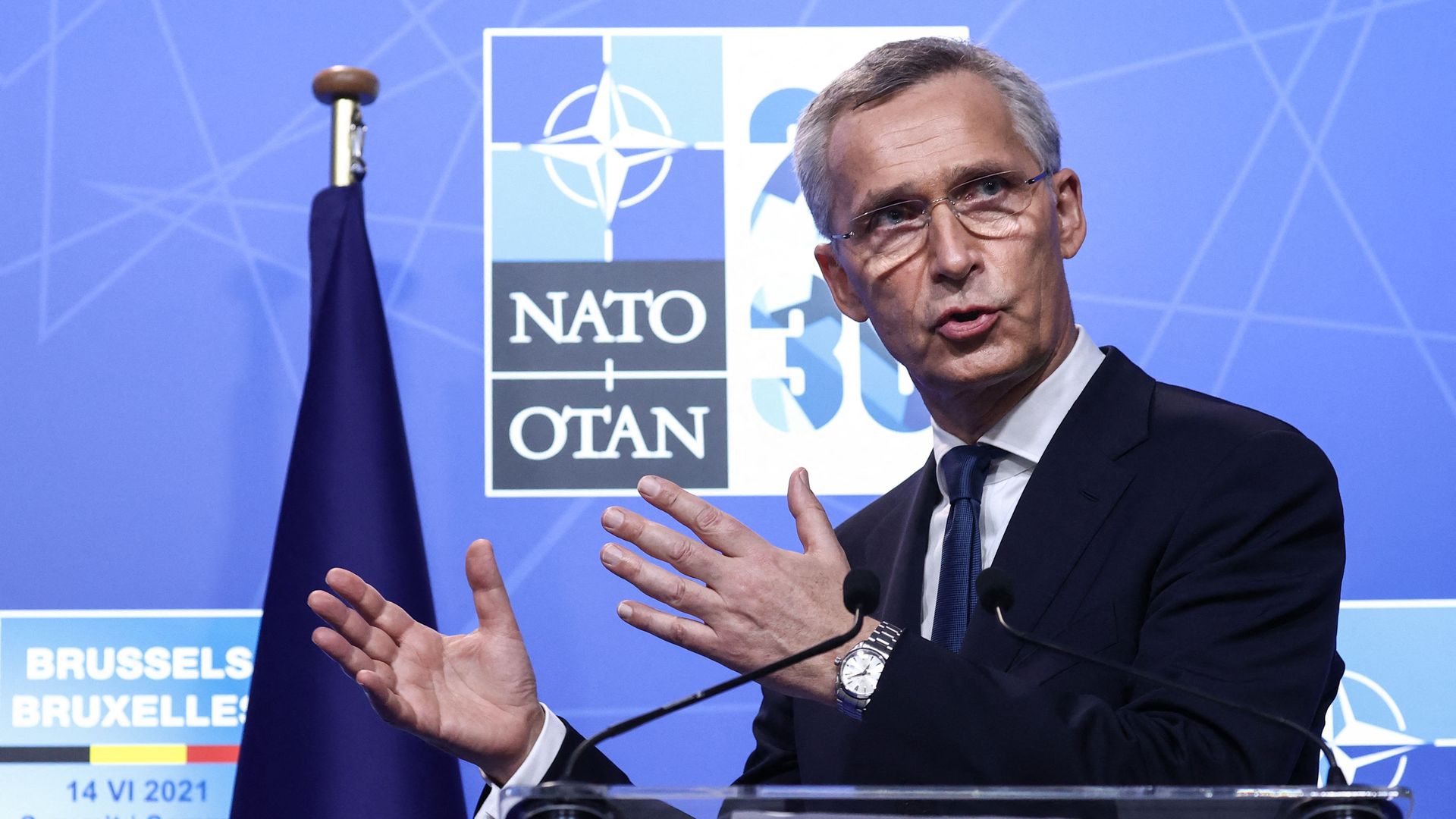 NATO Secretary General Jens Stoltenberg said Wednesday that the military alliance must "engage politically" with China despite its growing assertiveness, telling Politico's "Global Insider" podcast: "We don't regard China as an adversary or an enemy."
Why it matters: NATO, like the U.S., has been careful about the language it uses to describe a rising China — stressing the need for cooperation while acknowledging that Beijing's global influence, technological prowess and military activity in the South China Sea pose real security challenges.
NATO, which was founded in 1949 to confront the Soviet Union, formally addressed the threat posed by China's military ambitions for the first time in a leaders' communique in July.
The move drew pushback at the time from French President Emmanuel Macron, who told reporters that "in my book, China isn't part of the Atlantic geography, or maybe my map has a problem."
What they're saying: Stoltenberg confirmed that NATO is "absolutely" seeking an arms control treaty with China, calling Beijing "a global power" that must take on "global responsibilities."
Like President Biden, Stoltenberg also stressed the importance of engaging with China on climate change.
But he acknowledged the reality that China now has the world's second-largest defense budget, largest navy and is investing heavily in modern weapons technologies. "All of this matters for our security. And therefore NATO has to respond to that," Stoltenberg said.
"NATO is the most successful alliance in history because we have been able to change when the world is changing, constantly adapting. And that's exactly what we do now," he added.
Driving the news: Stoltenberg was pressed on France's furious reaction to the new Indo-Pacific security partnership between the U.S., U.K. and Australia, which cost the French a multibillion-dollar submarine contract.
"I understand that France is disappointed. At the same time, all NATO allies agreed as late as June this year that we need to work more closely with what we call the Asia-Pacific partners," Stoltenberg said.
The former Norwegian prime minister dismissed the idea — pushed aggressively by Macron, especially in the wake of the submarine fallout — that Europe should develop its own defense capabilities outside of NATO.
"I welcome EU efforts on the defense. But my message and something I often discuss with the European political leaders is that EU cannot be an alternative, cannot replace, NATO. EU cannot defend Europe," he said. "Just look at the numbers: 80% of NATO's defense expenditure comes from non-EU allies."
Go deeper: China's record military flybys test Biden on Taiwan
Go deeper