Democrats' moral Medicaid dilemma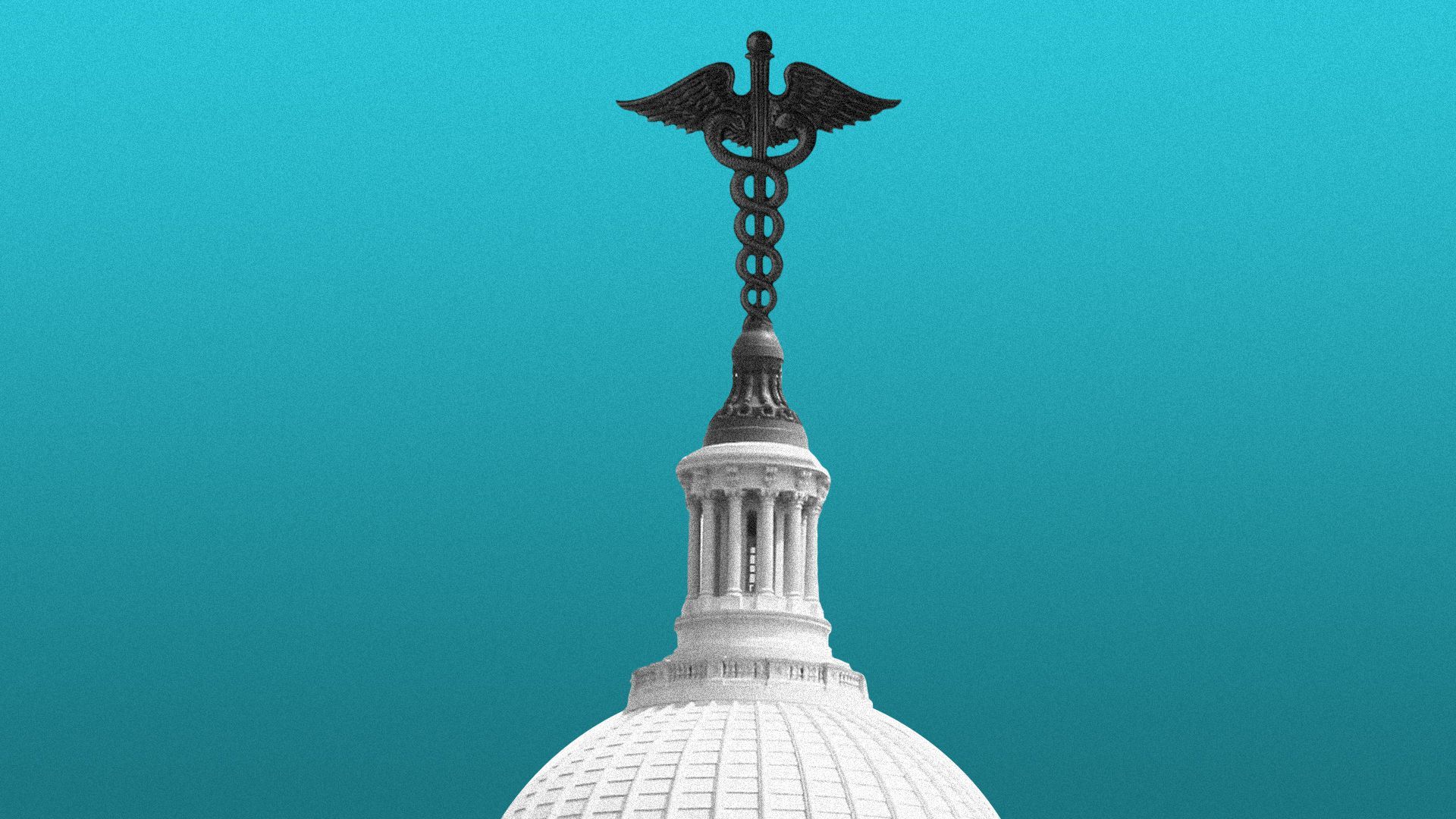 Democrats' push to extend health coverage to millions of very low-income people in red states has a lot working against it: It's expensive, it's complicated, it may invite legal challenges, and few national Democrats stand to gain politically from it.
Yes, but: The policy is being framed as a test not only of Democrats' commitment to universal health coverage, but also their commitment to racial equity.
The big picture: Democrats are still figuring out how much money they have to spend in their massive social policy legislation, but there's already intense competition among policies — including between health care measures.
Progressives are adamant about expanding Medicare to cover dental, vision and hearing benefits. But a handful of prominent Democrats are making the case that closing the Medicaid coverage gap is equally, if not more, important.
The gap exists in 12 Republican-controlled states that have refused to accept the Affordable Care Act's Medicaid expansion, the majority of which are in the South.
What they're saying: Closing the coverage gap is "very, very important to people of color. The majority of Black people in this country still live in the South," said Rep. Jim Clyburn, one of the leading proponents of the measure.
More than 2 million adults are in the coverage gap, and 60% of them are people of color, according to the Center on Budget and Policy Priorities.
"What is the life expectancy of Black people compared to white people? I could make the argument all day that expanding Medicare at the expense of Medicaid is a racial issue, because Black people do not live as long as white people," Clyburn added. "If we took care of Medicaid, maybe Black people would live longer."
Between the lines: In terms of raw politics, it's pretty easy to see why many Democrats would prioritize Medicare expansion over closing the Medicaid gap: Seniors live in every district and state in the U.S.
Only three Democratic senators represent non-expansion states, and in 2020, only nine of the 41 battleground House seats identified by Ballotpedia were in non-expansion states.
Yes, but: Sens. Jon Ossoff and Raphael Warnock, both from Georgia, are the reason that Democrats are able to consider their social policy legislation at all. Warnock is up for re-election next year.
"This is about people in this country, and I wish we'd stop this red state and blue state stuff," Clyburn said. "Warnock and Ossoff won a runoff that nobody gave them a chance to win by promising they would close this gap."
The catch: States that have already expanded Medicaid are covering a small portion of those costs themselves, and may question the fairness full federal funding for the holdout states.
That could create an incentive for existing expansion states to drop the ACA's Medicaid expansion and pick up the new program instead. And any effort Congress makes to stop them could invite legal challenges.
"The case law in this domain is a bit of a moving target, and as we've seen over the past decade, there's an awful lot of litigation over things pertaining to health reform," said Nick Bagley, a professor at the University of Michigan Law School.
The bottom line: Like Democrats' other proposed health policies, filling the coverage gap could cost hundreds of billions of dollars.
But "if your goals are relieving health care cost burdens or expanding access to care, then it's hard to do better on a dollar-for-dollar basis than buying coverage for uninsured people below the poverty line," said Brookings' Matt Fiedler.
What we're watching: "I don't see Medicaid as being on the radar of some of my friends in the caucus who seem to feel it's more important to do Medicare," Clyburn said. "I'm trying to get Medicaid on their agenda."
"I'm tired of my party perpetuating ... inequity," he added. "Treating people according to their needs is what breaks the cycle."
Go deeper