Cathy McMorris Rodgers: Congress not ready to regulate autonomous vehicles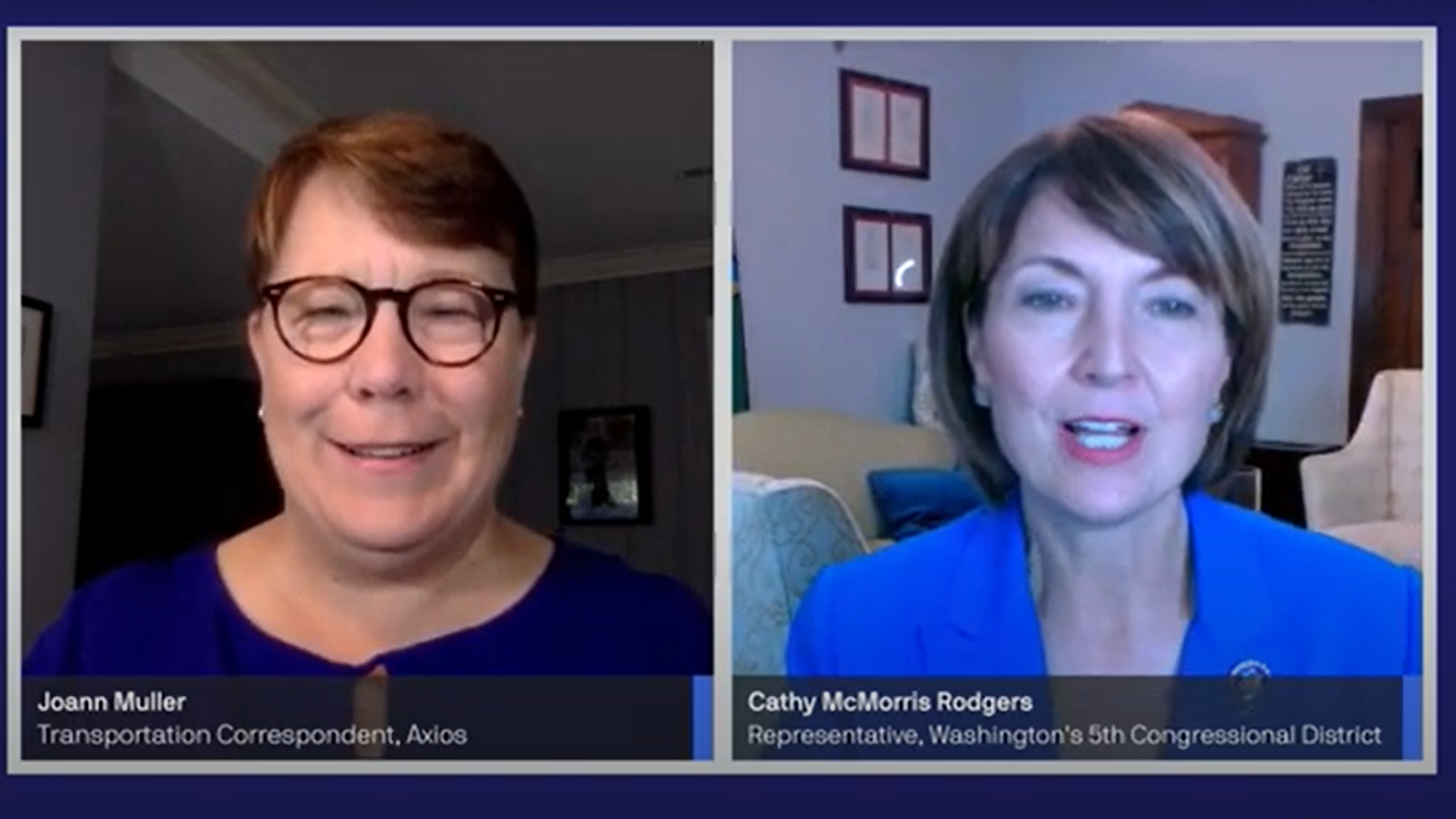 Congress "missed an opportunity" to include autonomous vehicle (AV) regulations in the infrastructure bill, Rep. Cathy McMorris Rodgers (R-Wash.), the top Republican on the House Energy & Commerce Committee, said at an Axios event Wednesday.
Why it matters: Though widespread adoption of AV technology is still years away, members of Congress have made long-shot efforts to get ahead of self-driving vehicles and regulate them for cybersecurity, safety and other standards, but no strict federal standards have been put in place.
The House passed the SELF Drive Act in 2017, but that bill later failed in the Senate because of disagreements over certain liability provisions within it.
What they're saying: "I believe in order for America to lead and win this race around autonomous vehicles, which is certainly a priority for me, that we should be moving right now to provide that national framework for autonomous vehicles," Rodgers said.
"And the infrastructure package that is before Congress right now would have been the perfect opportunity to provide the certainty, as well as the flexibility, to the developers to advance this transformative lifesaving technology for the American people," she added.
"I believe that this is a missed opportunity. I've been beating the drum both in committee and on the floor as we work through this infrastructure package. But it is disappointing right now that some are walking away at the very time that we should be leading."
The big picture: Rodgers said she believes the SELF Drive Act could and should be revived to encourage new innovations within the technology and that disagreements over who exactly should be held liable if there's an accident can be ironed out.
Manufacturers have the resources to produce AV, but they lack direction from Congress, Rodgers said.
"America has led in so many other fields when it comes to innovation," she said. "It is our future, and it may be as big as when we move from horse and buggy to the first Model T Ford back when. This is going to be transformative, and we need to be leading."
Go deeper: Self-driving technology reaches a crossroads
Go deeper