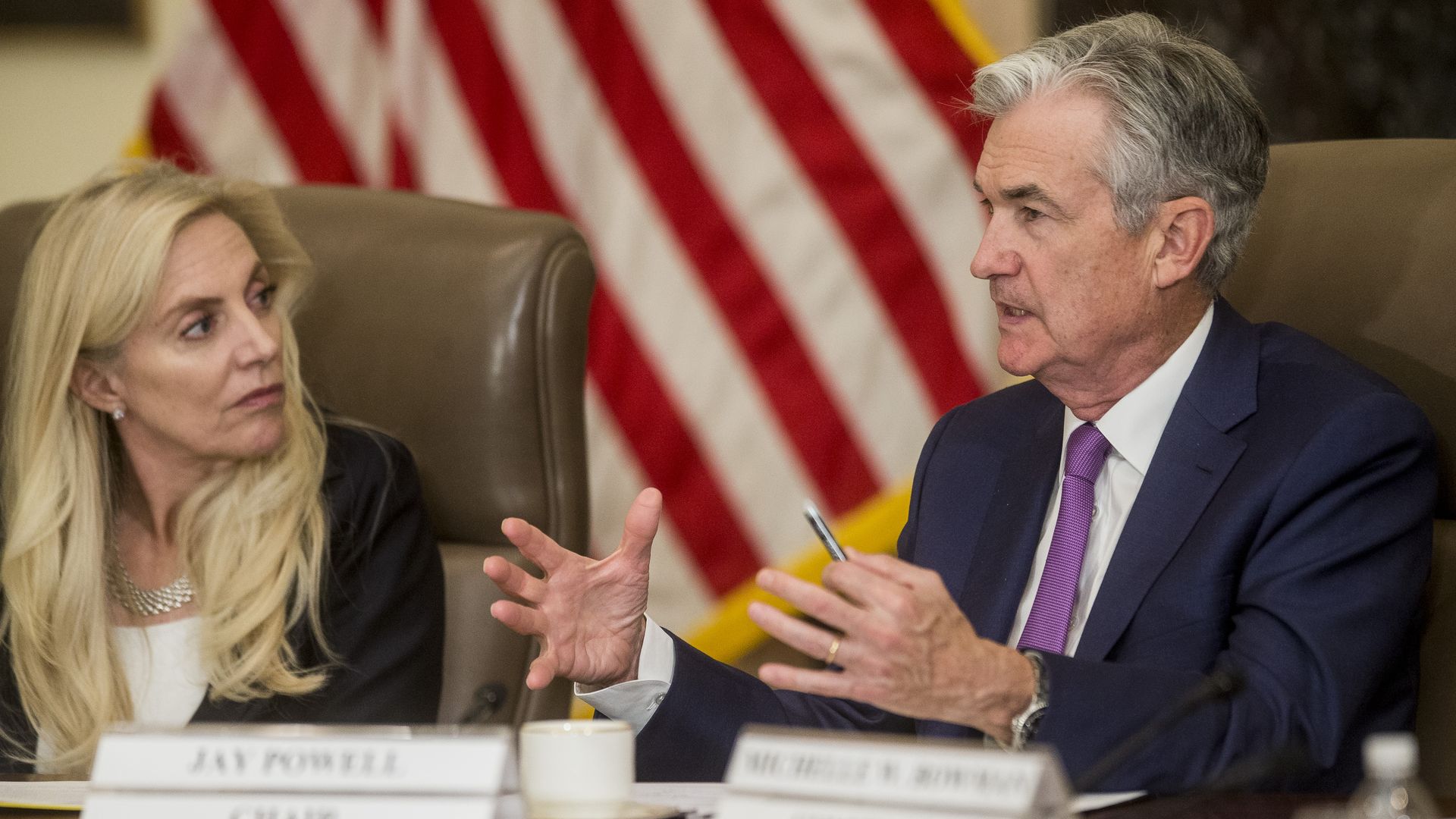 Senate Republicans are warning President Biden not to nominate Lael Brainard, currently a Fed governor, to replace Federal Reserve Chair Jerome Powell — hinting she could face a difficult confirmation process.
Why it matters: With a 50-50 Senate locked in a dangerous standoff over the debt ceiling, the president has to decide how much political capital he's willing to expend by passing over Powell, a Republican nominated by former President Trump, to put his own stamp on the Fed.
Banking committee Republicans are seizing on the current economic uncertainty, with the U.S. staring at a potential debt default and supply chain disruptions from COVID-19, to force Biden to renominate Powell.
"I wouldn't vote for her," Sen. Richard Shelby (R-Ala.) told Axios. "She's too liberal. You'd have a tough confirmation fight."
"It's a concern for us, just because you have Jay Powell who is experienced and has proven himself to be a very good leader," said Sen. Mike Rounds (R-S.D.). "I think she's a bit more liberal in terms of her view of a proactive Federal Reserve."
Driving the news: Biden faces an October laden with political risks and economic uncertainty — with big deadlines in the middle of the month.
The Treasury Department will run out of money to service its debt on Oct. 18. The president warned Monday of a "meteor headed to crash" into the economy.
The term for the Fed's vice chair for bank supervision, a powerful position currently held by Trump appointee Randal Quarles, expires on Oct. 13.
The chair's own term expires in February 2022, but presidents typically nominate someone months ahead of time to allow financial markets to process the news.
What they're saying: The White House says it doesn't feel pressured by the calendar.
"The president will continue to engage with his senior economic team in a careful and thoughtful process to appoint a Federal Reserve chair in a timely manner," a White House official told Axios.
The big picture: After an extraordinary 18 months of combating the economic impacts of COVID-19, the Federal Reserve has been buffeted by allegations that some of its officials, including Vice Chair Richard Clarida and two regional presidents, profited from bank policy decisions.
Sen. Elizabeth Warren (D-Mass.) has asked Gary Gensler, chair of the Securities and Exchange Commission, to "determine if any of these ethically questionable transactions may have violated insider trading rules."
"It makes sense to investigate this and to consider whether the existing rules are adequate," Sen. Pat Toomey (R-Pa.), the ranking member of the Senate Banking Committee, told reporters Monday evening.
Between the lines: While renominating Powell is not without political risk — Warren announced her opposition to a second term in a Senate hearing last week, calling him a "dangerous man" — some Democratic senators have also indicated they support renominating him. The stakes also are high for the president.
Biden's pick, if confirmed, would largely control the macroeconomic dials heading into the 2022 midterms and the president's potential re-election campaign in 2024.
"Biden has a historic and unique opportunity to appoint at least four and maybe five members of the Fed board," said Dennis Kelleher, the president and CEO of Better Markets, a nonprofit that works to monitor financial institutions.
"He has to decide whether he wants to be transformational or incremental."
Go deeper