Francis Collins says he's stepping down as NIH director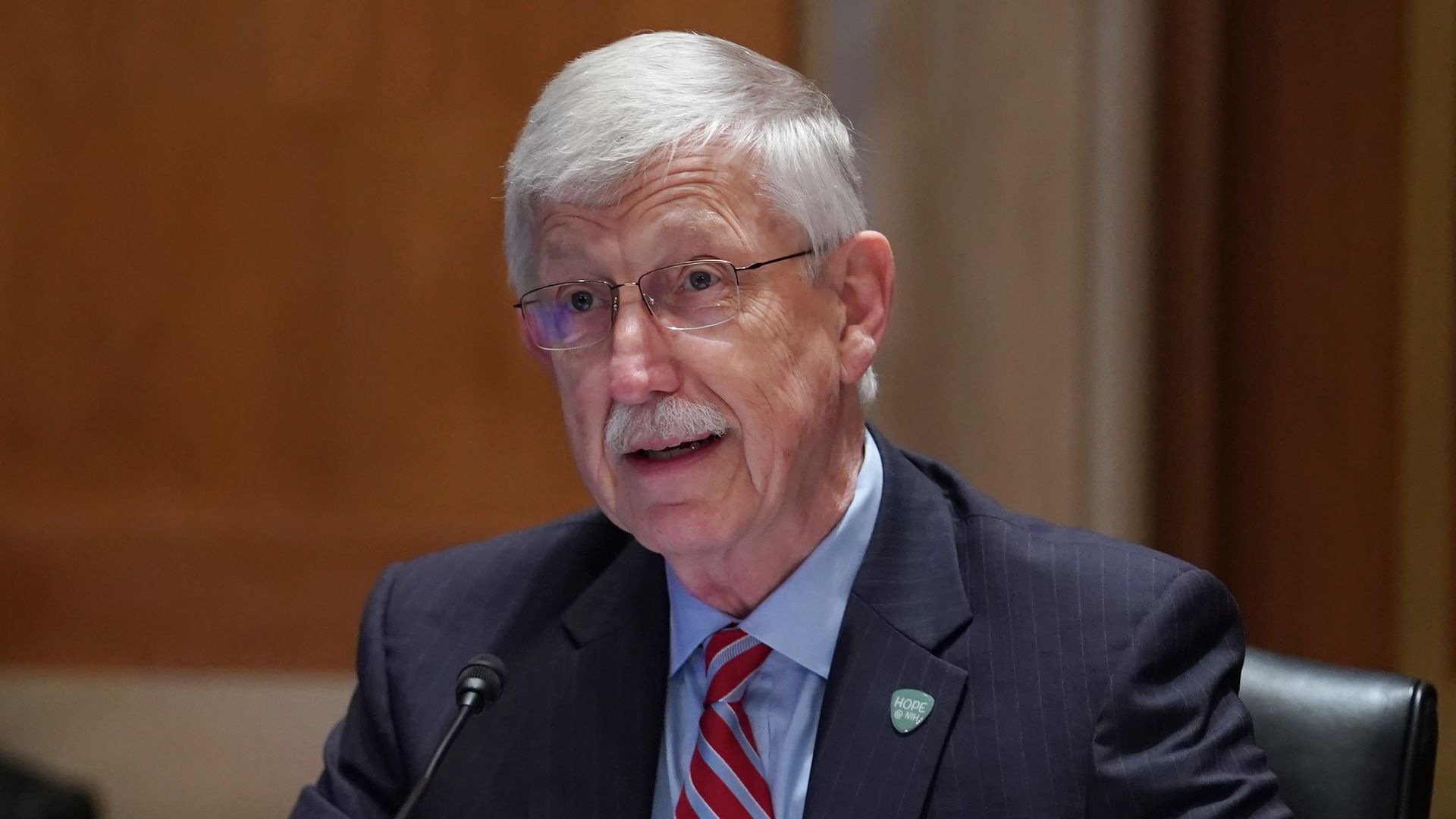 National Institutes of Health director Francis Collins on Tuesday announced he will step down from his post by the end of the year.
Why it matters: The 71-year-old pioneering physician-geneticist is the only presidentially appointed NIH director to serve in more than one administration. Collins has served in the role for 12 years, longer than anyone else, and has been at the forefront of the U.S. COVID-19 pandemic response.
Driving the news: In a press release from the NIH, Collins said he believes "that no single person should serve in the position too long, and that it's time to bring in a new scientist to lead the NIH into the future."
Collins told the Washington Post on Monday he reached the decision to retire by the end of the year after going on a retreat alone in May.
He realized he didn't want to get too far into the Biden administration. Collins concluded that the NIH was in "a pretty stable place" in its pandemic response, with vaccines and other tools.
What he's saying: "There comes a time where an institution like NIH really benefits from new vision, new leadership," Collins told the Post. "This was the right timing."
Reflecting on stepping down during a time when science has been politicized, Collins noted: "Every issue, the polarization gets deeper and deeper, the tribes have formed their views and it's very hard to see how we step back from that."
President Biden referred to Collins as "one of the most important scientists of our time."
Collins "was one of the first people I asked to stay in his role with the nation facing one of the worst public health crises in our history," Biden said in a statement Tuesday.
"I was grateful he answered the call to serve even though it was asking him to stay on the job longer than anyone in NIH history. Today, I understand his decision to step down from his post at the end of this year after an incredible and consequential tenure."
"Millions of people will never know Dr. Collins saved their lives. Countless researchers will aspire to follow in his footsteps," Biden said.
The big picture: Under the Obama-appointed Collins' tenure, the NIH budget has increased from $30 billion to $41.3 billion amid steady support from Congress, WashPost notes.
He's spent nearly three decades with the NIH, and has made landmark discoveries of disease genes and previously served as director of the agency's National Human Genome Research Institute until 2008.
Collins has also led the international Human Genome Project, which culminated in April 2003 with the completion of a finished sequence of the human DNA instruction book, per the NIH.
Go deeper: "Axios on HBO" interviews Collins
Editor's note: This story has been updated with additional details throughout.
Go deeper