Facebook whistleblower urges Congress to move against the company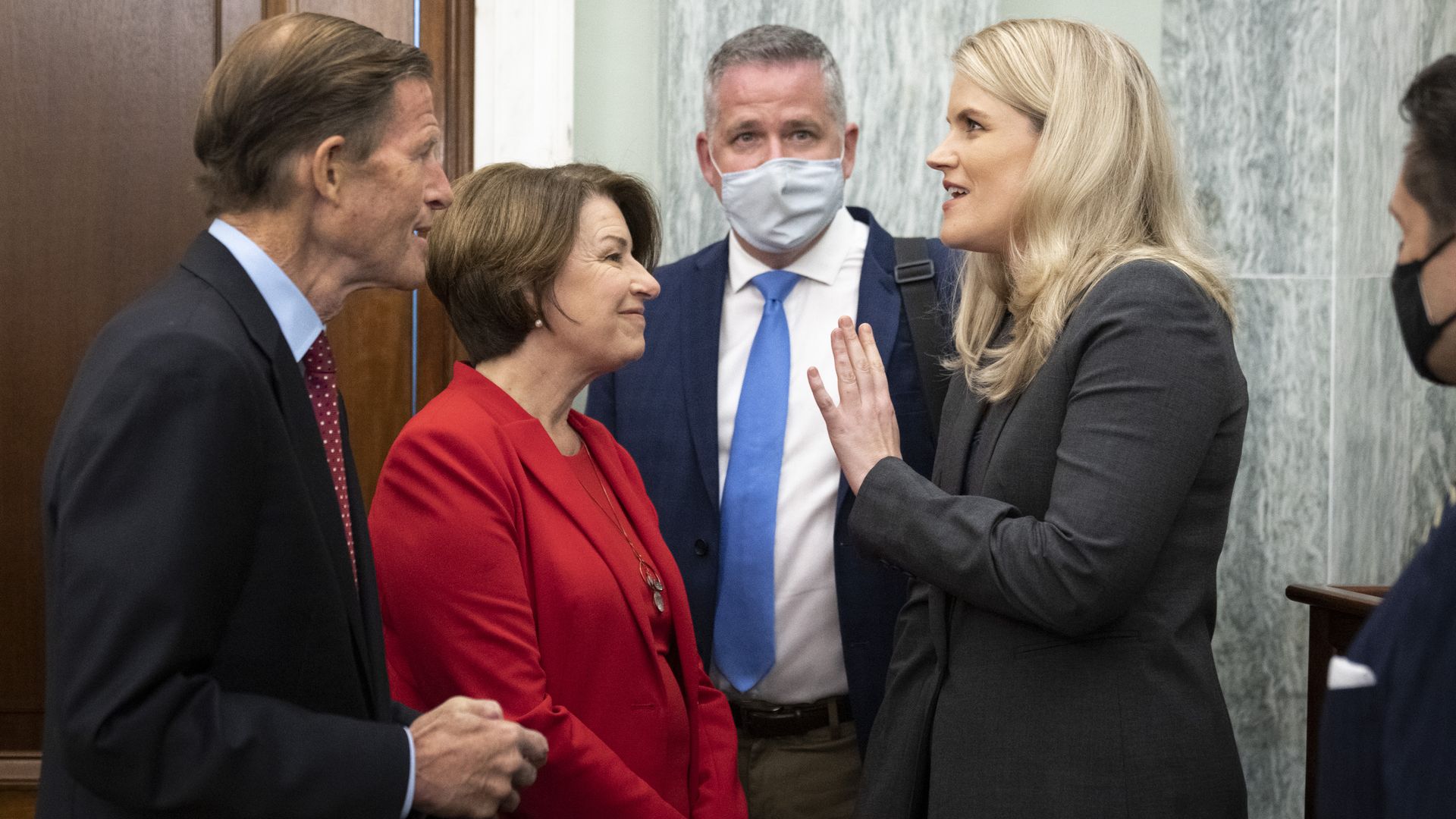 Facebook whistleblower Frances Haugen told lawmakers Tuesday she believes the social media giant won't change its ways unless Congress makes it.
Why it matters: Haugen is finding a receptive audience among senators who have pledged to pass laws on online privacy, altering online liability shields and increasing algorithmic transparency.
Driving the news: The former product manager told the Senate Commerce consumer protection subcommittee that Facebook has focused on scale over safety to the point that it can't retain employees.
"Facebook is stuck in a cycle where it struggles to hire, that causes it to understaff projects, which causes scandals, which then makes it harder to hire," Haugen told lawmakers.
The company knows its algorithms can lead teens to pro-anorexia content and boost extreme content more likely to elicit a reaction from users, Haugen said.
Haugen called for:
greater transparency into how Facebook operates;
the establishment of an effective oversight agency;
and interventions by the company to reduce the spread of misinformation, including requiring users to clink on a link before re-sharing it.
"Facebook can change, but it's clearly not going to do so on its own," Haugen said. "My fear is that without action, divisive and extremist behaviors we see today are only the beginning."
The other side: Following the hearing, Facebook questioned Haugen's experience, noting she worked for the company less than two years, "had no direct reports, never attended a decision-point meeting with C-level executives — and testified more than six times to not working on the subject matter in question."
"We don't agree with her characterization of the many issues she testified about," Lena Pietsch, director of policy communications, said in the statement.
"Despite all this, we agree on one thing: it's time to begin to create standard rules for the internet. It's been 25 years since the rules for the internet have been updated, and instead of expecting the industry to make societal decisions that belong to legislators, it is time for Congress to act."
What they're saying: Sen. Richard Blumenthal (D-Conn.), who leads the subcommittee, called for the Securities & Exchange Commission and the Federal Trade Commission to investigate Haugen's revelations.
A bipartisan group of lawmakers, who have been stalled on tech legislation, promised action.
"There was such bipartisan support today in the committee, I think it augurs well for actually getting across the finish line," Blumenthal told reporters during a press conference following the hearing. "(Haugen) has been a critical catalyst in this effort."
What's next: Blumenthal said he wants CEO Mark Zuckerberg to testify before the committee.
"There are a lot of questions for Mark Zuckerberg, like why he rejected all of these seemingly worthwhile recommendations in the reports and research," Blumenthal said. "There are a lot of questions — new questions and old questions that have stronger relevance now and urgency that we would want to ask him."
Editors note: This story has been updated with a comment from Facebook and additional comments from Sen. Richard Blumenthal.
Go deeper