COVID vaccine mandates are working — for now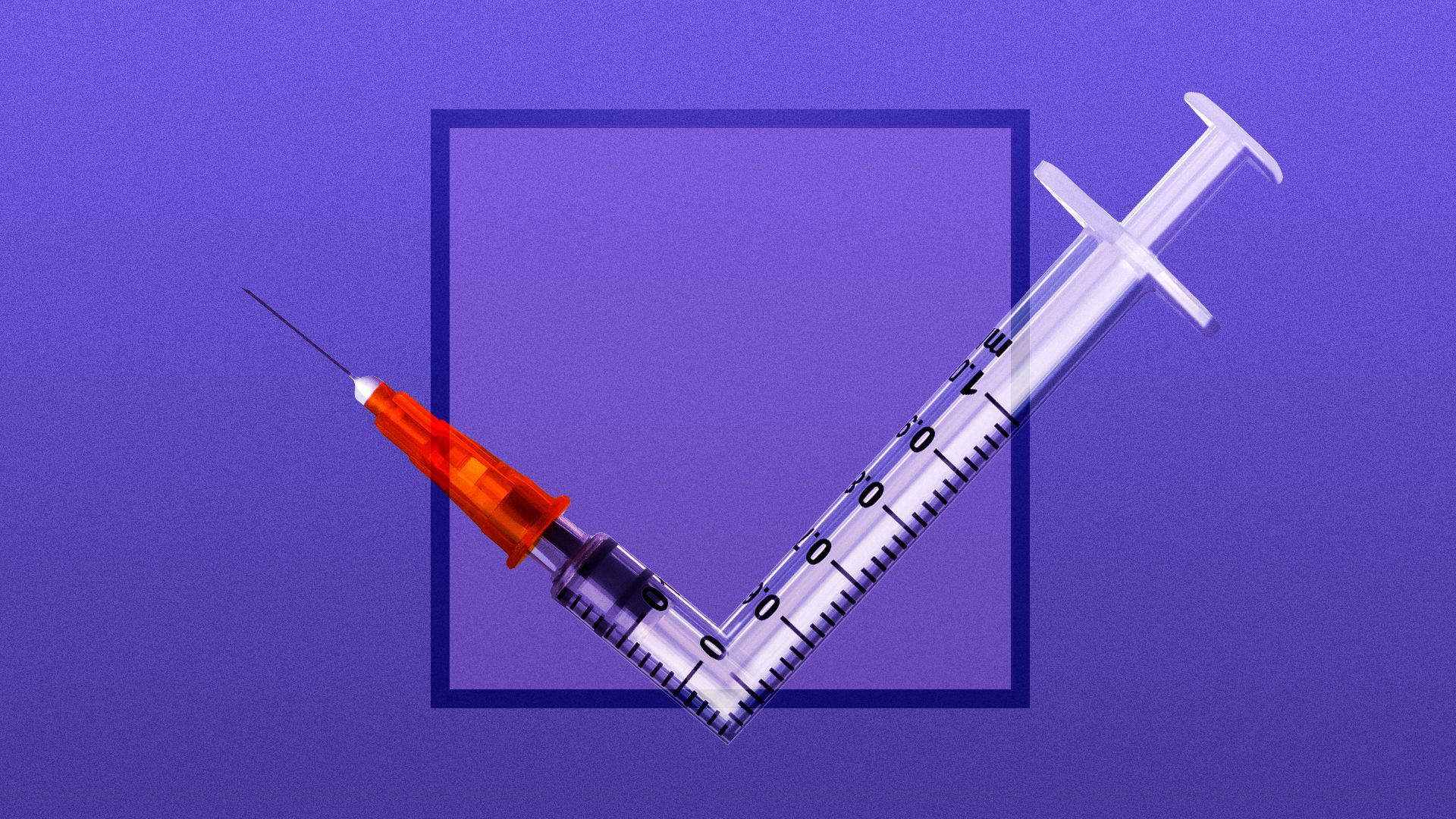 Coronavirus vaccine mandates imposed by employers seem to be working so far, suggesting that most vaccine holdouts would rather get the shot than lose their job.
Why it matters: Every vaccine helps in our fight against the coronavirus, although the U.S. still has a long way to go. And high vaccine uptake is by far the preferred outcome for employers, as many — particularly in the health care sector — don't have the staffing to sustain mass layoffs.
Driving the news: States with vaccine mandates for health care workers that have taken effect, like California and New York, have seen a large uptick in vaccinations.
These, of course, are blue states and have higher vaccination rates to begin with. But some health systems in red states, like Texas, have seen similar results when their mandates took effect.
High-profile mandates outside of the health care sector have also been successful. For instance, United Airlines achieved nearly 100% vaccination among its employees, and Tyson Foods announced that more than 90% of its workers are now vaccinated.
The Biden administration announced that it will require all employers with 100 or more employees to ensure their workers are vaccinated or tested weekly, but this hasn't yet been implemented.
Yes, but: Hospitals and long-term care facilities are already stretched so thin that it won't take a mass exodus for them to feel the effects of layoffs.
In New York, Gov. Kathy Hochul signed an executive order last week to help provide relief to health systems struggling with staff shortages.
The Biden administration announced nursing home workers will soon be required to be vaccinated, which could be a much tougher lift. Only about two-thirds of nursing home staff are vaccinated, according to the most recent federal data.
What we're watching: Children, once eligible for shots, could help spike the U.S. vaccination rate.
But if employer mandates are controversial, even within the health care sector, one can only imagine what mandates for children will look like.
California became the first state to embark on this experiment last week, when Gov. Gavin Newsom (D) announced that all eligible students will be required to receive a COVID-19 vaccine once it has been given final approval from the FDA.
What they're saying: "As we get down to the harder core unvaccinated who are more resistant, what we are seeing is that reality is a more powerful tool to change behavior than information and messaging," said Drew Altman, president and CEO of KFF.
"It is a slow process of chipping away at the unvaccinated at this point," he added.
Go deeper