Carlos Watson plans to relaunch Ozy, despite significant setbacks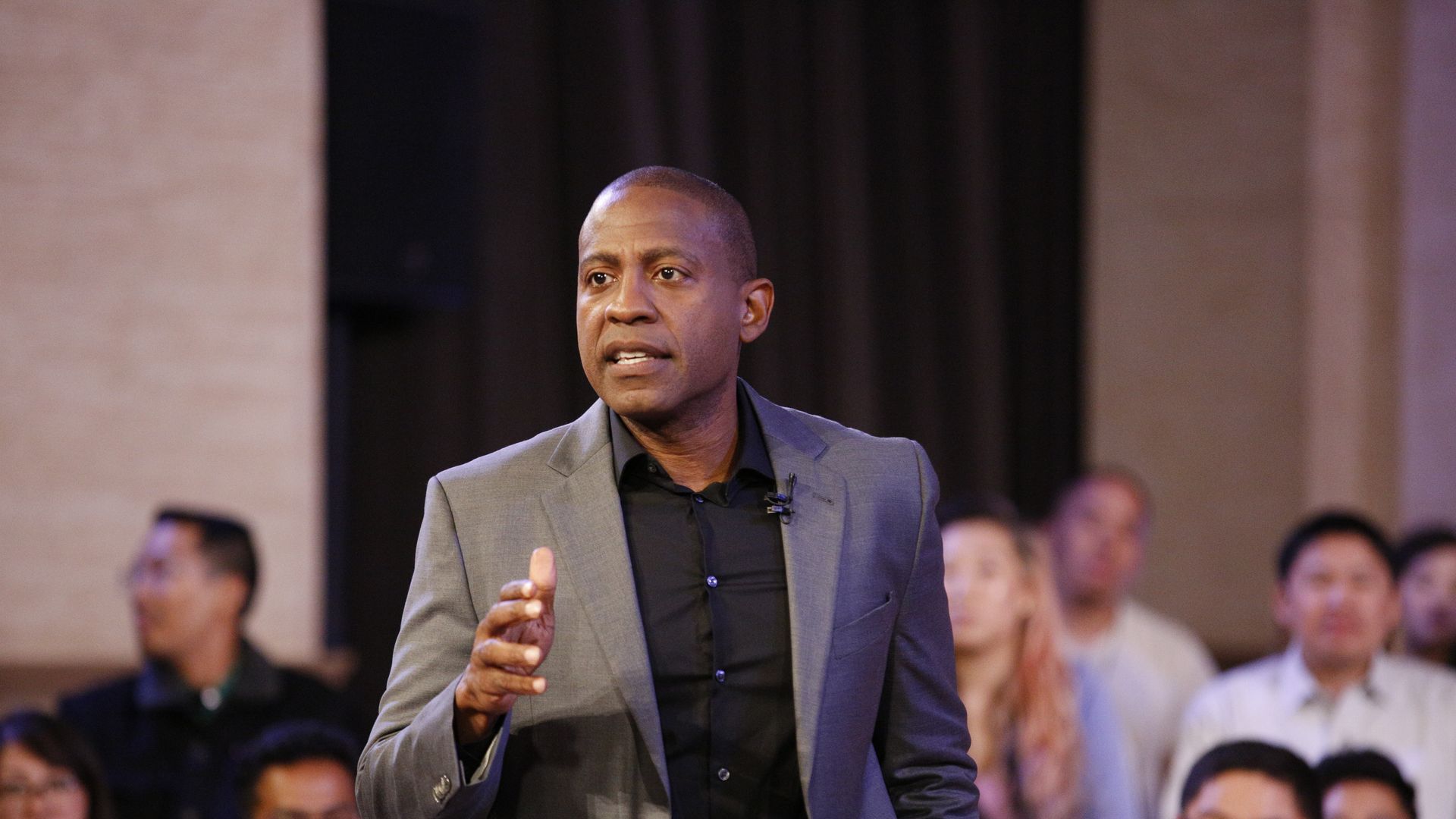 Ozy Media CEO Carlos Watson tells Axios that he's planning to relaunch the company's newsletters and look for new board members in an effort to revive the company, which said last week it was ending operations.
Why it matters: Watson offered grand plans in an interview with Axios, but could not give many details about the execution, leaving doubt about what's real and his ability to pull it off.
"All I can know for sure is I'm not going to stop trying," he said, when asked how anyone could trust working with him again.
Details: Watson says that he's going to reach out to his employees this week, starting tomorrow. "Anyone who wants to come back, I'm going to be excited about that and will have those conversations this week and try to make work," he said.
Employees Axios has spoken with say they were blindsided by Watson's announcement Monday that the company was returning.
Watson said that a handful of employees already indicated they want to come back. At least one employee, Claire Rudy (formerly Lightfoot), confirmed to Axios she would return.
Several employees say a comeback is delusional and that they wouldn't be interested in returning to the company, they told Axios.
Watson says that by the end of the week, "readers will start receiving Ozy newsletters again." Axios has reported that while the company's email list was massive, many of those emails were obtained using dubious practices.
He also said that the company will be producing "at least one and maybe two" TV shows by the end of this month or early next month. Asked how this was possible, given that most of his staff was fired last week, he said that the company had already been working on some of these shows so it wasn't starting from scratch.
It's unlikely that Watson will get many third-party networks to distribute the shows, given reporting that suggested Watson lied to people he booked for interviews about where his shows were being distributed.
"We'll be creative, we have to be," Watson said when asked about this dichotomy. "I think we have to have conversations. I think we have to regain trust. It is going to be painful for me."
"Some people will slam the door in my face." He also said the company plans to launch a new podcast by the end of this quarter, but declined to offer details.
The big picture: Advertising partners and investors have distanced themselves.
Watson told Axios on Monday that the partnerships with ad agencies like WPP and Dentsu still stood, to his knowledge. WPP's GroupM said later Monday that the partnership was terminated. Dentsu told Axios on Tuesday that it no longer considers Ozy a partner.
Watson later clarified to Axios that his earlier comments came when he had not spoken to either and did not know what the status was. He subsequently learned the WPP deal was off.
He also said that the company hired a third party firm "to validate our data and begin sharing that data monthly going forward on our audience." Watson wouldn't say who the company hired.
He also said the company plans to bring back its annual event, Ozy Festival, next year. Reports suggest that Watson and Ozy Media inflated the number of tickets sold.
Between the lines: Watson would not comment on potential securities fraud allegations laid out by the New York Times other than to say," You know, obviously what happened with Goldman was tragic and wrong and not good at all."
He said he was grateful Goldman Sachs didn't invest."That would've been horrific if they had."
He had no comment on who the company raised a Series D financing round with. Axios has reported that he told employees about the round later this summer.
He confirmed that the only people on the board of directors right now are Watson and investor Michael Moe. He said he's "looking to add new directors who can help us with data, with leadership and can help us continue to build out premium content."
The bottom line: I asked Watson why he told Axios in January that he brought in $50 million in 2020 when decks provided to investors suggested he brought in $46 million.
"All I can tell you is that I'm really proud of the revenue growth we've had," he said.
Asked how he can revitalize his company amid federal investigations, Watson said, "Coming back and regaining peoples' trust and offering high quality products is not going to be easy ... I hope I can do it."
Editor's note: This story has been updated to reflect GroupM's comment on Monday, Dentsu's comments on Tuesday and a clarification about ad partnerships from Watson on Tuesday.
Go deeper