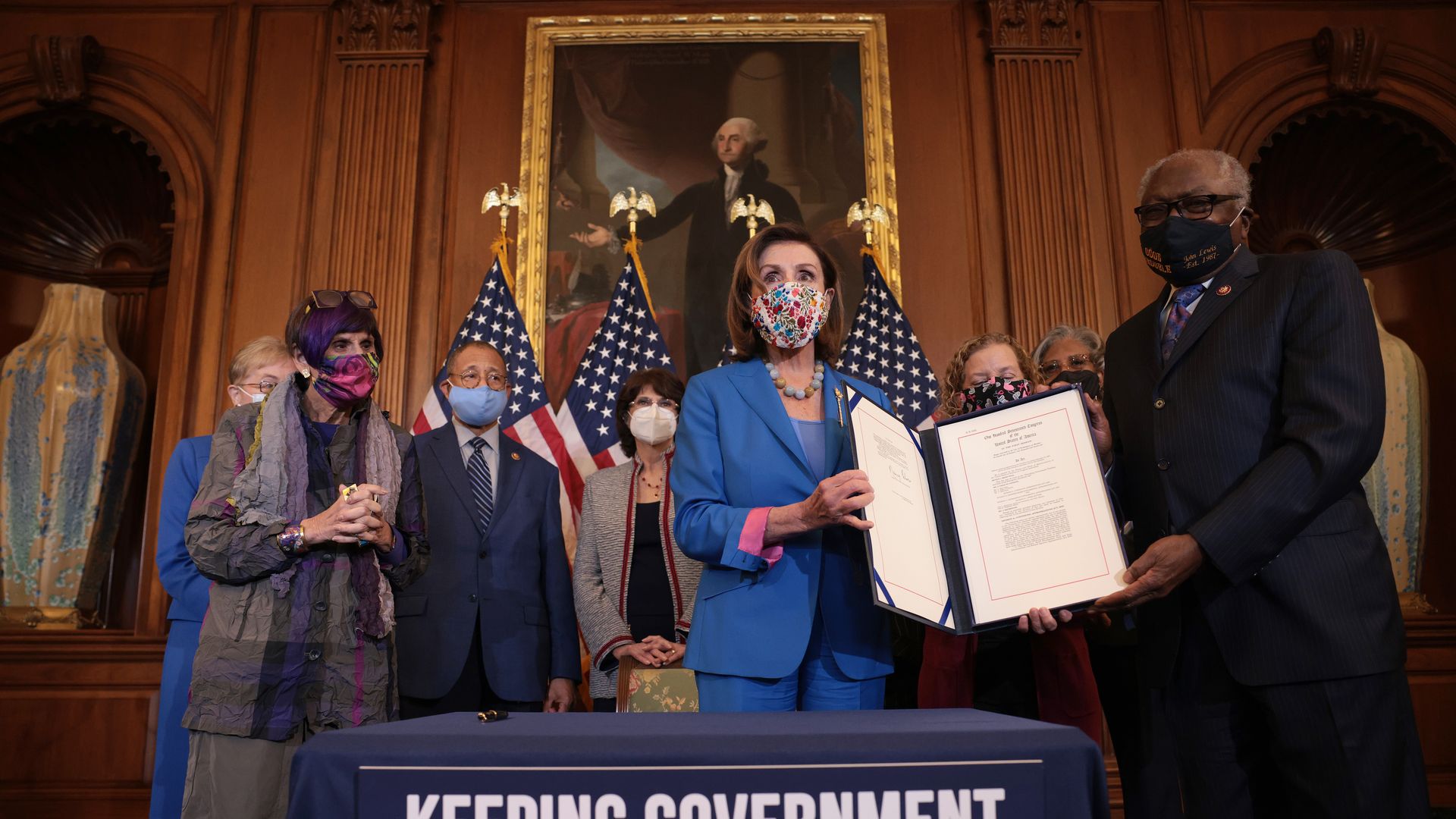 House Speaker Nancy Pelosi (D-Calif.) is holding on 'til the end.
Driving the news: Pelosi spent Thursday — "hour by hour," she termed it — wheeling and dealing behind the scenes with the different factions of her party. The constant: forging ahead with her promised vote on President Biden's $1.2 trillion infrastructure package despite progressive threats to sink it.
"We are proceeding in a very positive way," the speaker told reporters during her weekly press conference Thursday morning.
"We're on the path to win the vote," she also declared.
House leaders said any potential votes would not take place before 9pm. Asked about 7:45pm when there would be a vote, the speaker replied: "When we bring it to the floor." 
Despite her optimism and public display of confidence, the attitude entering the day was grim. The two warring factions were promising two totally different outcomes and making two completely opposite demands.
Centrists demanded Pelosi follow through on her commitment to hold a vote on the $1.2 trillion bipartisan infrastructure plan already passed by the Senate.
Progressives said they wouldn't support it until Congress passed the $3.5 trillion companion bill stocked with their provisions to expand the social safety net.
The latest: Pelosi hosted three groups in her office as she tried to navigate a path toward common ground. Each left with a different impression of the road ahead.
Moderates said they were confident there would be an infrastructure vote on Thursday.
Progressives said they still do not feel like they have a specific agreement ensuring Biden's larger reconciliation package will pass the House and Senate.
Members of the New Democratic Coalition, which represents a mix of the two, said they were hopeful a deal is imminent — but were unclear whether the vote would be held Thursday.
Late in the day, key White House officials met with senior leadership staff to work on compromise language for the $3.5 trillion package.
The goal was to gain the support of holdout Sens. Kyrsten Sinema (D-Ariz.) and Joe Manchin (D-W.Va.), a source familiar with the negotiations confirmed to Axios.
Susan Rice, head of the administration's Domestic Policy Council, and Brian Deese, the president's top economic aide, huddled with senior aides to Pelosi and Senate Majority Leader Chuck Schumer (D-N.Y.).
Punchbowl News first reported on the meeting.
Adding to the uncertainty, Rep. James Clyburn (D-S.C.), the House majority whip, told reporters at 3pm ET he had not yet started whipping — counting — votes.
It was a clear sign the vote was not imminent.
What they're saying: "Look, we are in the same place we've always been," Rep. Pramila Jayapal (D-Wash.), chairwoman of the Congressional Progressive Caucus, said after her meeting with Pelosi.
"If there's somebody who wants to tell me what is the assurance that the Senate is going to vote the reconciliation bill through, of course we're always open," she added.
Rep. Josh Gottheimer (D-N.J.), a leader of the centrists, said: "Vote is happening today. We're moving forward."
Rep. Ann Kuster (D-N.H.), a member of the New Democratic Coalition, told Axios: "The reason we say 'hour by hour,' we're not there yet. By tonight, we all hope to be there, and all of those groups have to be on one page."
"You know that thing with the white smoke and the Pope? It's like, that's what people are waiting for."
Between the lines: Negotiations are always messiest right before a deal is struck, as Pelosi herself declared.
"Let me just tell you about negotiating," she said during her news conference. "At the end, that's when you really have to weigh in. You cannot tire. You cannot concede. This is the fun part."
One thing all three groups echoed: Never doubt the speaker.
What's next: Kuster said the worst-case scenario in her mind is the vote gets delayed a couple of days — rather than weeks.
"Keep in mind, just the way Monday became Thursday [for a promised vote], Thursday can become Sunday," she said.
Go deeper