Merck says COVID pill prevents 50% of deaths, hospitalizations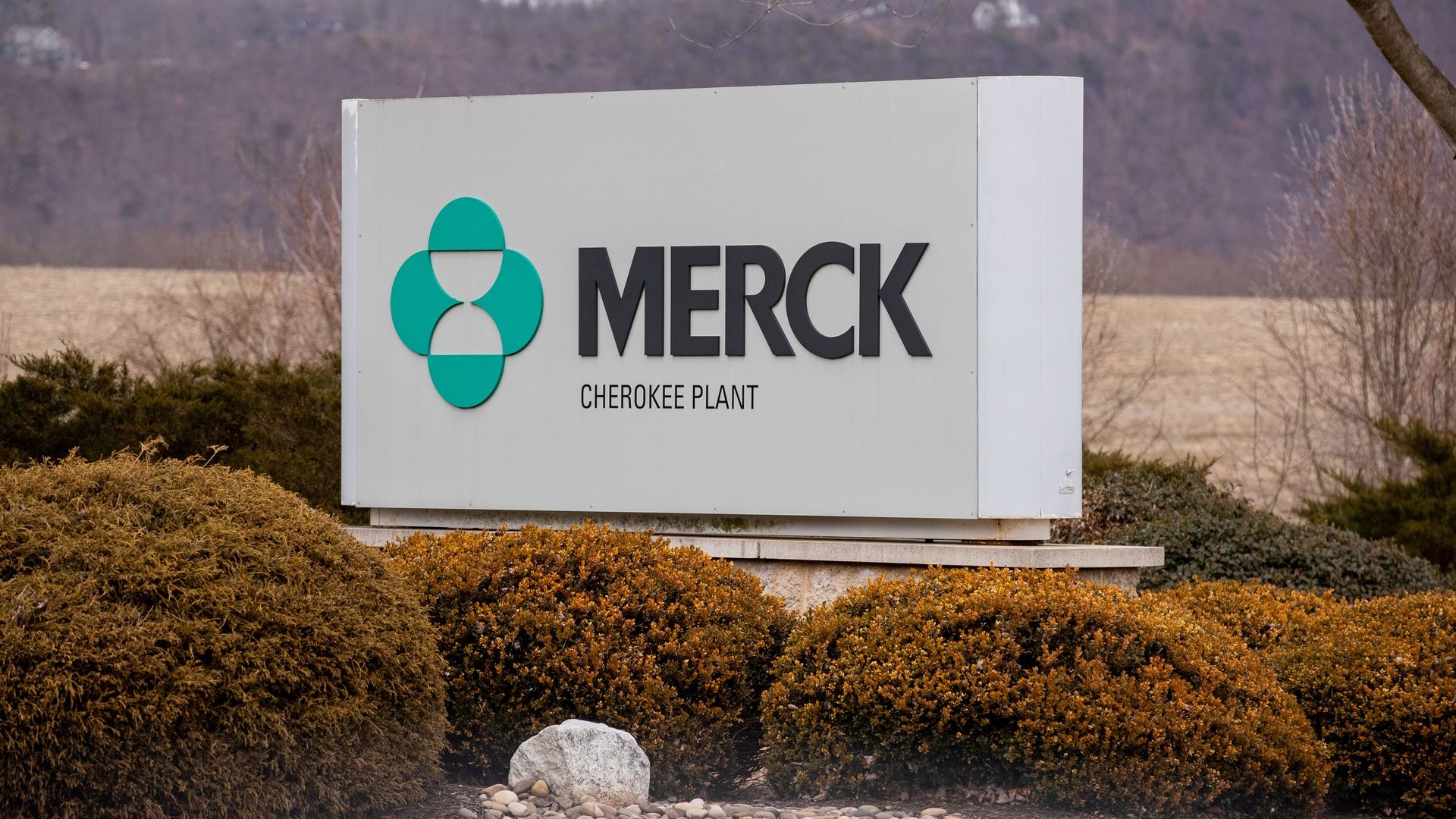 Merck said Friday that an experimental pill it is developing with Ridgeback Biotherapeutics reduced the risk of hospitalization or death from COVID-19 by around 50% in a clinical trial.
Why it matters: An oral antiviral drug designed to prevent or treat COVID-19 could be a key tool to combat the pandemic, since not all people will get vaccinated and because it will take potentially years to vaccinate people in certain countries around the world.
Merck said it will apply for an emergency use authorization from the Food and Drug Administration "as soon as possible" to begin distributing molnupiravir because of the results.
It will also submit applications to international regulatory agencies.
What they're saying: "More tools and treatments are urgently needed to fight the COVID-19 pandemic, which has become a leading cause of death and continues to profoundly affect patients, families, and societies and strain health care systems all around the world," Robert Davis, Merck CEO and president, said.
"With these compelling results, we are optimistic that molnupiravir can become an important medicine as part of the global effort to fight the pandemic and will add to Merck's unique legacy of bringing forward breakthroughs in infectious diseases when they are needed most."
By the numbers: The results are from a trial that initially had a sample size of 775 patients but was soon expanded to 1,550 patients because of compelling efficacy results, Merck said.
All patients had a laboratory-confirmed mild-to-moderate case of COVID-19 and at least one risk factor associated with poor disease outcome at the start of the study.
7.3% of patients taking molnupiravir during the trial were either hospitalized or died at the end of 30 days, compared to 14.1% of those receiving a placebo.
In June, the Biden administration agreed to buy about $1.2 billion worth of molnupiravir. The company said it expects to produce 10 million total doses of the drug by the end of 2021.
The big picture: Merck's molnupiravir is one of several antiviral medications currently under development or testing.
Go deeper: The antivirals are (hopefully) coming
Go deeper