Infrastructure vote delayed while leaders hash out deal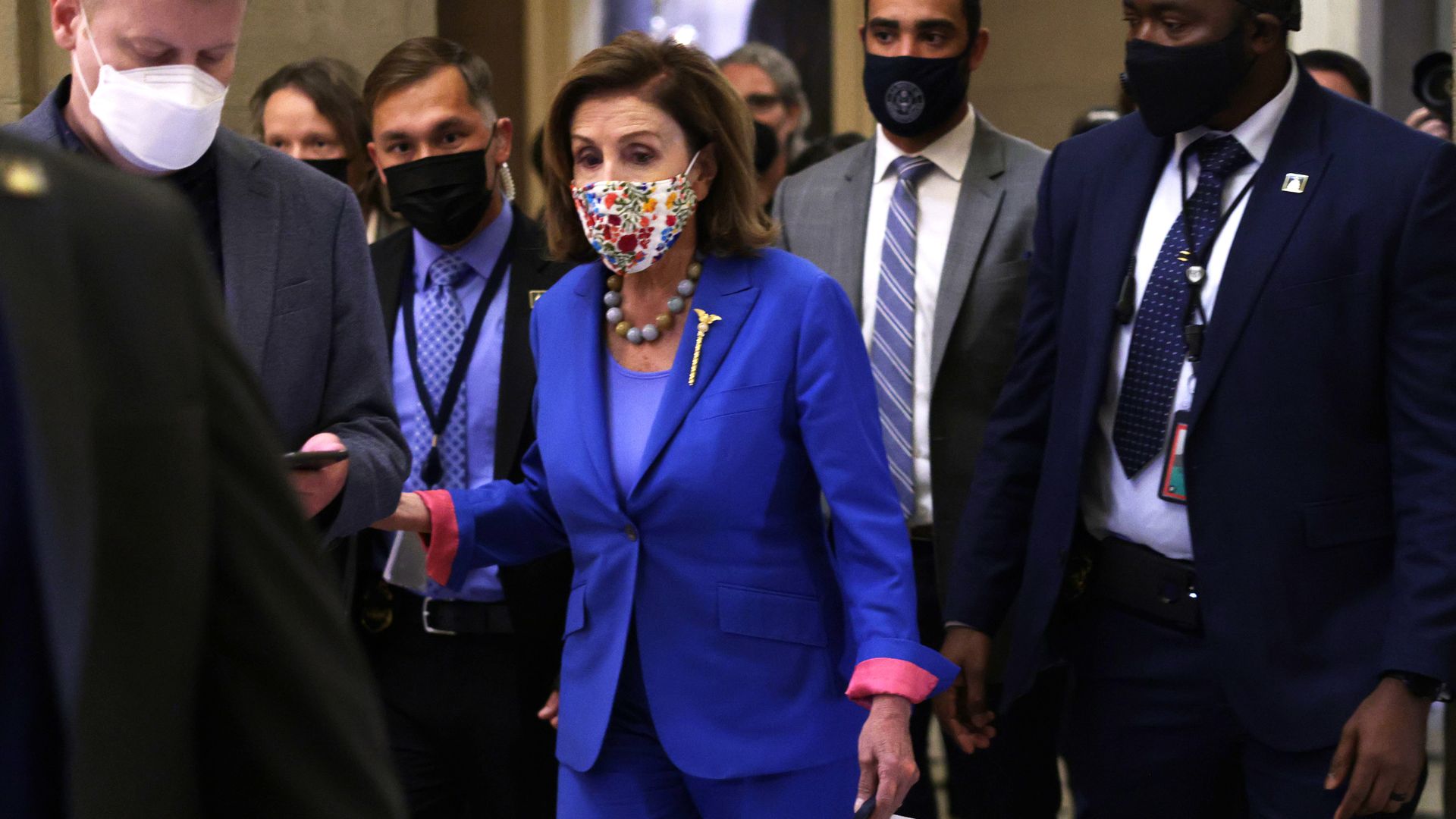 A vote on the $1.2 trillion bipartisan infrastructure bill was delayed late Thursday night as leaders on both ends of Pennsylvania Avenue continue to hash out a deal on President Biden's larger reconciliation package.
Why it matters: Pelosi had promised centrist Democrats she would bring the Senate-passed measure to the floor today, and spent hours negotiating with members in order to fulfill her pledge.
But progressive Democrats stayed firm in their threat to sink the vote without a detailed commitment between the House, Senate and White House that Biden's reconciliation package would also pass.
They insisted the deal include a top-line number that holdouts like Sens. Joe Manchin (D-W.Va.) and Kyrsten Sinema (D-Ariz.) would sign off on.
The latest: After hours of closed-door talks, the vote was delayed around 10:45 p.m. while congressional leaders and senior White House staff continued to finalize a deal that would satisfy all members of the party.
What they're saying: Manchin, leaving the Capitol just before 10 p.m., told reporters: "I don't see a deal tonight." He reiterated he his preferred price-tag for the reconciliation bill is $1.5 trillion, far lower than the $3.5 trillion members were initially working with.
"It is an absurd way to do business, to be negotiating a multi-trillion dollar bill a few minutes before a major vote, with virtually nobody knowing what's going on. That's unacceptable," Sen. Bernie Sanders (I-Vt.), who stayed late Thursday to help work on negotiations, told reporters shortly before Pelosi announced the formal delay.
"A great deal of progress has been made this week, and we are closer to an agreement than ever. But we are not there yet, and so, we will need some additional time to finish the work, starting tomorrow morning first thing," White House press secretary Jen Psaki said in a statement.
Between the lines: The delay is sure to frustrate moderate Democrats, who say their patience is wearing thin.
Pelosi promised them last month that she would put the $1.2 trillion bill on the floor on Sept. 27 (Monday).
They held their tongues when she delayed the vote the first time, pushing it to Thursday. But they promised to be less agreeable if it got pushed further.
"If the vote were to fail or be delayed, there would be a significant breach of trust that," Rep. Stephanie Murphy (D-Fla.) said earlier this week.
The deadline is also particularly urgent given funding for surface transportation programs runs out on Sept. 30.
Several moderates repeatedly stated throughout the day they were confident the party would pass the bipartisan infrastructure bill before the end of the night.
Now they hope the delay is only for a few hours, and at a minimum gets resolved by the end of the weekend.
Rep. Josh Gottheimer (D-N.J.), a leading House moderate, met with Pelosi around 11pm, shortly after the delay was announced.
"It ain't over yet! This is just one long legislative day — we literally aren't adjourning. Negotiations are still ongoing, and we're continuing to work. As I said earlier: grabbing some Gatorade and Red Bull," Gottheimer tweeted.
Rep. Ann Kuster (D-N.H.), a member of the New Democrat Coalition who met with Pelosi on Thursday, said the worst-case scenario in her mind is the vote gets delayed a couple of days — rather than weeks.
"Keep in mind, just the way Monday became Thursday [for a promised vote], Thursday can become Sunday," she said.
What's next: The House is scheduled to leave town at the end of this week for a two-week recess, which could further delay debate on the president's agenda.
There is also a chance leadership keeps members in town longer to continue hashing out a deal on reconciliation, as well as to address the debt limit.
This story has been updated with additional comments from members of Congress and the White House.
Go deeper