U.S. trade chief: Biden team will "build on" Trump-era tariffs against China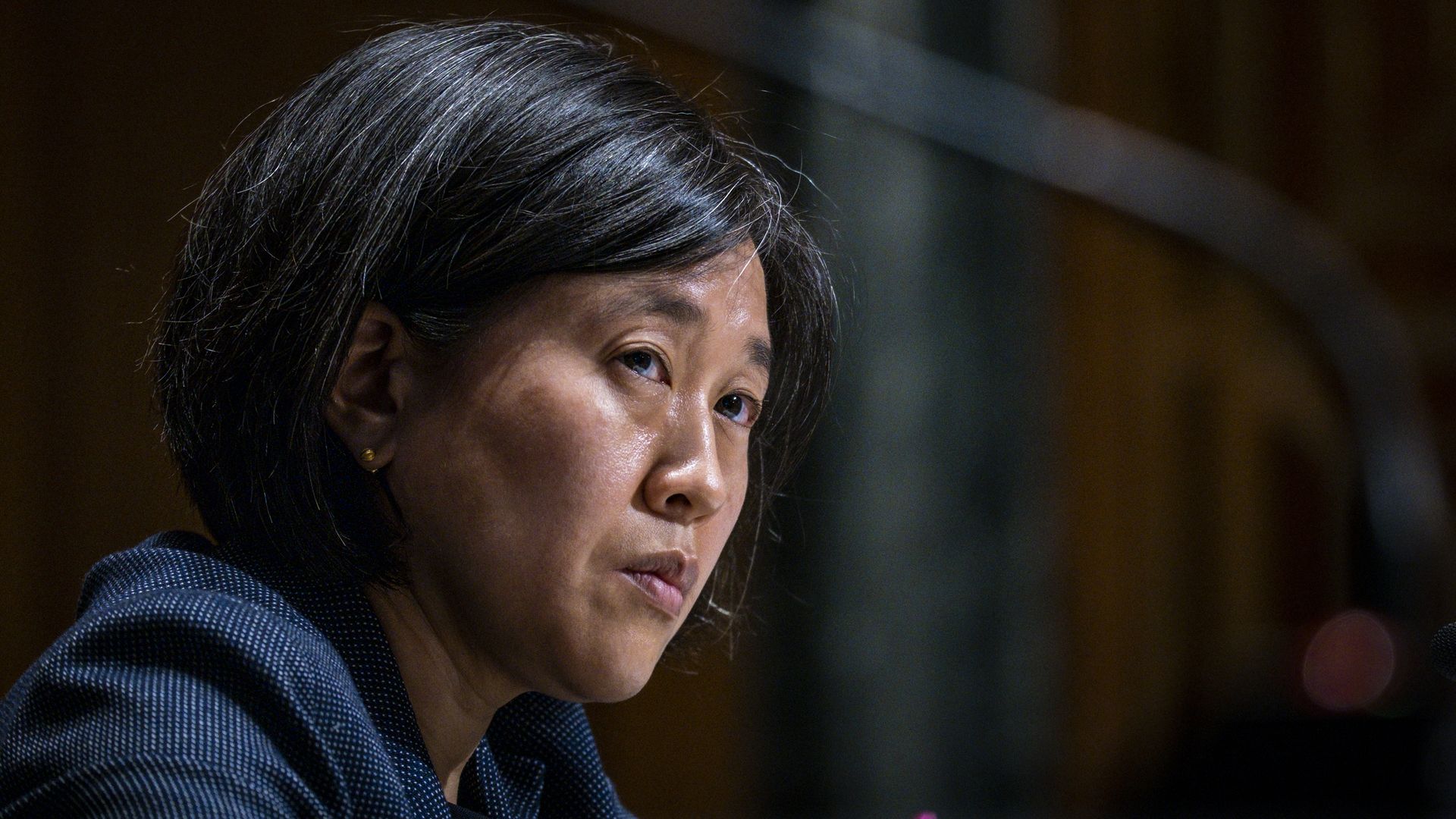 The Biden administration will "build on" existing tariffs on billions of dollars of Chinese imports as part of a strategy against the Chinese government for failing to meet commitments under the Trump-era Phase One deal, U.S. Trade Representative Katherine Tai said in an interview with Politico on Thursday.
Why it matters: Tai's comments come as the Biden administration seeks a new trade strategy with Beijing while navigating U.S. companies' calls to lift tariffs.
China is behind on its commitment to purchase an additional $200 billion in U.S. goods, according to Politico.
With the Phase One deal signed by former President Trump set to expire at the end of 2021, the Biden administration will need to decide whether to renegotiate or move in a different direction, Politico notes.
What she's saying: Trump's tariffs "had the effect of getting a lot of people's attention," Tai told Politico.
She added that they are a "tool for creating the kind of effective policies, and [are] something for us to build on and to use in terms of defending to the hilt the interests of the American economy, the American worker and American businesses and our farmers, too."
"I think it's going to be important to review China's performance with China, and that's going to be the critical first step in my mind," Tai said.
The U.S.'s relationship with the European Union will be key to their strategy, she added.
"I do think that there is every reason for us, because of our shared interests, to build on the relationship between us," Tai told Politico. "For itself, because it is inherently valuable, but also to build on that relationship on a collaborative basis for taking on the challenges that we are both experiencing."
The big picture: Tai was confirmed in March and had promised that she "will not hesitate to make use of the agreement's mechanisms when China falls short of its commitments."
What to watch: Tai will deliver a speech Monday on the U.S.-China trade relationship at the Center for Strategic and International Studies in Washington, per Politico.
Go deeper: Trump's U.S.-China transformation
Editors' note: The headline and lede have been edited to clarify Tai's comment that she would "build on" existing tariffs.
Go deeper