Biden floats roughly $2 trillion price tag for reconciliation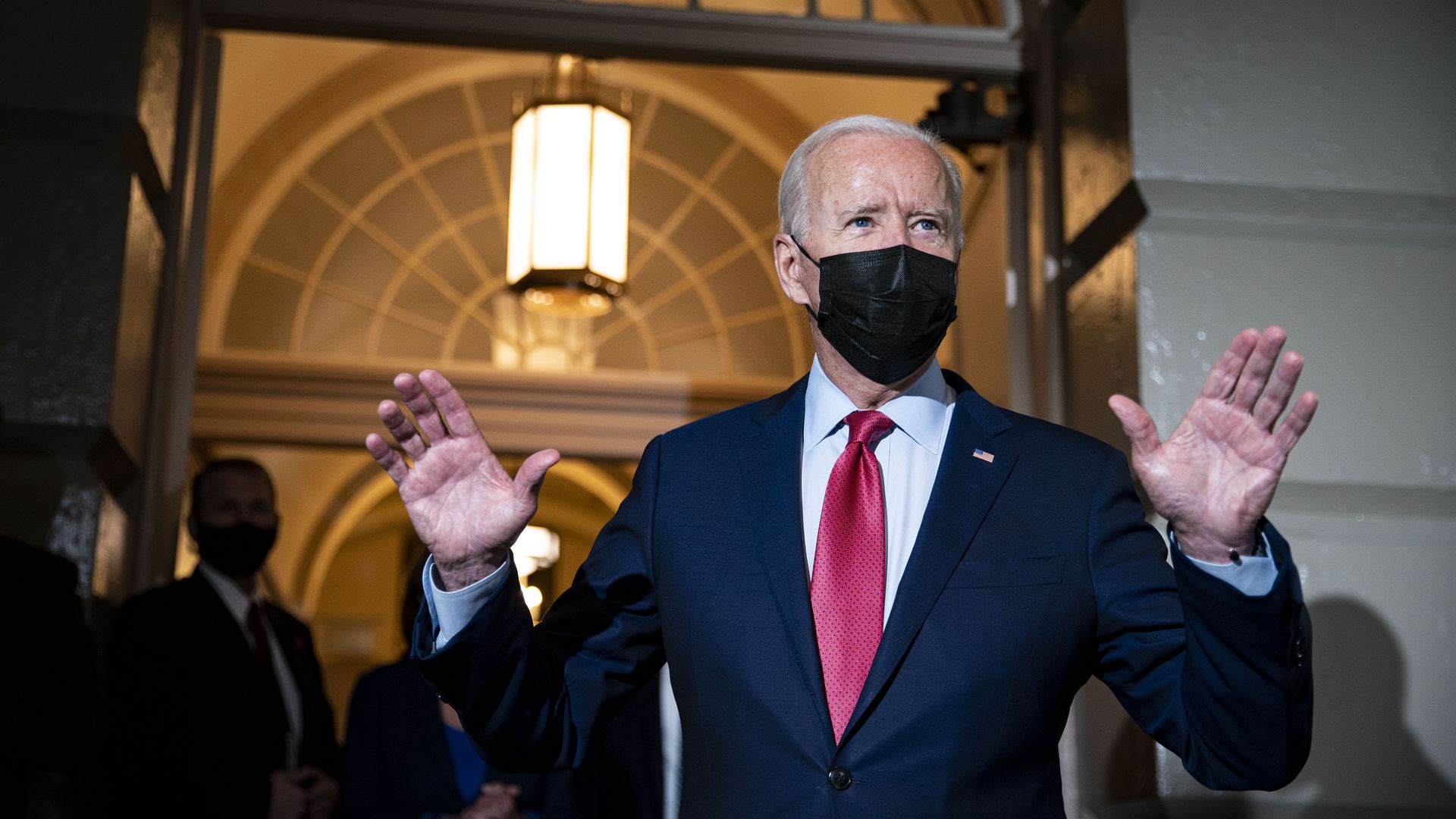 President Biden, meeting with House Democrats on Capitol Hill on Friday, indicated they must further delay a final vote on a $1.2 trillion bipartisan infrastructure bill and scale back his $3.5 trillion social spending package to around $2 trillion range if either is to pass, lawmakers told Axios.
Why it matters: Biden made clear he wants to keep the two packages linked together and that he is optimistic there can be an agreement.
"It doesn't matter if it's six minutes, six days or six weeks, we're going to get it done," the president told reporters on his way out of the meeting.
Two lawmakers told Axios they anticipated it could be another month before both bills can be passed.
While moderates don't want to wait on the infrastructure vote and progressives don't want to spend less on the social programs, the pause likely moves the fragile Democratic coalition closer to ultimately securing major portions of the president's agenda ahead of the 2022 midterms.
Between the lines: This was Biden's first-ever meeting with the full House Democratic caucus since becoming president.
His appearance comes as House Speaker Nancy Pelosi (D-Calif.) has been working to balance the different demands of the caucus and navigate a path forward toward compromise.
What they're saying: "He is the President of the United States and he says that he wants to get this done, and he basically linked them together," Rep. Henry Cuellar (D-Texas), a moderate Democrat, told Axios.
"He basically said it's not going to be $3.5 (trillion). It could be $1.9 trillion-$2 trillion. The president threw out some numbers, so I assume there was a reason why."
The president discussed a range that went as high as $2.3 trillion, other sources in the room said.
"The president said we're gonna get both bills done, and in order to get the rest done, we have to get this agreement on the reconciliation," Rep. Pramila Jaypal (D-Wash.), chairwoman of the Progressive Caucus, told reporters.
"We've got to figure out kind of where our red lines are," Rep. Veronica Escobar (D-Texas), also progressive, told Axios, adding that she didn't anticipate votes today or over the weekend.
While the $2 trillion range is far less than what progressives wanted, it's more in line with what Senate holdouts Joe Manchin (D-W.Va.) and Kyrsten Sinema (D-Ariz.) might agree to accept.
What's next: Progressive Democrats are now hosting their own caucus meeting to plot their next steps.
Members also told Axios they expect the House to pass a 30-day extension as early as today to fund transportation programs that expired at midnight.
Go deeper